Should You Take
Social Security Benefits at 62?


| | |
| --- | --- |
| | It's not for everyone. But, if it's possible for you, there's a few great reasons to start collecting Social Security once you hit the age of 62. Check out the reasons below and see if it seems right for you. |
Reason #1: You may have to begin collecting at 62.
Okay, so maybe it's not a
true
reason, but more of a possible necessity. Did you know that nearly half of retirees said they left the workforce earlier than planned due to health problems or workplace downsizing? Even if you plan to work until you're 70, it may just not end up being the case. It's nice to know you'll be okay if you retire earlier than planned.
Reason #2: Play the law of averages.
One main argument to wait longer until you begin collecting checks is that the payouts will be larger. However, if you live close to the average life expectancy for your age, you end up receiving about the same amount in lifetime benefits, according to the Social Security Administration.
In other words, the system is designed for those that live an average-length life; meaning it will even out in terms of total benefits (regardless when you start collecting).
Reason #3: You could possibly retire early.
Claiming your benefits early can be a good move if your family tree has relatives who lived shorter-than-average lives. If you beat the odds and end up living a longer life, that's great! You'll continue to collect your benefits.
Remember, early retirees usually enjoy the added benefits of being more active - so you can retire while still enjoying your favorite hobbies and activities.
[1]
Still trying to decide when it's right to start collecting your Social Security? Be sure to call us at
618-398-6861
and we can give you advice on your Social Security needs.

" The winds and waves are always on the side of the ablest navigators."
- Edward Gibbon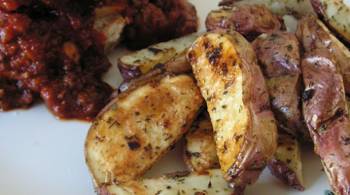 These oven-roasted potatoes are a delicious side dish that have a focus on herbs. Don't have every herb below in your cabinet? No worries! Any combination of these herbs will surely make the potatoes tasty. Check out the ingredients and directions below.
Ingredients:
1/8 cup olive oil
1 tablespoon minced garlic
1/2 teaspoon dried basil
1/2 teaspoon dried marjoram
1/2 teaspoon dried dill weed
1/2 teaspoon oregano
1/2 teaspoon dried parsley
1/2 teaspoon crushed red pepper flakes
1/2 teaspoon salt
4 large potatoes, peeled and cubed
What to do:
Preheat oven to 475 degrees F.
In a large bowl, combine oil, garlic, basil, marjoram, dill weed, thyme, oregano, parsley, red pepper flakes, and salt.
Stir in potatoes until evenly coated and place potatoes in a single layer on a roasting pan or baking sheet. Use aluminum foil in pan or sheet if possible.
Roast for 20 to 30 minutes in the preheated oven, turning occasionally until all sides are browned.
Recipe adapted from All Recipes
[2]
Amending Errors on Filed Returns


Filing your taxes can be a complicated, cumbersome process. As a result, errors can slip through and make it into the tax returns you file. If you noticed errors after you've filed with the IRS, you are able to make amendments. Here are some key tips to help you take the right steps.
Can you file amended returns electronically?
No. You must file an amended return by mailing the IRS a paper copy of form 1040X.
What changes does the IRS allow you to make?
Taxpayers can amend their return for specific reasons:
Allowed:
You can make changes to your return when you need edits such as updating your income amounts, correcting your filing status, and claiming deductions.
Not Allowed:
Math errors: You typically don't need to file an amended return to change any math errors. The IRS calculates all math and automatically corrects any incorrect calculations that your return includes.
Missing forms: You also don't need to file a new return if you forgot to include a form, such as your W-2. The IRS will send you a letter to request any missing documents you forgot to send.
You typically have three years to file an amended return from the date that you originally filed. Other details apply, so be sure to check out further guidance on
the IRS website
.
* This information is not intended to be a substitute for specific individualized tax advice. We suggest that you discuss your specific tax issues with a qualified tax advisor.
Tip courtesy of IRS.gov
[3]
Every golfer should have one. For Gary Player, it was the bending of his right knee. For the great Jack Nicklaus, it was a slight head turn. Any golfer who strives to better themselves needs one-and that's a swing trigger.

It's that little movement that takes place pre-swing, letting your entire body know that it's "all systems go", and you're ready to launch your shot.

If you don't have one, consider going to the driving range and experimenting with different moves-a tap of the foot, and pump of the grip, a shrug of the shoulders-it doesn't matter what it is, so long as it feels "right" to you. Then, use it to fire your swing each time.

Tips adapted from Shark.com[4]

One Green Food, Once Per Day

Without much thought, you can get yourself healthier by just eating one green vegetable or leafy green per day. Whether it be spinach placed in a smoothie, a cup of green beans, or a small kale salad - it's fair game if it's green and natural. Leafy greens and green veggies are some of the most nutritious foods out there as they alkalize our bodies, protect us from disease, and promote mental wellness.

Tips adapted from One Green Planet[5]

Grow These Plants to Attract Bees

All over, bee populations are plummeting - which is worrisome, considering they are responsible for pollinating 1/3 of the food we eat. Due to developments such as changes in agriculture practices, many bees no longer have access to the same habitat and food they need to survive. You can help our bee populations by choosing to fill your garden with bee-attracting plants. Here are a handful of flowers that bees love and will make your garden pop.

Bee Balm: Native to North America, Bee Balm grows throughout the country - and bees love the flowers. Various species exist, and you can choose from a variety of blooming colors.

Lavender: Lavender isn't just an herb that's good for things like teas and cooking, it's also a great bee attractor. The lavender's flowers are quite aromatic, which bloom from spring through summer.

Sunflower: Bees love the big flowery heads of sunflowers, which they forage for pollen and nectar. Sunflowers can live all over the country, and you can choose from annual and perennial varieties.

Cranesbill: These flowers are a type of geranium that bloom from spring through early winter. The long flowering cycle provides a lengthy timeframe for feeding your bees, while providing long-lasting burst of colors in your garden.

Tip courtesy of Natural Living Ideas[6]
Share the Wealth of Knowledge!
Please share this weekly update with family, friends, or colleagues. If you would like us to add them to our list, simply click on the "Forward email" link below. We love being introduced!
If you would like to opt-out of future emails, please reply to this email with UNSUBSCRIBE in the subject line.
By clicking on these links, you will leave our server, as they are located on another server. We have not independently verified the information available through this link. The link is provided to you as a matter of interest. Please click on the links below to leave and proceed to the selected site.
This document is for educational purposes only and should not be construed as legal or tax advice. One should consult a legal or tax professional regarding their own personal situation. Any comments regarding safe and secure investments and guaranteed income streams refer only to fixed insurance products offered by an insurance company. They do not refer in any way to securities or investment advisory products. Fixed insurance and annuity product guarantees are subject to the claims paying ability of the issuing company.
[1]https://www.fool.com/retirement/2018/01/14/3-reasons-its-smart-to-take-social-security-benefi.aspx
[2]http://allrecipes.com/recipe/20963/oven-roasted-potatoes/?internalSource=recipe%20hub&referringId=84&referringContentType=recipe%20hub&clickId=cardslot%2027
[3]https://www.irs.gov/newsroom/helpful-tips-to-keep-in-mind-when-amending-your-tax-return
[4]http://shark.com/the-shark/golf-tips/lesson-19/
[5]http://www.onegreenplanet.org/lifestyle/thirty-days-to-a-healthier-you-a-daily-checklist-of-wellness-tips/
[6]http://www.naturallivingideas.com/20-beautiful-flowers-attract-bees-garden/


Copyright © 2015. All Rights Reserved.