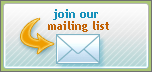 Proofreader:
Doris Orr

Greetings!
Welcome to Sojourner House's e-News. In each issue, you'll learn about recent happenings at Sojourner House, as well as current and upcoming news and events. For more information or if you have a suggestion, please contact editor Susan Orr at
sorr@sojournerhousepa.org
Sojourner House Day at 10,000 Villages

Store observing International Women's Day

In observance of International Women's Day, Sojourner House will once again host a table at 10,000 Villages in Squirrel HIll, this Saturday, March 9, 4-6 p.m. Sojourner House will receive a percentage of the proceeds purchased during that period of time.

One more reason to shop at 10,000 Villages on Saturday: SoHo's Shopping Day will take place during the store's plant and garden sale. Planters, windchimes, birdhouses, and garden sculptures will be 25 percent off! 10,000 Villages is located at 5824 Forbes Ave. For more information, please call 412-412-2160.
It's countdown time!

Sojourner House gearing up for Victorian Tea

Maris Bondi

Kathy Froehle

Sojourner House is gearing up for its Ninth Annual Victorian Tea, to take place Sunday, April 21, 2-4 p.m., at Pittsburgh's Grand Hall at the Priory.

Attendees will enjoy a traditional tea, silent auction and raffle while learning about the award-winning work of Sojourner House and hearing the inspiring stories of the families who have lived there.

This year's Pearl of Hope honoree is former board president Kathy Froehle, Principal Business Strategist at Federated Investors. Maris Bondi, Senior Manager, Marketing Operations and Charitable Giving at UPMC, is serving as this year's Honorary Chair. Sojourner House board member Lynne Chadwick is event chairperson.

Sponsors for this year's tea include: Presenting Sponsor UPMC/UPMC Health Plan; Eden Hall Foundation; FedEx Ground; Highmark; Giant Eagle; BNY Mellon Bank; Fifth Third Bank; and Manufacturer and Business Association.

For more information, call 412-441-7783, ext. 24, or email sorr@sojournerhousepa.org



Women's Business Network update

Spaghetti dinner, pajama party held at SoHo

A pajama party on Jan. 12 and a spaghetti dinner on Jan. 28 were two of the recent events that Women's Business Network hosted for Sojourner House families as part of WBN's year-long project to support SoHo.

The Washington chapter hosted the pajama party which included games with prizes, decorating pillowcases, planting, snacks, and story-telling. The Pittsburgh East chapter hosted the spaghetti dinner, which included the volunteers serving spaghetti, meatballs, bread, salad, dessert, and soft drinks and coffee to the residents.

Two dozen WBN chapters are in the process of hosting fundraisers for Sojourner House through early summer. Additional WBN fundraising activities will be noted in upcoming issues of e-News. For information about Women's Business Network, please visit www.wbninc.com
Fiddlesticks field trip

MOMS families enjoy a day at symphony

Photos, article by Nick Vargas, Sojourner House MOMS Family Support Specialist

On a chilly February morning, three Sojourner families set out to see a lovely cat named Fiddlesticks and the Pittsburgh Symphony. None of the families had ever been to Heinz Hall, and all of the children believed ketchup had something to do with it. Read more...