Dear Steinbrenner Students, Families, and Teachers,
Spring is in the air and I hope all of you enjoyed the week-long break.
I know that the next 2 months are going to go by very quickly and before we know it we'll be at the end of the school year.
As we head into the next 2 months we need your support.
Please help out by donating in kind or your time during Teacher Appreciation Week in May.
Take a few minutes to fill out the School of Excellence survey. Your feedback is important to us:
We are in the process of electing our PTSA board for the next school year. We still have a number of positions open so please consider helping out and/or serving on the next PTSA board. Whether you choose to serve or not we would love to have you join us at our General Meeting on
Thursday, May 3rd at 5:30 pm
in the Media Center. Please come out and meet those being nominated and cast your vote.
As always, if you have any questions or concerns, please contact me.
"A strong PTSA embodies parent involvement and parent involvement represents student success."
~Erica Dees
Steinbrenner PTSA President, 2017-18
gshsptsapresident@gmail.com
We know that a strong partnership among our families, school leaders and community members is important to the success of our students and school. That's why we are participating in the National PTA School of Excellence program, which grows partnerships between PTAs and schools to enrich the educational experience and overall well-being of all students.
At a National PTA School of Excellence, families feel welcomed and empowered to support student success, and PTA is a key partner for continuous school improvement. We feel Steinbrenner High School and PTA can achieve that together and the result will be national, state and community-wide visibility for the positive impact we are making together.

We need your help! As part of the School of Excellence selection process, National PTA requests feedback from families at two points in the school year, the beginning and the end. Your feedback in September generated a customized Roadmap to Excellence for us. One of the outcomes of that survey was a new program that we put into place to support our students in need, "Steinbrenner Cares", which kicked off with our holiday giving tree.
Now it's time for our end-of-year survey to assess our family-school partnership and our commitment to excellence. Please take 5 minutes to reflect on your experience at this school and complete the survey at this link
:
Thank you for your continued support and collaboration as we work toward becoming a National PTA School of Excellence for the second time!
GSHS PTSA Board Open Positions 2018-19
EXECUTIVE BOARD POSITIONS

DUTIES

President

The President acts as the primary liaison between the PTSA and the school administration and acts as an ex-officio member of all committees. Together with the Principal, is responsible for planning the events calendar for the year. Together with the Recording Secretary, is also responsible for providing a written agenda for each meeting. The President is also a member of the HCC PTA/PTSA Executive Committee. (Per By-Laws, must have at least one year PTA board experience.)

Treasurer

Responsible for all monetary transactions by the PTSA. Recounts, records and makes bank deposits, and is responsible for preparing the PTSA budget and regular financial statements. Must be familiar with accounting functions and reports. Accounting experience is preferred but not mandatory. Needs to attend all monthly board meetings and General PTSA meetings to give a report and should attend most PTSA functions where money is collected.

1st Vice President/Membership

Acts as coordinator for all activities related to registering and retaining PTSA membership. This includes planning and implementing a membership campaign to solicit members. Responsible for submitting membership numbers to Florida PTA for Award recognition. Most active at the beginning of the school year.

2nd Vice President/Programs

Responsible for coordinating PTSA sponsored school programs. Acts as liaison with school administration to provide support for school wide programs, as well as provide opportunities to build family/school partnerships.

3rd Vice President/Ways & Means

Responsible for coordinating PTSA-related fundraising.

4th Vice President/Volunteers

Responsible for coordinating all volunteer activities and for recruiting, retaining, matching volunteers with activities and most importantly, recognizing volunteers for their efforts. Responsible for tracking all volunteer hours and submitting them for proper recognition. In charge of staffing volunteers for all PTSA school events.

Recording Secretary

Records, publishes and files the record of minutes. Also responsible for creating and distributing the agenda for each meeting, as well as the directory of officers and chairpersons.

Corresponding Secretary

Prepares all written communication as directed by the PTSA or by the executive board and performs such other duties as may be delegated. Responsible for making sure that the meetings are conducted according to Roberts Rules of Order and for making sure the By-Laws of the National, State, County and Steinbrenner PTSA's are followed. Handles all thank you notes.

COMMITTEE POSITIONS

DUTIES

Historian

Compile pictures, flyers and information of PTSA and school-wide events to be compiled in a scrapbook to be kept in the front office.

Hospitality

(CO-CHAIR)

Provides refreshments for various PTSA and school-wide meetings and gatherings. Organizes a hot meal for the teachers/staff on teacher conference nights and provides dessert, coffee and other sweets. Hospitality supports Teacher Appreciation and other Committees.

Publicity

Work with local media in getting information out about PTSA and school events.
If you're interested in any PTSA Board positions, please contact Moira Schmidt, Nominating Chairperson at gshsptsa.nominatingcom@gmail.com
TEACHER APPRECIATION WEEK INFO
Teacher Appreciation Week will be the week
of
Our planning committee is in the process of coordinating all the week's events that help our Teachers & Staff realize just how special they are to us! If you are interested in serving on the planning committee, please
contact the event co-chair at
heatherc@taylorwhite.com
We are also interested in donations of *new* products, gift cards or services to be used as gifts for Teachers & Staff. If you have an item to donate, or would like to
help in soliciting donations from local businesses, let us know!
GOT SNEAKERS?
Did you know:
At least 200 million pairs of shoes and sneakers end up in landfills
each year and they take 30 years to decompose?
Take 10 minutes and clean out your closet to help your school. Donate your gently used sneakers and Steinbrenner will receive $1 for each pair and the sneakers will be donated to those less fortunate.
Just place the pair in a recycled plastic bag and drop off in collection boxes located in the front office and car line area the month of March.
Please call or email Alicia Felton if you have any questions.
Tampa Bay Rays Spirit Night-Support Our Students-April 14th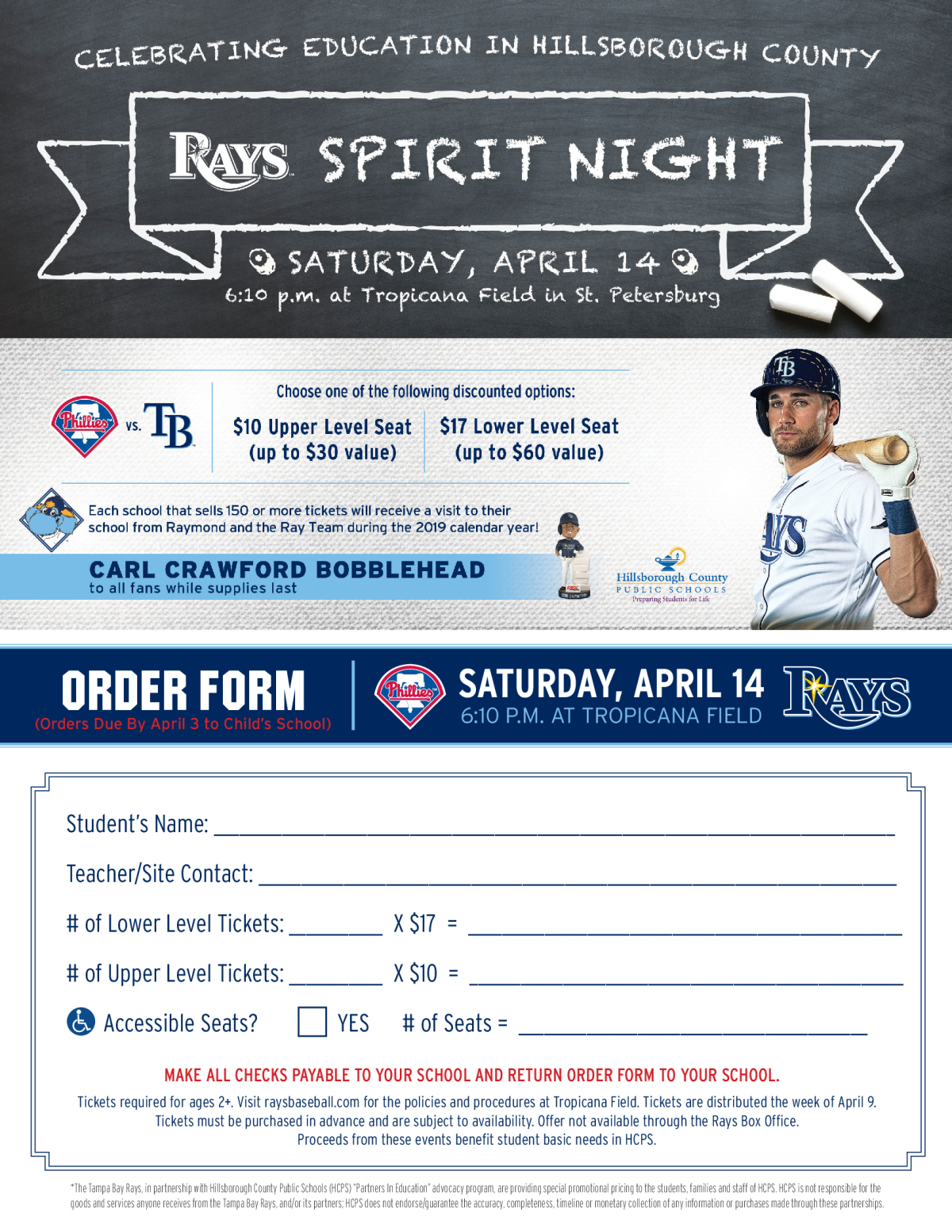 SENIOR BANNER UPDATE
Senior Banners are available for
purchase! Order yours today!!
IT'S NOT TOO LATE!!
Last day to order a Senior Banner is
Friday, March 30th.
The co
untdown is beginning!! Banner orders are starting to get into the production line. You should expect to receive an email to tie up any loose ends you may have with your students banner. This could be anythin
g from confirming a quote to solidifying where the banner will hang. You will also receive a proof of the banner. This is a great way to correct any mistakes before the banner is made.
I will be requesting help placing the banners in the hallways. Get your ladders ready!!!
I've listed frequently asked questions below:
1.
How do
I place an order? You can get to the PTSA website and place your order online or print off the order form and turn it in at the front office. The link is
http://steinbrennertampafl.ptaptsa.org
2.
How much do banners cost? As of January 2018, the 2' X 3' banners are $40 and the 2'X 6' banners are $75.
3.
What can I have printed on the small banners? The smaller banners have room for a salutation Examples include "Love, Mom and Dad", "Love, Your Family", "Go Gators", Go Bulls", "Charge On"
4.
What can I have printed on Large Banners? Large banners include a photo of your Senior and a quote.
5.
What picture should I use? Any high resolution picture will work on the Senior Banners. This could be a baby picture, a favorite picture from when your child was growing up or a Senior picture.
6.
I want a large banner but I'm not sure about what quote to use. Should I wait to turn in the order form? Turn in your form ASAP. You will be contacted for the remaining information as the deadline approaches.
7.
Where will the banners be placed? The banners will be hung throughout the hallways of the 200 and 300 buildings and the cafeteria.
8.
Can I choose where I want my students banner to hang? All those who placed their orders by October 31, 2017 will choose where they would like their banners placed. All other orders will be placed randomly in the 200 or 300 hallways.
9.
When will the banners go up? Banners will go up after school April 13.
10.
How long will banners be up? The banners will come down Friday April 27 in order to get them back to the students before AP exams.
11.
How do we get our banners? Banners will be returned to students during their lunch periods from April 30 to May 3. Any remaining banners can be picked up at Senior meeting on May 4.
12.
What help is needed with banners? Your help is greatly appreciated for hanging and/or taking down the banners. Bring your ladders!!
If you have any questions or need any more information please contact Maura Weins at 813-541-3739 or maura.weins@gmail.com
Thank you to those of you who have joined the Steinbrenner PTSA this year! Your membership dues directly supports Steinbrenner students and teachers by providing amazing programs. Some of these programs include Freshman Camp/Orientation, Student Ambassadors, Senior events and scholarships, student incentives, and teacher grants. Please help your Steinbrenner PTSA continue these great programs by joining online through the Steinbrenner PTSA website at:
or
Complete a form and make your
tax deductible
check payable to:
Steinbrenner PTSA.
You may drop off your form and payment in the Main Office or mail it to:
Steinbrenner High School, 5575 W. Lutz Lake Fern Road, Lutz, FL 33558.
If you have any questions, please email:

GSHSPTSAmembership@gmail.com.
Make sure to include your student's 2nd period teacher on your form so Membership Cards can be sent home. If your student does not have a 2nd period teacher, please indicate which teacher you would like cards to be sent to.
**Seniors who are interested in applying for a PTSA scholarship must join the PTSA by December 31 to be eligible for co
nsideration**
Forms are also available in the front
Do you do a lot of shopping on Amazon

?
Shop on Amazon Smile and Amazon will now donate .5% of your purchase to the Steinbrenner PTSA!
Just go to

http://smile.amazon.com on your web browseror mobile device and select

Steinbrenner High PTSA.

Tens of millions of products are eligible for donations. You will get the


exact same shopping experience that you normally get on Amazon, except with the added bonus of Amazon donating to our organization.
Want to subscribe to the newsletter?
Send us your email or return this form:
If you are the parent of a graduating senior or are no longer affiliated with Steinbrenner High School & no longer wish to receive our e-newsletters, please click on the unsubscribe link below or send an email requesting to be removed to:

Please Follow us on Facebook & Twitter

George Steinbrenner High School Athletic Booster Club


George Steinbrenner High School Athletic Booster Club's primary purpose is to serve the student athlete and build athletic excellence. We encourage student participation in athletics. Our involvement includes:


Providing college scholarships
Providing valuable coaching clinics, trainings & One Million Dollars in insurance for 25 coaches
Funding the various annual Athletic Director conferences
Raising money for ALL sports to purchase supplies, equipment, uniforms and/or capital items beyond what the school budget provides
Managing all teams' raised funds, maintaining fiscal stewardship of the money
Supporting facility improvements for ALL sports and promoting a vision for the future
*Be on the lookout for information on our Athletic Booster Club's Bowling Tournament instead of Casino Night at the end of March or early April!*

DAD'S CLUB INFO
Dad's Club needs you!
If interested in joining Dad's Club, contact Bill Gibbs at

shsptsadads@gmail.com.
Coach Crumbley has a supply of uniforms if still needed for $10 each