Lots of great and exciting things happening behind the MEG MOVIE scenes... and I can't divulge anything just yet. I suspect you'll hear something soon.


Meanwhile, I've made a few major publishing decisions. Tor/Forge, the publisher who has published many of my books - including MEG: PRIMAL WATERS and MEG: HELL'S AQUARIUM has purchased MEG: NIGHTSTALKERS from Rebel Press and will publish the hardback next summer. They will also be publishing the VOSTOK paperback.

I'm also working on some very exciting things that involve a number of my books... including a potential MEG 6 novel and more projects from my friend and MEG (and The LOCH) producer Belle Avery. I hope to reveal everything in the September newsletter.

Steve Alten

WRITING COACH: Launching New Writers

Over the last 12 years I've worked with individuals who had a great idea for a book but lacked the experience and skills to turn it into a sellable finished manuscript. All new writers experience this - I had to hire my own writing coach after finishing the first draft of the manuscript that would become MEG. Was the $6,000 investment worth it? Fifteen books and a movie deal later, I'd say yes.
If you feel you have what it takes but need help, then I'm offering my services to two candidates. We'll develop your story, create a beat sheet, then I'll edit your work, making sure the writing is tight. When the manuscript is finished I'll help you find an agent and publisher. Cost of the program: $3,599.
The catch: I need to spend an hour on the phone with each potential candidate, brainstorming your idea while deciding if you are coachable. The call is free, but it's important as we could be working together for a year or more.

If you have the desire, an idea, and the necessary funds email me a one paragraph synopsis at Meg82159@aol.com SUBJECT: Writing Coach Submission.

Recommended reading for Horror Lovers:

Josh Viola was one of my first Writing Coach students. His books have been published and won prestigious awards, and now he's become a publisher with a new horror anthology set to be released in September called NIGHTMARES UNHINGED.

MEG 20th Anniversary Editions: A real collector's item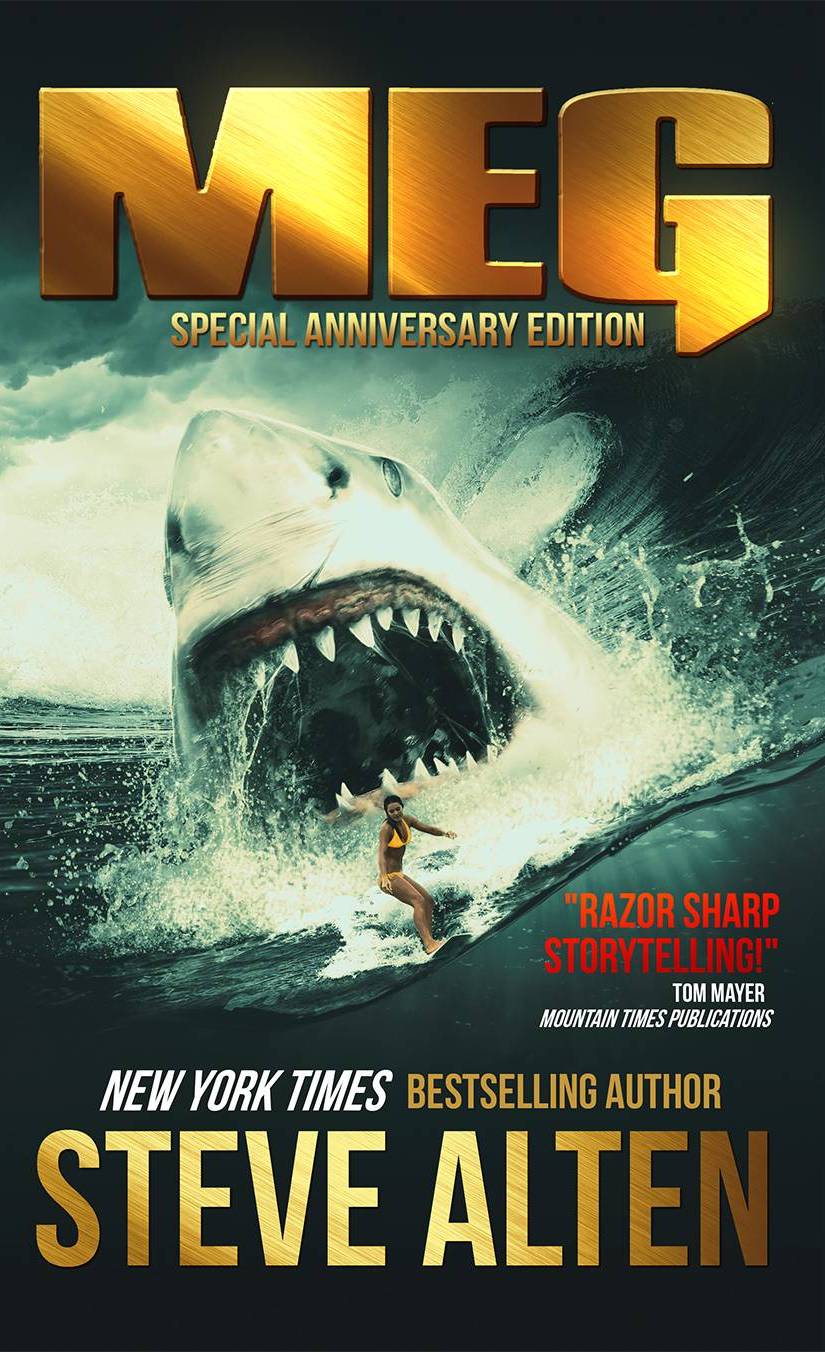 With the MEG MOVIE announcements, sales of the MEG 20th anniversary edition hardback jumped. This is the first time MEG has been printed in hardback since 1997 (all 175,000 copies were sold) and the last. In this case, only 5,000 were printed, each book numbered for authenticity. These limited special editions feature both MEG & MEG: ORIGINS. There are less than a thousand remaining and as collector's items make great gifts.

You can order the book at www.RebelPress.com

Living Tips - You might give up soda after watching this!

This is exactly what happens one hour after drinking a can of Coke.
Click To Watch
Laugh of the Month

It was mailman George's last day on the job after 35 years of delivering the mail through all kinds of weather. When he arrived at the first house on his route, the whole family came out, roundly congratulated him, and sent him on his way with a tidy gift envelope.


At the second house they presented him with a box of fine cigars. The folks at the third house handed him a selection of terrific fishing lures.


At the next house, he was met at the door by a strikingly beautiful woman in a revealing negligee. She took him by the hand, and led him up the stairs to the bedroom where she blew his mind with the most passionate love he had ever experienced.


When he'd had enough, they went downstairs, where she fixed him a giant breakfast: eggs, potatoes, ham, sausage, blueberry waffles and fresh-squeezed orange juice. When he was truly satisfied, she poured him a cup of steaming coffee. As she was pouring, he noticed a dollar bill sticking out from under the cup's bottom edge.


"All this is just too wonderful for words," he said, "but what's the dollar for?"


"Well," she said, "last night, I told my husband that today would be your last day, and that I wanted to do something special for you. I asked him what to give you. He said, 'Screw him. Give him a dollar.'"
IF YOU HAVE A JOKE YOU WOULD LIKE TO SHARE, please e-mail to me at
MEG82159@aol.com
Put JOKE in the subject line.
Recipe of the Month: Meaty Vegetable Soup

Ingredients:
1-2 cloves garlic - finely chopped

1/2 onion - chopped

1 1/2 to 2 cups chopped mixed low-starch veggies (for example, zucchini, yellow crookneck squash, asparagus, broccoli, cauliflower)

1 cup diced stewed tomatoes (seasoned as you like)

2 meal-sized servings of protein - meat, chicken or seafood

Broth (beef, chicken, vegetable, or mushroom)

DIRECTIONS

Heat a couple of teaspoons olive oil in a soup pot or large saucepan and saute the garlic and onion until limp. If you're cooking the protein fresh in the soup, add small cubes of meat/poultry/seafood now and cook for several minutes, stirring to ensure cooking on all sides and through to the center. Add the fresh veggies and continue to stir and saute them for a few minutes, until they begin to soften. Add the tomatoes, the broth, and salt and pepper to taste. If you are using leftover meat, poultry or seafood, add it at this point.
Bring soup to a boil, reduce heat, and simmer for a few minutes (up to about an hour) over low heat. For a taste delight, sprinkle a teaspoon or two of finely chopped fresh basil or cilantro onto each bowl of soup, just prior to serving. Double or triple or even quadruple the basic recipe if you've got a large enough pot to accommodate it, and store the extra servings in the fridge for lunches or dinners on subsequent days.
*IF YOU HAVE A RECIPE YOU WOULD LIKE TO SHARE, please e-mail to me at
MEG82159@aol.com
Put RECIPE in the subject line.
Finally...
Jon Stewart closes The Daily Show with his moment of Zen, I offer you my moment of Curly... (I defy you to watch this and not smile) this one is my son's favorite:
Stay well, stay safe... and know this author really appreciates you.
Sincerely,