I know many of you have been anxious (and mildly irritated) about having to wait to hear about the release date of MEG: NIGHTSTALKERS. The publisher, Rebel Press wanted to tie the novel's release to a MEG movie announcement and the June 6th launch of their amazing new website www.ReadersLegacy.com . While the site will launch on time (see the special sneak preview link below) as of the preparation of this newsletter we're still awaiting a studio announcement. When THAT happens, expect a SPecial Alten MEG update.

That's right... SPAM. (Sorry, it's been a long 17 year wait).

MEG: NIGHTSTALKERS features Angel's terrifying offspring, Bela and Lizzy, the monstrous 120-foot Liopleurodon from MEG: HELL'S AQUARIUM, and another Miocene Monster straight out of VOSTOK.

Can't wait for the book? I've included a peek at the cover art (not final), a synopsis of the story, and an opportunity to receive the first three chapters of the book.

Hope that whets your appetite.
--Steve Alten
MEG: NIGHTSTALKERS: The Story:
In this fifth (and final?) installment of the best-selling MEG series, Nightstalkers picks up where MEG: Hell's Aquarium left off. Bela and Lizzy, the dominant Megalodon siblings from Angel's brood have escaped the Tanaka Institute to inhabit the Salish Sea in British Columbia. While Jonas Taylor and his friend Mac attempt to either recapture or kill the "sisters," Jonas's son, David embarks on his own adventure, motivated by revenge. Having witnessed his girlfriend's gruesome death, David has joined the Dubai Prince's ocean expedition which is tracking the 120-foot, hundred ton Liopleurodon that escaped from the Panthalassa Sea. Haunted by night terrors, David repeatedly risks his life to lure the Lio and other prehistoric sea creatures into the fleet's nets, all while battling his own suicidal demons. Steve Alten weaves these story line's together in a page-turning thriller which culminates in a final showdown between the most dangerous predators ever to inhabit the planet.
MEG: NIGHTSTALKERS: Cover Art:

It's still being finalized by artist Mario Lampic. Many thanks to underwater photographer Malcolm Nobbs for his amazing Great White shots. Check out his gallery at
http://malcolmnobbs.com/
MEG: NIGHTSTALKERS: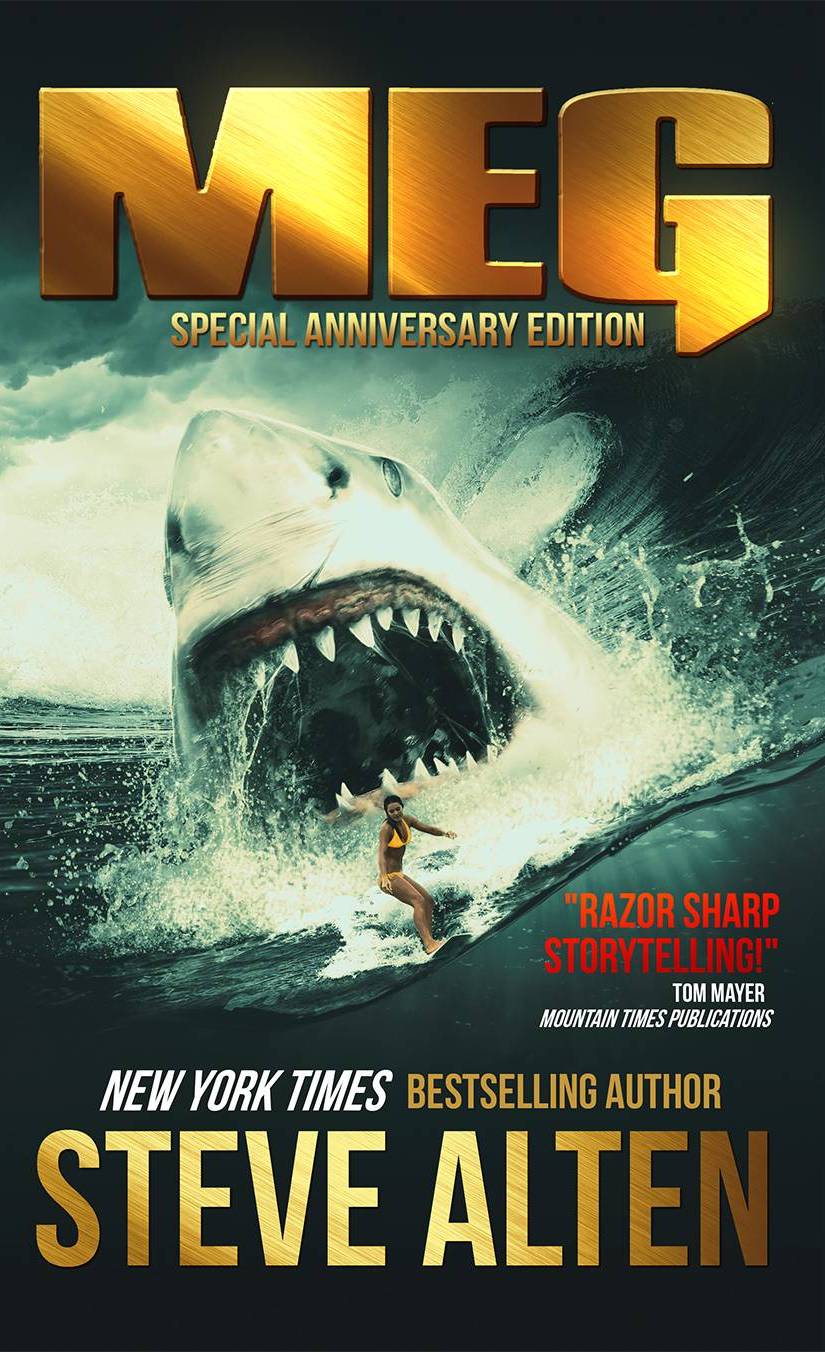 Read the first 3 Chapters...
Anyone ordering a MEG 20th anniversary edition in June will receive a free pdf of the first three chapters of Nightstalkers. These individually numbered hardback special editions feature both MEG & MEG: ORIGINS; only 5,000 were printed. You can order the book at www.RebelPress.com To receive the NIGHTSTALKER chapters, email me the confirmation receipt at Meg82159@aol.com
ReadersLegacy.com - Something special for book lovers
Living Tips - Melanoma

Important info about the deadly cancer that took my father's life. Click here to find out more
Laugh of the Month

Archaeologists in France discovered traces of copper wire located in a thousand year old cave and announced it was really a French scientist who invented the telephone. Upon hearing this, British archaeologists located traces of plastic in a 2,000 year old cave and declared an English scientist had discovered fiber optic cable 2,000 years ago. Not to be outdone, Israeli archaeologists investigating a 5,000 year old cave found nothing - declaring ancient Jews had discovered wireless communications 5,000 years ago.
IF YOU HAVE A JOKE YOU WOULD LIKE TO SHARE, please e-mail to me at
MEG82159@aol.com
Put JOKE in the subject line.
Recipe of the Month: Caramelized Banana Pudding
Ingredients:
1/2 cup brown sugar
1/4 cup butter
1/4 teaspoon ground cinnamon
4 large ripe bananas
1 cup granulated sugar
1/3 cup all-purpose flour
2 large eggs
2 cups milk
4 large eggs separated
2 teaspoons vanilla extract
48 vanilla wafers.

DIRECTIONS

Cook first 3 ingredients in a large skillet over medium heat, stirring constantly for 2-3 minutes until bubbly.
Add bananas, cook 3 minutes and remove from heat. Whisk together sugar, next 3 ingredients and 4 egg yolks in saucepan. Cook over medium heat, stirring constantly 8-10 minutes until pudding-thick. Remove from heat and stir in vanilla. Divide half of banana mixture, pudding, and wafers among eight (1 cup) glass dishes..Layer with remaining banana mixture, pudding and wafers.


*IF YOU HAVE A RECIPE YOU WOULD LIKE TO SHARE, please e-mail to me at

MEG82159@aol.com

Put RECIPE in the subject line.
Finally...
Jon Stewart closes The Daily Show with his moment of Zen, I offer you my moment of Curly... (I defy you to watch this and not smile)
Stay well, stay safe... and know this author really appreciates you.
Sincerely,