SunHarvest is excited to see if we won our category at the BBB's Torch Award for Ethics this Wednesday, April 6, 2016 at the Arizona Biltmore Resort and Spa.
We'll keep you posted!
_____________________________________________________________
SunHarvest at SunPower: Big Utilities Versus Rooftop Power Generation
Brandon Cheshire, the owner of SunHarvest travelled to Austin, TX last week to visit SunPower University which recently acquired Solar Bridge Technologies (a micro-inverter manufacturer.) The purpose of the visit was to attend advanced design and installation courses and attain those advanced
certifications.
SunPower is recognized as the industry leader of high efficiency solar panel manufacturing worldwide, and they have the highest standards for sales, design, and installation. SunPower and Solar Bridge have created an AC solar panel with an integrated micro-inverter, which is very exciting technology and under warranty for 25 years!
We are very excited to have experience working with this equipment, and be able to offer the industry's best products to our customers. It's very satisfying to know that we are always striving to put forth best practices in our work, continuing education, and partnering with SunPower to always put our customers needs first.
People Power Now Joins Arizona Give Day!
People Power Now
,
Brandon Cheshire's nonprofit dedicated to engaging, educating and empowering Arizona residents to the benefits and cost-savings of renewable, clean energy, has joined Arizona Gives Day!
Arizona Gives Day
is a 24 hour online philanthropic giving campaign to promote community engagement and charitable donations to nonprofits. On that day, April 5, you can do some clean energy good and donate to People Power Now.
Arizona News
Solar companies decry Ducey's signature on bill
Brandon Cheshire, founder of SunHarvest Solar, said the bill hurts Arizona companies.
"It further handcuffs us and forces us to wait without providing the utility any incentive to become more efficient," he said. It roots out inefficiencies with the large national leasing companies but it penalizes the local companies that have been doing business here and puts onerous restrictions on them."
_____________________________________________________________
Help Support Solar in AZ!

Did you know there are numerous pro-solar candidates in Arizona? You can help the planet by helping them get elected!
Nearly 40% of US Electricity Could Come From Rooftop Solar
The National Renewable Energy Laboratory has found that nearly 40 percent of electricity in the U.S. could come from rooftop
solar
photovoltaics, according to a
new study
.
The total figure, 1,118 gigawatts, is nearly double the previous estimate of 664 gigawatts that NREL calculated in 2008. The increase is due mostly to increasing module power density, more granular data and a better grasp of building suitability for solar.
The world's first solar airport no longer pays for electricity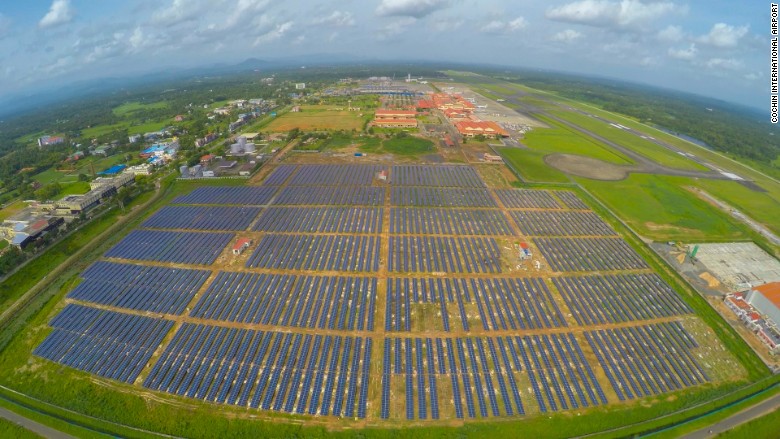 Three years ago, they began adding solar panels -- first on the roof of the arrivals terminal, then on and around an aircraft hangar. The success of those initial efforts led to a much bigger endeavor.
"We wanted to be independent of the electricity utility grid," Jose Thomas, the airport's general manager, told CNNMoney.
Last year, the airport commissioned the German company Bosch to build a vast 45-acre solar plant on unused land near the international cargo terminal.
Let these tips save you some dough!
Wash clothes in cold water
Did you know that if you use cold water in your washer you could save enough energy to run an average home for two weeks? According to the

Alliance to Save Energy and Procter & Gamble you could save some serious cash.



Unfortunately it seems the heat is starting to come. Any easy way to off-set AC costs is to cover your windows. Use shades or curtains to cover up those windows. We know natural light is beautiful, but lower energy costs are just as pretty.
"
Pay it Forward
"
Earn $500 for Every Customer Referred
Share the benefits of clean solar energy to help protect the environment, build a more sustainable future, and save homeowners money by our initiative to "Pay it Forward". When you refer SunHarvest Solar to another customer, whether it be friends, family, neighbors, or coworkers, you can earn $500 per referral.
Learn how to pay it forward
!
Power the Positive
Our Charity Initiative
A $250 charitable donation will now be made for every solar system sold by SunHarvest Solar!
By going solar with SunHarvest, you can score a triple-win for yourself. One for you, one for the planet, and one for a non-profit organization that you choose from our list of selected charities.


If you are part of a nonprofit organization, or know of one that may be a good fit, please contact Gary Held

to find out how to participate in our program and truly
power the positive
!