Good Morning, to You, the Parish
The Greek Orthodox Church of St. Demetrios!
7th Sunday of Matthew
Feast Day of St. Paraskevi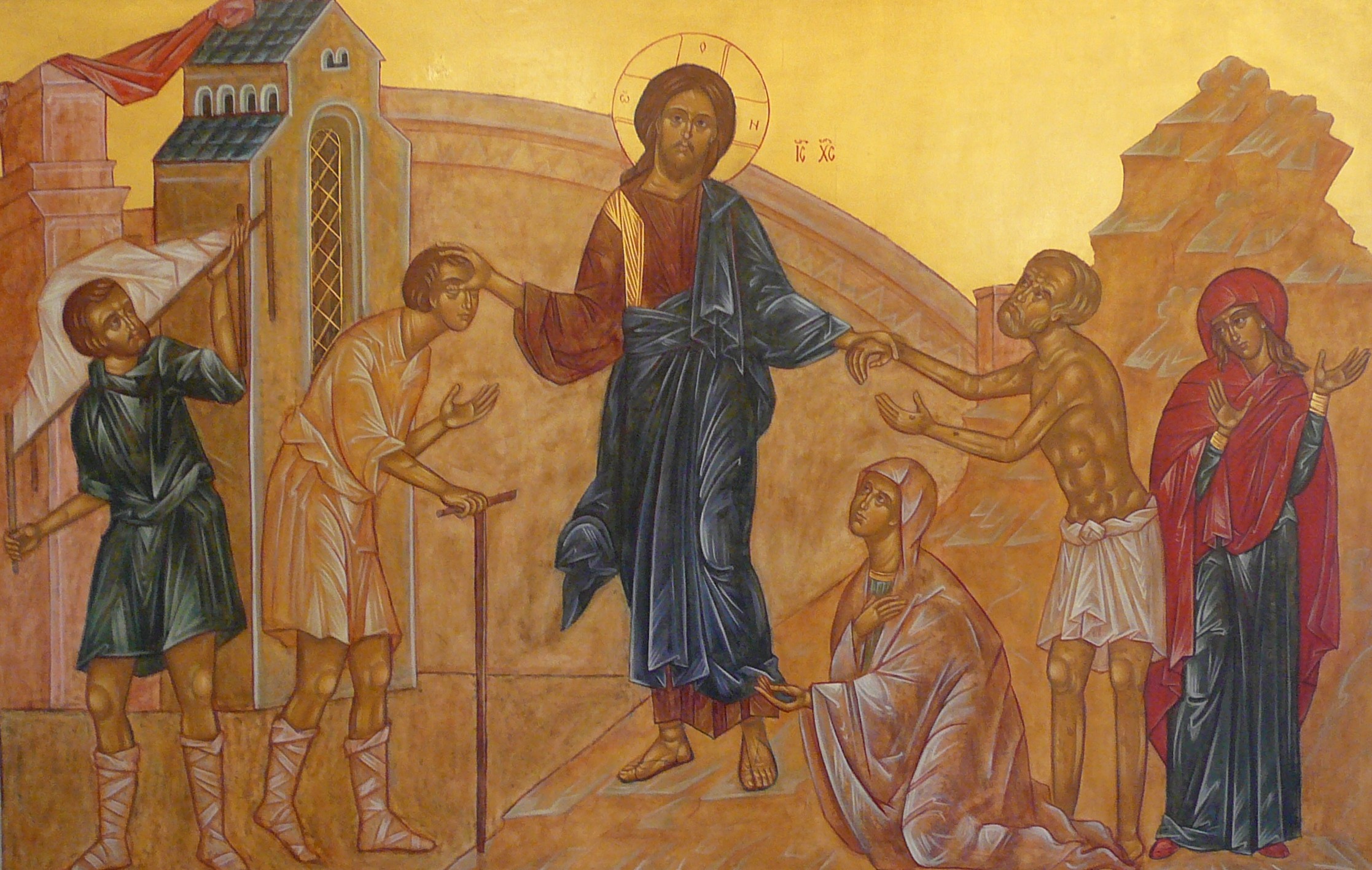 St. Paraskevi
The Wondrous St. Paraskevi
By His Eminence Metropolitan Hierotheos of Nafpaktos & Agiou Vlasiou
St. Paraskevi is honored not only by women who bear her name, but by all Christians.
The life of St. Paraskevi is wonderful. Her parents were pious and virtuous and her birth took place with the intervention of God. She grew up in a Christian manner, distributed her property to the poor, became a nun, preached Christ, confessed Him, and eventually she was tortured and martyred for the love of Christ. This is why she is called a Venerable Virgin Martyr.
There are icons which depict St. Paraskevi holding in her hands a dish in which there are two eyes. This refers to a miracle accomplished by the Saint. One of her torments was that she would be put in a burning boiler within which was hot oil and tar. Nevertheless the Saint, by the grace of God, not only did not burn, but it seemed as if she cooled off. The King who watched this torment, was in wonder at this event, and told her to splash some of the oil and tar on him to see if it was hot. As soon at St. Paraskevi splashed a little on him, his eyes were immediately blinded. Then the Saint supplicated to God and pleaded to Him that He give back the King the sight of his eyes, which happened by her prayers. We are reminded of the miracle through the icon of St. Paraskevi.
This is the reason why many sick, who suffer eye problems, consider St. Paraskevi their patron saint and supplicate that she intervene miraculously and cure them. The Saints, by the help of God, are the physicians of our souls and bodies. To them we resort when we have various problems and ask their help. Of course, theologically we say that God Himself acts through the saints, since the saints are the friends and caregivers of Christ.
By extension, St. Paraskevi can be considered a physician of the diseases of the psychic eye which is our nous. Apart from the eye of the body we also have the eye of the soul by which we can see the glory of God. And as the eyes of the body can get ill, so also can the eye of the soul. Since the eye of the soul is ill, this is why we are evil, and cannot see God. Heresy, atheism and the ignorance of God and may other psychic illnesses are the result of the suffering of the spiritual eye.
The Prophet David says in a Psalm: "Enlighten my darkness". Within us there is darkness because we are psychically blinded and we cannot see the glory of God. This is why St. Gregory Palamas would pray to Christ: "Enlighten my darkness".
Today we commemorate and celebrate St. Paraskevi, who lived with Christ and was martyred for His glory. She is the patron saint also of all those who have problems with the eyes of our souls [the nous] and cannot see the love of God, we cannot realize our passions, the needs of our neighbors, we also cannot see the way to be saved. Let us ask St. Paraskevi with faith for our healing.
Obtained from the Weblog of John Sanidopoulos, Mystagogy.
*******************************************
7th Sunday of Matthew 9:27-35
We do not have sorrow within us over not having faith. The question posed by Christ is: "Do you believe that I am able to do what you ask?" And I don't know what the Lord would say about the different illnesses that each of us has. But
the issue is not that people be healed of their illnesses, but that they be helped to believe in Christ, to believe that it is possible for us to be cured of our spiritual darkness and our spiritual blindness.
In some way the Lord asks both you and me and each of us: "Do you believe that I am able to do this?" And when you answer in the affirmative, immediately you are enlivened, immediately you are brought to action, immediately you follow the Lord. You
believe
that the Lord is able to forgive you, to purify you, to illumine you, to sanctify you, to give you repentance, grace, humility, and every virtue. Consequently, it is impossible to answer the Lord with a "yes" and to remain as you are. Immediately you will be healed: you will start to think differently, you will start to feel differently. You will feel that
now is the time of salvation
.
The Apostle Paul says: "
[we] also plead with you not to receive the grace of God in vain
"(2 Corinth. 6: 1). We were baptized, we have the grace of God but do we receive it in vain? It is the hour for us to hear the voice of God and to be energized, to respond, to use the grace that the Lord has given us and which we have within us.
From Orthodoxpath.org
*********************************
Epistle Reading

(7/26/2020)

: Galatians 3:23-29; 4:1-5
Gospel Reading

(7/26/2020)

: The Gospel According to
Matthew 9:27-35
*********************************
It is a blessing to have our Church open for worship, even with limited capacity!
St. Demetrios Parish
Information & Updates
This Week at St. Demetrios...
*
As a courtesy reminder, it is necessary to call the Church Office to register for an upcoming service.
Please
Read Letter!
Sunday, July 26th
Όρθρος, 8π.μ. & Θεία Λειτουργία, 9:30π.μ.

7th Sunday of Matthew
Orthros, 8a.m. & Divine Liturgy, 9:30a.m.
Monday, July 27th
Αγ. Παντελεήμων
Όρθρος, 8π.μ. & Θεία Λειτουργία, 9π.μ.
St. Panteleimon

Orthros, 8a.m. & Divine Liturgy, 9a.m.
Tuesday, July 28th
Αγ. Ειρήνη Χρυσοβαλάντου

Όρθρος, 8π.μ. & Θεία Λειτουργία, 9π.μ.
St. Ιrene Chrysouvalantou

Orthros, 8a.m. & Divine Liturgy, 9a.m.
Saturday, August 1st
Μέγας Εσπερινός, 5μ.μ.
Great Vespers, 5p.m
Κυριακή H΄ Ματθαίου

Όρθρος, 8π.μ. & Θεία Λειτουργία, 9:30π.μ.

8th Sunday of Matthew
Orthros, 8a.m. & Divine Liturgy, 9:30a.m.
The services will continue to be LIVE-STREAMED on our:
1. Our Church
Website
(Live-Stream Feed)
*********************************
Dear Faithful of St. Demetrios,
We pray you are all well. This past week, we mailed out a letter about "Campaign 84". If you have not received it yet, it should be coming shortly. We are happy and thankful to have already received a response to Campaign 84 by many of you.
The effects of Covid-19 greatly hampered our parish, closing the Church for 84 days during our busiest and most festive period of the year. We desperately need your help. On the wings of prayer and faith, we humbly implore you to join us in giving at least $84 more per family.

For those who have already made their 2020 Stewardship Contribution or if you just want to make a donation, you may do so online or by sending your donation to the Church Office. If you have not given your stewardship yet, please consider at least an additional $84 when making your 2020 contribution.


Our concern has always been how to minister to you during this difficult time. In addition, we are anxious about meeting the obligations of our Church. Yet, our trust and faith in God and you, our stewards, continue to answer every prayer and ease our anxiety through your response. Thank you for your loyal support.

*********************************
A New
Way of Giving
at
St. Demetrios
Click on the link below to go directly to our website for the
online giving page:
*********************************
"THE ORTHODOX STORE"
THANK YOU to those who have donated to this ministry
of compassion & love.
Click on the link provided for information on how you can help.
Just outside the Church Office door are 3 bins in which your donations can be dropped off.
Donation drop-off during
Church Office hours,
Monday-Friday,
9a.m. - 4p.m.
*********************************
Parish Registry as of July 26th:
Baptisms 18 Chrismations 2
Weddings 1 Funerals 22
Shut-Ins 18
Hospital & Home Visitations 421
*********************************
2
020

Stewardship of The Greek Orthodox Church
Stewardship as of Friday, July 24th - 427
*********************************
2nd Annual Metropolis of Chicago
Golf Outing
With the blessing of His Eminence Metropolitan Nathanael, we are excited to announce the 2nd Annual Metropolis of Chicago Golf Outing. This event will prove to be a great way for ourselves and our people to get together in fellowship, while helping to benefit the work of the Chicago Metropolis. Here are the primary details:
*********************************
Please don't forget to visit our Church's Website where you can find all our updated information - from service schedules, live-stream links, Metropolis news, social media links and more...
*********************************
Pythagoras Children's Academy Family Testimonials
Read
the Dimitrakakos Family's story to learn how Pythagoras Children's Academy has made remote learning a seamless transition from the classroom to the home during the COVID-19 pandemic.
Y
ou
may NOW register ONLINE!
Fall Registration 2020
*********************************
Fr. Panagiotis will be Temporarily Filling-In
Fr. Panagiotis will be filling-in as a substitute priest at the parish of St. Athanasios &
St. John the Baptist Greek Orthodox Church on Keeler Avenue in Chicago.
The parish of St. Athanasios & St. John the Baptist are in the process of securing a priest for their parish. Fr. George, as agreed upon before his arrival to the parish, left to go back to Greece at the end of May 2020 signifying the end of his tenure. We wish Fr. George the Lord's abundant blessings in his transition back home.
The parish of St. Athanasios and St. John the Baptist approached Fr. Panagiotis to assist liturgically in the interim. Fr. Panagiotis discussed this opportunity with Fr. Andreas, the Chancellor of our Metropolis - The Very Rev. Fr. Timothy Bakakos, and at Fr. Panagiotis' request, specifically with the Executive Members of the Parish Council. Fr. Panagiotis agreed to help our neighboring parish out in their time of need.
However, when Fr. Panagiotis will not be assisting at the parish of St. Athanasios &
St. John the Baptist he will be with us at St. Demetrios during this same time frame. It has been agreed and understood by all parties that when our parish returns to regular capacity and attendance, that Fr. Panagiotis will return to his usual role in the life of our parish.
We wish the parish of St. Athanasios & St. John the Baptist the very best in the search of finding a new priest to lead their community. Likewise, we look forward to Fr. Panagiotis' full return to St. Demetrios.
If you have any comments, questions or concerns, please contact Fr. Andreas directly.
*********************************
Greek Orthodox Metropolis of Chicago
Communications & Events
*********************************
A Partnership With Those Who Have Lost Their
Jobs Due to Covid-19
The Metropolis of Chicago is partnering with
Medix
, a national workforce solutions firm, to help displaced workers belonging to the Metropolis find work during the pandemic.
*********************************
Though the current times have separated us from family, friends & neighbors, we remain united to each other as members of the Body of Christ.
As Orthodox Christians, there are few greater truths present in our faith.
In this spirit, the Metropolis of Chicago will share with the faithful sermonettes, prayers, reflection or stories from the clergy members and others of the Metropolis on a daily basis.
Please visit this webpage every day and share the pastoral messages with your family, friends and neighbors. The Metropolis asks the faithful for their continued prayers for our first responders, doctors, nurses and for the people under their care.
Your Church Office of

The Greek Orthodox Church of St. Demetrios Elmhurst, IL.
630.834.7010