Sustainability in Action: Six Success Stories
City of Elizabeth and Groundwork Elizabeth Create Demonstration Green Infrastructure Projects (Union County)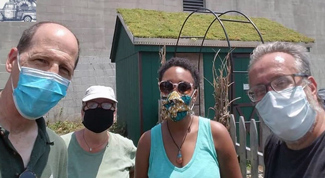 As an older urban center, the City of Elizabeth faces many challenges due to dense development, population growth, aging infrastructure and the effects of climate change. Because storm water management is a problem, the City developed demonstration projects and educational resources to inform residents about green infrastructure options like the ones listed in Sustainable Jersey's Green Infrastructure Implementation action. Working with the local non-profit Groundwork Elizabeth and many committed partners, the City of Elizabeth created a variety of demonstration projects at Elizabeth MicroFarm located behind the Elmora Branch of the Elizabeth Public Library. The site has a green roof, rain barrels, a rahttps://groundworkelizabeth.org/ingarden, down spout planters, a bio-retention project and more. These projects, and all other work on the farm, serve as an educational resource with service-based learning opportunities for the surrounding community. Daniel Loomis, Elizabeth City Engineer said "Because green stormwater infrastructure is being evaluated system-wide as a potential control measure, we think these projects coupled with an engaged and informed community, can help us make progress on stormwater management in Elizabeth." A "Guide to Stormwater Management for the Home, School or Office" was developed and with the Elizabeth Housing Authority's assistance, Groundwork Elizabeth arranged for all residents of the Housing Authority of the City of Elizabeth to get informational materials. Groundwork Elizabeth's Climate Safe Task Force via the Groundwork Climate Neighborhoods Partnership plans to translate the guide into Spanish. The guide will be distributed to Elizabeth's 29,000 public school students. A $20,000 Sustainable Jersey Grant, funded by the PSEG Foundation, contributed to making these innovative projects possible. The City of Elizabeth is certified with Sustainable Jersey at the bronze-level.
Holland Township School Raises Horseshoe Crabs and Citizen Scientists (Hunterdon County)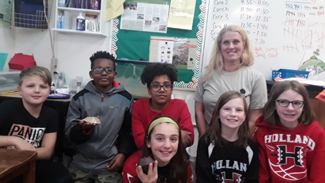 Although rural Hunterdon County is two hours from the Atlantic Ocean, the middle school students at Holland Township School learned—in their own classroom—about the biodiversity of the Atlantic coastline through the horseshoe crabs they raised. Holland Township School teachers Stephanie Bacskai and Christine Haffling participated in the Green Eggs and Sand Aquatic Curriculum Workshops provided by the New Jersey's Department of Environmental Protection's Division of Fish and Wildlife. The teachers received a permit and curriculum guidance to raise horseshoe crabs in the classroom. The students experienced hands-on observation of tank organisms as they researched ocean pollution and collected daily data to analyze the tank ecosystems. Guidebooks were created by each student to tell their experiences and share the importance of conservation and impacts of water pollution. Sixth-grader Luke wrote, "My class has horseshoe crabs of our own. They are small and molt every couple of days. We test the water in the tank. It is very cool to have horseshoe crabs in the classroom." Holland Township School is certified at the bronze-level with Sustainable Jersey for Schools and a $2,000 Sustainable Jersey for Schools Grant, funded by the New Jersey Education Association helped to make this program possible.
First Community Solar Project Energized in New Jersey Expands Access to Renewable Energy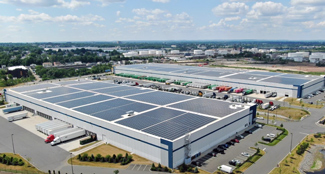 On January 28, 2021, Governor Phil Murphy celebrated the completion of the first community solar projects energized in New Jersey. The two projects, constructed on neighboring industrial roofs in Perth Amboy, will generate nearly 7 MW of clean, renewable electricity. Community solar makes "going solar" possible for all utility customers without having to purchase, install or maintain solar panels. This allows residents, businesses or other organizations that cannot put solar on their own roof for any reason – whether they are renters, have too many shade trees or other constraints – to enjoy the benefits of solar. The Perth Amboy project created more than 50 local jobs, will power 1,200 homes and will save local low- and moderate-income residents a guaranteed 15% on their energy utility bills. The project developers also created a workforce training program to prepare graduates to work on construction of community solar projects. New Jersey's industrial buildings, parking lots and even landfills are ideal locations for community solar projects. The Community Solar Energy Pilot Program is administered by New Jersey's Clean Energy Program™. In 2019, the New Jersey Board of Public Utilities awarded nearly 78 MW to 45 community solar projects across the state. The Board is currently reviewing applications for Year Two of the pilot program, which anticipates awarding 150 MW of community solar energy capacity – double the capacity of Year One! Municipalities can earn certification points for supporting community solar through Sustainable Jersey's Municipally Supported Community Solar action. Sustainable Jersey's Community Solar How-To Guide details the roles municipalities can take in supporting community solar projects. For more information about the Community Solar Energy Pilot Program, click here.
Stafford Helps Its People (Ocean County)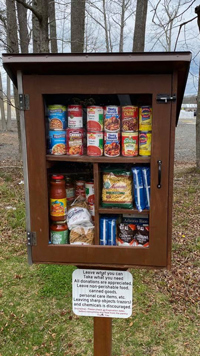 The Township of Stafford under the supervision of the Stafford Township Recreation Department is coordinating volunteers and organizations to provide services to residents in need during the COVID-19 pandemic and beyond. A special focus is helping the town's elderly, disabled and immunocompromised. The Stafford Helps Its People (S.H.I.P.) program provides a variety of resources, ranging from connecting residents that can use someone to talk with when they are feeling lonely to offering volunteers to grocery shop and pick-up prescriptions for people who are unable to leave the house. Mayor Gregory E. Myhre said, "This has been a great way to reach out to our community during these unprecedented times to make sure that all of Stafford's residents are being taken care of. We have nearly forty volunteers that help get food, prescriptions and more. These volunteers are in a one-on-one relationship with the resident that needs assistance." The program is promoted on the website, social media and in the Mayor's Forum broadcast. Local Eagle Scout, Parker Petty, in an effort to help feed people in need, created the Free Little Pantries. Working with the Recreation Department, a pantry was set up in four locations throughout the Township. Unlike some food pantries that are in physical buildings, these pantries are boxes filled with food items. Stafford Township is certified at the bronze-level with Sustainable Jersey and received certification points for this program under the action: Innovative Community Project.
Complete Streets: Technical Assistance, Video and New Actions
Through North Jersey Transportation Planning Authority's (NJTPA) Complete Streets Technical Assistance Program, Sustainable Jersey collaborated with the Alan M. Voorhees Transportation Center at Rutgers University to provide planning-level technical assistance services to municipalities for advancing a complete streets initiative in their communities. In 2020, eight municipalities were selected as part of this program to receive technical assistance for complete streets projects ranging from workshops on walkability to bicycle network plans and crime prevention safety assessments. Project reports are now available on the NJTPA website's Complete Streets page. A video was developed as part of the project; Streets for Everyone is a 3-minute public educational video that illustrates the importance of designing, operating and maintaining streets for all users and travel modes. Watch and share: https://youtu.be/K-XjsZIzVOY. Review Sustainable Jersey's new actions: Complete and Green Streets for All Policy and Bicycle and/or Pedestrian Improvement Projects.
Energy Conservation the Focus for Mendham Township Elementary School Green Day (Morris County)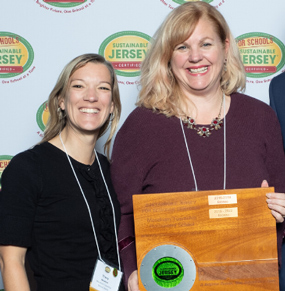 This winter, Mendham Township Elementary School coordinated a school-wide, dedicated Green Day. Third grade teacher and green team leader Erica Parke explained, "We have a special day to celebrate our sustainability efforts school-wide. This year's theme is energy conservation. A lot of energy is used during the winter to heat houses, provide lighting, power networking access and devices for distance learning. The topic is especially timely." Tracy Newton, Mendham Township Elementary School Green Team leader added, "The event puts a spotlight on the topic of sustainability during a time of the year when it feels like nature is dormant. It ignites a sense of high-energy for the students and faculty." On the day of the event, the traditional curriculum is suspended as the school immerses itself in a day filled with an extensive list of activities. The event included Tanya Sulikowski, from Merrill Creek Reservoir, who presented live animals via a remote connection. Allison Mulch of Eco-Schools and Emily Wilmoth of New Jersey Audubon covered energy conservation with the students. The school also works to enhance their students' educational experiences by incorporating them within a Social Emotional Learning (SEL) framework. Mendham Township Elementary School is certified with Sustainable Jersey for Schools and is working toward achieving the higher level silver certification.
Sustainability Heroes
---