Sustainability in Action: Six Success Stories
Galloway Township Green Roof Provides Living, Breathing Model of Sustainability (Atlantic County)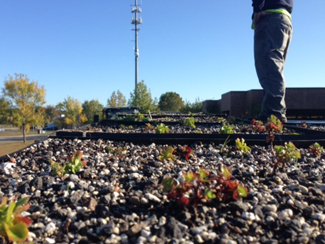 Galloway Township's Green Roof Project is a small-scale example of a living green roof. Located on top of the shade structure at the Galloway Township Community Garden, the project facilitated a community partnership between the Township of Galloway, the Agricultural Department at Stockton University (Galloway Campus) and the Council-appointed green team–Go Green Galloway. Stockton University grew the plants from seed in the GreenGrid modules on campus. Galloway Township and Go Green Galloway installed the planted modules on the roof of the gazebo at the Community Garden. When the demonstration project fully matures, it will serve to educate the public about the benefits of this type of construction; students of the Master Composter Class, managed by Rutgers New Jersey Agricultural Experiment Station, and the Atlantic County Utilities Authority have visited the site already. The costs were offset by a $2,000 Sustainable Jersey grant funded by the PSEG Foundation. Steve Fiedler of Go Green Galloway, said, "The initial impact of the grant is our shared pride in the project and the optimism that comes from seeing a green initiative realized." Melanie Lynch, the Galloway Township Chief Sustainability Officer explained, "The demonstration will highlight the benefits of this rooftop technology, including: the aesthetics of the growing plants, the sequestration of stormwater runoff, the potential cooling and insulating effect on the structure, its contribution toward better air and water quality, its potential to maximize the energy efficiency of buildings and the life extension of roofing materials." This type of project can also be documented and receive points with the Sustainable Jersey action: Green Infrastructure Implementation.
Unity Charter School's Sustainability Mission Strenthened by Pandemic (Morris County)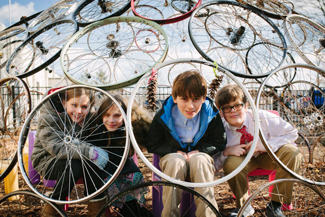 Since 1998, sustainability has been the core mission of Unity Charter School, a K-8 public elementary school in Morristown. With the COVID-19 pandemic, the school community had to get creative by providing flexible options for virtual learning. Watch their video on how the pandemic has served to strengthen the school's focus on sustainability: A Sustainable Community Strengthens Unity. Unity Charter has participated in Sustainable Jersey for Schools from the outset, certifiying at the bronze-level in 2015 and 2017. This year, Unity Charter achieved silver-level certification and created a Unity Charter certification acceptance video for the virtual awards event. A highlight from Unity Charter's 2020 certification application is the school's collaboration with the Morris Township Environmental Commission that resulted in a Morris Township plastic bag ban ordinance. Volunteer families from the school green team collected data from local businesses to help inform the Township Committee's decision. Unity Charter received certification points for this work with the action: Civic & Stewardship Volunteer Initiatives. Education for Sustainability (EfS) is another area where this school excels. Jennifer Carcich, the Unity Charter School Supervisor of Curriculum said, "As a pillar of our purpose, EfS is integrated into daily life at Unity Charter and is intrinsically woven throughout our curriculum. Students learn about and develop an appreciation and celebration of our planet's diversity, from people to places, cultivating a deeper connection to the larger community." For example, students in grades 5-8 studied the issue of land development through the lens of multiple perspectives. They viewed the documentary Class Divide that focused on class division and gentrification in New York City's West Chelsea neighborhood. After a field trip to walk the High Line, a park developed on elevated train tracks through this neighborhood, students completed lessons that involved looking at census data and sustainable development nationally and in their own towns. Unity Charter received certification points for these efforts with the action: EfS Grades 4-12 English Language Arts. Review the 2020 Unity Charter School Certification Report to see the full range of actions the schools has achieved.
Community Solar Pilot Program Now Accepting Applications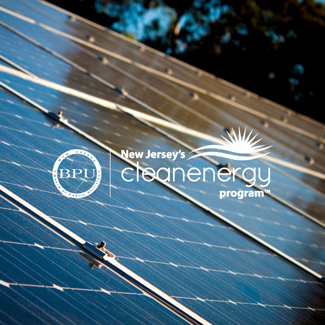 Governor Murphy is advancing renewables like solar in the Garden State. However, not everyone is able to put solar panels on their roof. To address this, last year New Jersey launched a Community Solar Energy Pilot Program. Unlike traditional solar, community solar panels can be installed at a "host site," which could be on a warehouse roof, above a neighborhood parking lot, on top of an apartment complex, or on a municipal landfill. Community members can subscribe to the energy created by the panels, and will see a credit on their electric bill. This unique community solar program is expanding access to solar by eliminating cost and location barriers. In its first year, the program approved 45 community solar projects totaling 77.98 MW, enough to power approximately 15,500 homes, with all of the projects serving low- and moderate-income (LMI) households. This year, New Jersey Board of Public Utilities (NJBPU) tripled the size of the program – from 75 MW to 225 MW – and maintained a commitment to improving equity by serving LMI communities. The program is administered through NJBPU's Clean Energy Program, and is eligible to earn points for Sustainable Jersey's Municipally Supported Community Solar action. For full details about the program, click here.
Mount Olive Township Adopt-A-Spot Program Beautifies Municipality (Morris County)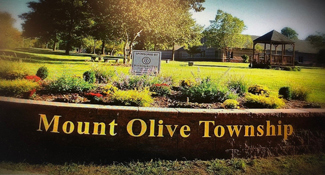 The Mount Olive Adopt-A-Spot program asks private landscape businesses to take on the responsibility for grass maintenance, weeding, mulching and floral design for designated areas within the Township of Mount Olive. In return, the Township ensures that the landscape companies are properly recognized through the placement of signage at the Adopt-A-Spot location and information on the Township's website. The program reduces municipal labor costs and showcases the talents of local landscape professionals. Rob Greenbaum, the Mayor of Mount Olive Township said, "We strive to be municipal leaders through our stewardship of the Mount Olive Township Adopt-A-Spot areas. Our residents realize a benefit in averted municipal spending and get to enjoy the beautification of municipal property. This program is another example of Mount Olive Township's work to ensure efficiency in our municipal operations." Mount Olive Township achieved Sustainable Jersey certification in 2019 and submitted this program as an Innovative Community Project action for its most recent certification application.
Tri-Shore Hubs Host Informative Heat Pump Webinar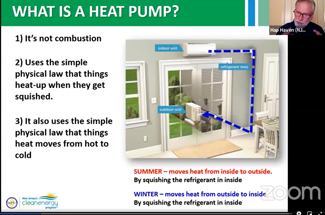 The Sustainable Jersey Hubs of Atlantic-Cape May, Monmouth and Ocean counties hosted an informative webinar on November 9, 2020 entitled: Reducing Carbon Emissions for Heating and Cooling with Heat Pumps. This was the first collaborative event of the hubs in the Jersey Shore region. Pat Miller of the Monmouth Sustainability Hub moderated the presentation; she opened the event saying, "We hope after this session, you never buy another air conditioner again. You'll buy a heat pump instead." The virtual event focused on the benefits of using heat pumps in both homes and businesses to improve heating and cooling efficiency while reducing carbon emissions. Speakers included industry experts, current users, installers and sustainability professionals such as Steve Miller (Monmouth Sustainability Hub and the Middletown Green Team), Hap Haven (New Jersey's Clean Energy Program), David Hoh (Home Comfort and Energy Experts), Paul Rinear (Aberdeen Green Team), Phyllis Gar (Monmouth Hub and the Marlboro Green Team) and Nate Adams (Energy Smart Home Program). Hap Haven discussed some of the incentive programs available from New Jersey's Clean Energy Program and noted that the cold climate air source heat pump is the most efficient heat pump and perfect for New Jersey's climate. He concluded the session with a call to action: "Let's move New Jersey into the future." Learn more: https://njcleanenergy.com/cool. Watch the Webinar: Reducing Carbon Emissions for Heating and Cooling with Heat Pumps.
Making Franklin Township Community Farmers Market Better (Somerset County)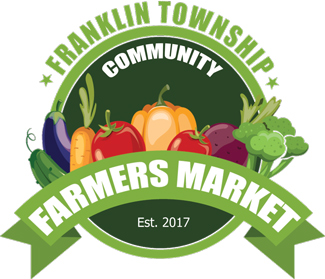 In 2019, Franklin Township embarked on a plan to enhance its community farmers market so that residents and visitors could enjoy fresh and locally grown foods in a fun and welcoming atmosphere. A creative marketing plan was implemented with increased advertising, themed days and live entertainment. The special themes were Pets Day, All About Dads Day, National Farmers Market Day, Back to School Day and more. Each day was supplemented with promotional items: tote bags, car wash kits, home garden kits and school supplies. Lawn signage was added to the Township's most traveled roads and social media was increased. Township committees like the Environmental Commission, Shade Tree Commission and Franklin Township Green Team helped support the market. Various nonprofits tabled at the market including the Watershed Institute, Lower Raritan Watershed Partnership, Discover Central Jersey, Franklin Township Astronomy Club, a nutritionist from ShopRite and a Wellness Truck from the Robert Wood Johnson Hospital. A free shuttle was provided to the market from the local, low-income Senior Housing Developments. The enhancements resulted in increased customers, greater access for a variety of visitors and a better experience for vendors and guests. The market got a grant from City Green's Garden State Good Food Network's Good Food Bucks DOUBLE SNAP Program and Franklin Township used a $2,000 Sustainable Jersey grant funded by the PSEG Foundation to support market improvements. Tara Kenyon, the Franklin Township Land Preservation and Management Consultant said, "The farmers market builds a greater sense of community and offers a forum for citizens to better understand the benefits of foods and products from small independently owned farms. All of these activities ultimately benefit our farmers which promotes and retains the agricultural industry in Franklin Township." Franklin Township was certified with Sustainable Jersey in 2019 at the silver-level and received certification points for the Sustainable Jersey actions: Farmers Markets and Making Farmers Markets Accessible.
Sustainability Heroes
---