Hal Leonard Music Technology Retailer Update /
April 2019

Hal Leonard distributes thousands of MI products from the industry's top manufacturers. So which ones should you make sure you have in your store? This bestsellers list is a great place to start. Ask your sales rep for details on how you can get free freight with a qualifying order!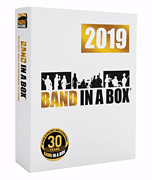 Band In a Box - Windows Edition
Music Creation Software from PG Music
Here are many of the exciting new features you'll find in Band-in-a-Box® 2019!
- 64-bit version which works with the latest plugins and 64-bit OS features
- Completely redesigned SongPicker
- Advanced filters to help with searches for RealTracks, RealDrums, and MIDI SuperTracks
- 300 song titles added to the Song Titles Browser
---
Virtual Music Software Vault
from Hal Leonard
The software shown above and much more is available now through the
Hal Leonard Virtual Music Software Vault
. Join this free service and expand your sales!
Contact your Hal Leonard sales rep to get started today on the vault!
M-Track 8x4M
USB Audio/MIDI Interface from M-Audio
This 8-in 4-out USB audio/MIDI interface provides all of the connections you need to easily create professional 24-bit/192kHz studio-quality recordings. The M-Track 8X4M features transparent low-noise Crystal Preamps™ and pristine A/D converters that deliver the highest audio performance in its class.
---
Studio Series
USB-C Audio Interfaces from PreSonus
These complete, all-in-one recording studio interfaces come with PreSonus' award-winning Studio One® Artist music production software for macOS® and Windows® and is backward compatible with USB 2.0 and 3.0 connections. Each interface includes two mic/instrument/line inputs with XMAX mic preamps, and two balanced 1/4" TRS main outputs. They also include stereo headphone output, +48B phantom power for condenser mics, MIDI In/Out, front-panel level controls for main outputs; and the Studio Magic Plug-in Suite.
View series intro video
00293756
-
Studio 24c
- MSRP $199.95/MAP $149.95
00293757
-
Studio 26c
- MSRP $259.95/MAP $199.95
00293760
-
Studio 68c
- MSRP $389.95/MAP $299.95
00293762
-
Studio 1810c
- MSRP $499.95/MAP$399.95
00293764
-
Studio 1824c
- MSRP $649.95/MAP $499.95
iLoud MTM
High Resolution Compact Studio Monitor from IK Multimedia
These nearfield studio monitors were created for
quality, accuracy, and convenience. The
iLoud MTM offers a totally DSP-controlled system to achieve results simply not possi
ble with analog designs. The results are impre
ssive: 40Hz - 24kHz flat frequency response, size-defying bass response, true linear phase response
, superior imaging and precision, built-in acoustic calibration
, and more.
---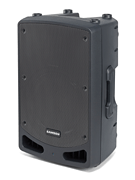 Designed to make live sound portable and easy, these speakers feature 800 watts of power from an advanced Class D amplifier, keeping the overall system weight under 35 pounds. They are ideal for DJs, lectures, meetings, events, as well as for the singer/songwriter or acoustic duo.
RL112A

RL115A

Accessible Technology for the Music Classroom
Customizable 8-Page Brochure
Hal Leonard is nearing completion on an 8-page brochure highlighting the best software, interfaces, controllers, microphones, speakers, studio monitors, mixers, accessories and more we have available which music educators will find useful in their classroom. Ask your sales rep how you can customize a version of this brochure for your store today!
---
2019 Products Catalog
Music Technology, Gear & Accessories
from Hal Leonard
Our new catalog includes software, interfaces, controllers, speakers/monitors, mics, wireless systems, powered speakers, mixers, and more. Also includes brand-name gear for guitars, basses, keyboards, ukuleles, and more instruments; plus accessories like tuners, stands, folders, mobile device accessories, headphones, and more. Ask your Hal Leonard sales rep to add this catalog free of charge to your next order (HL
90015803), or view a PDF here.

Up to 50% Off Post Production Tools
Offer expires April 30th. Ask your Hal Leonard sales rep for details for this deal on:
---

Instant Rebates on Wireless Mics
Get instant rebates for as much as $100 from now through April 30th on the following items.
XD-V35 Digital Wireless Systems -
$50 rebate
XD-V55 Digital Wireless Systems -
$65 rebate
XD-V75 Digital Wireless Systems -
$80 rebate
---

Instant Rebates &
Temporary Price Reductions
StudioLive Series III Consoles
-
Instant Rebates through May 31
00237316 - StudioLive 32 - MAP

$2999.95

$2699.95 - Special Cost $2025
00237314 - StudioLive 24 - MAP

$2499.95

$2299.95 - Special Cost $1725
00237315 - StudioLive 16 - MAP

$1999.95

$1799.95 - Special Cost $1350
AIR Series Speakers
-
25% Off through April 30
00196611 - AIR10 - MAP

$499.95

$374.96 - Special Cost $262
00196612 - AIR12 - MAP

$599.95

$449.96

- Special Cost $315
00196613 - AIR15 - MAP

$699.95

$524.96

- Special Cost $367
00196614 - AIR15s - MAP

$799.95

$599.95

- Special Cost $420
00196615 - AIR18s - MAP

$999.95

$749.96

- Special Cost $525




---

Reason 10 Specials
Specials are valid on qualifying sales during the promotional period submitted by April 21.
Reason 10
-
$100 Instant Rebates
(
MAP $399.00)
Reason Upgrade from Previous Versions
-
Only $99
(Reduced from $129)
Reason Lite Upgrade
-
Only $199
(Reduced from $299)
NOTE:
Credit per unit is calculated using standard unit purchasing price less the promo discount percentage; price protection credit for this instant rebate promotion to be applied to purchase orders made during the promotional period; Proof of sales (sell-through report) during the promotional period and Propellerhead Manager approval is required for all submissions
---

600MHz Wireless Mic Rebates
Ask your Hal Leonard sales rep for details on
the Samson 600MHz Wireless Rebate program through June 30, 2019.
| | | |
| --- | --- | --- |
| | | |

Ask Your Sales Rep About Our Current Specials

!
Sales restrictions to some countries may apply. All prices listed in U.S. funds.
Reproduction in whole or in part without written consent of the publisher is prohibited.