Hal Leonard Music Technology Retailer Update /
February 2019

Thanks to all who stopped by our booth and visited with our Hal Leonard NAMM Crew (shown above) in Anaheim, California in January. It was a great and productive show, and we enjoyed the opportunity to introduce you to
several new and bestselling music technology products.
NAMM Specials Extended!
Ask your sales rep for details on our MI special offers from NAMM, which are valid through February 15th.
Alesis & Samson Receive
"Best in Show" Honors
Congratulations to Alesis & Samson on receiving special recognition from NAMM's Best in Show panel:
Alesis - Companies to Watch winner
---
2019 Products Catalog
Music Technology, Gear & Accessories
from Hal Leonard
Our new catalog includes software, interfaces, controllers, speakers/monitors, mics, wireless systems, powered speakers, mixers, and more. Also includes brand-name gear for guitars, basses, keyboards, ukuleles, and more instruments; plus accessories like tuners, stands, folders, mobile device accessories, headphones, and more. Ask your Hal Leonard sales rep to add this catalog free of charge to your next order (HL
90015803), or view a PDF here.
Hal Leonard Partners
with Inbound AV
Hal Leonard has partnered with Inbound AV to offer web integration services to help dealers better represent and sell Hal Leonard distributed products online. Don't have a programmer on staff? Your current website doesn't have a functioning web store? Inbound AV can help you get up and running in no time!
Xaximum Dashboard Connection
Connect your website to ALL software distributed by Hal Leonard, offer customers immediate delivery of top software brands.
-
Regular price: $795-950
- NAMM Special until February 15th: $497
New E-Commerce Web Store
- NAMM Special until February 15th:

$795 + $20/month hosting



For more details, contact:
Hype MiC
USB Microphone from Apogee
Ever wonder how your favorite recordings seem to leap from the speaker, with vocals that magically float above even a dense background track? That's compression. HypeMiC features studio-quality analog compression that's easy to use and brings the magic to your vocals, voice-overs, instruments, percussion, and podcasts - anything you record! With HypeMiC and your iPhone or computer, you can make amazing recordings on the go.
---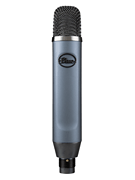 Ember
XLR Studio Condenser Microphone from Blue Microphones
Ember brings Blue's legendary studio sound to your creative space. Featuring our proprietary custom, hand-tuned condenser capsule, Ember delivers superbly clear, open and detailed performance for recording or streaming voice and instruments. Ember's cardioid pickup pattern focuses on the sound source and minimizes room noise, and the compact, side-address design is perfect for mic placement in tight spaces or limited on-screen real estate.
AXE I/O
Audio Interface from IK Multimedia
AXE I/O is a professional 2 in/5 out audio interface - and controller - designed specifically with the needs of the recording guitarist in mind, providing best-in-class sound quality and powerful features aimed squarely at making your recordings faster, easier and better than ever.
Product Description
- Introductory Video
---
Quantum 4848
Thunderbolt Audio Interface from PreSonus
Designed for the recording professional, the 48x48-channel Quantum 4848 is PreSonus' fastest and best-sounding audio interface, achieving extremely low latency, thanks to advanced Thunderbolt audio drivers. Route audio from your vintage gear to your DAW and back without any signal degradation, capturing every nuance of your favorite boutique equipment using 32 channels of line-level inputs and outputs at sample rates up to 192 kHz. For a full 48-channels, integrate your favorite digital converter using 16 channels of ADAT I/O.
---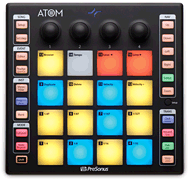 Atom
Production & Performance Pad Controller from PreSonus
Both a flexible performance controller and a tightly integrated production environment, PreSonus ATOM pad controller and included Studio One Artist production software let you create and perform with ease. The most versatile pad controller in its class, ATOM is compatible with most music software and lets you perform and produce with virtual instruments and trigger samples and loops in real-time, using 16 full-size, velocity- and pressure-sensitive RGB pads; 4 programmable rotary encoders; 20 assignable buttons; and 8 assignable pad banks. To fuel your creativity, you get an MVP Loops library custom-designed for ATOM, in addition to more than 2 GB of Studio One content.
---
2019 NAMM TEC Award Winners
Congratulations to these TEC Award winners, available now from Hal Leonard!

FaderPort 16 (from
PreSonus)
Production Essentials winner
Hollywood Choirs (from
EastWest Sounds)
Musical Instrument Software winner
Ozone 8 Mastering Suite (from
iZotope)
Signal Processing Software (Dynamics/EQ/Utilities) winner
Pro Tools Ultimate (from
Avid)
Workstation Technology/Recording Devices winner
00267666 - Perpetual License - MSRP/MAP $2,499.00
00267667
- Annual Subscription - MSRO/MAP $999.00
Musician's Guide to Home Recording
by Craig Anderton
The books in the Musician's Guide to Home Recording series are written in a clear, practical, non-intimidating style, and cover a wide variety of topics. Each volume is loaded with illustrations and features the judicious use of sidebars to give details on selected topics for those who want to know "why" as well as "how." Unlike books that emphasize only the technical, these books dig deep into the topics covered, from artistic decisions, valuable tips and techniques, detailed descriptions, and more.



00269493 -
How to Apply Equalization -
$14.99
00269495 - How to Choose and Use Audio Interfaces - $14.99
00269491 -
How to Record and Mix Great Vocals -
$14.99
00283537 -
Microphones for the Recording Musician -
$19.99
Buy 3 & Get a FREE Desk Copy!
Contact your sales rep for details on this offer for Tech Talk retailers only.

NAMM Slam Sale!
Save up to 40% on IK Multimedia's most popular software titles and iOS apps & collections.T

hrough February 5th, save on IK's most popular software titles and iOS apps & collections.



Go to the IK Multimedia website for details




Ask Your Sales Rep About Our Current Specials

!
Sales restrictions to some countries may apply. All prices listed in U.S. funds.
Reproduction in whole or in part without written consent of the publisher is prohibited.