Hal Leonard Music Technology Retailer Update /
January 2019


Hal Leonard hopes to see many of you at NAMM later this month! We will be exhibiting at the show on January 24-27 in Anaheim, California. Visit our Booth #8910 in Hall B to see all of our latest offerings. Contact your Hal Leonard sales rep now to schedule an appointment to meet with us at NAMM or even if you aren't attending, ask us about our NAMM show specials!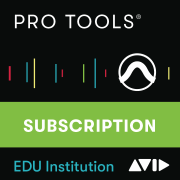 Pro Tools
Now with FREE UVI Virtual Instruments -
from Avid
Pro Tools now comes with free UVI virtual instruments including the 2.6 GB Plugsound sample library and the powerful Falcon virtual synth. Additionally, Pro Tools Ultimate users will get the complete Falcon Factory library with over 1000 presets.
Pro Tools
00267661 - Perpetual License - MSRP/MAP $599.00
00267662 - Annual Subscription - MSRP/MAP $299.00
Pro Tools Ultimate
00267666 - Perpetual License - MSRP/MAP $2499.00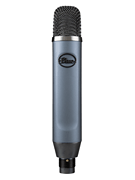 Ember
XLR Studio Condenser Microphone from Blue Microphones
Ember brings Blue's legendary studio sound to your creative space. Featuring our proprietary custom, hand-tuned condenser capsule, Ember delivers superbly clear, open and detailed performance for recording or streaming voice and instruments. Ember's cardioid pickup pattern focuses on the sound source and minimizes room noise, and the compact, side-address design is perfect for mic placement in tight spaces or limited on-screen real estate.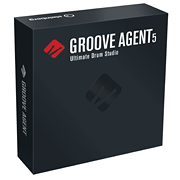 Groove Agent 5
Ultimate Drum Studio Plug-In Software from Steinberg
It's all in the groove! It's all about the groove: Groove Agent 5 inspires with lots of fresh drum sounds. Songwriters and producers will love the new and very organic sounding acoustic drum kit including 20 exclusively mixed and produced presets. Modern beat producers will use the 30 new electronic kits for EDM, Trap, Future Bass and lots more - created by an international production team by artists like Rawtekk. All this comes in a new resizable user interface aided by fresh sound design features like the decomposing of samples in tonal and noise parts. The drum plug-in works with VST AAX, and AU in nearly any DAW.
00288760 - Retail Boxed Edition - MSRP $239.99/MAP $179.99
00288762 - Retail Download Code - MSRP $239.99/MAP $179.99
00288761 - Education Boxed Edition - MSRP $239.99/MAP $107.99
00288763 - Education Download Code - MSRP $239.99/MAP $107.99
---
Virtual Music Software Vault
from Hal Leonard
The software shown above and much more is available now through the Hal Leonard Virtual Music Software Vault. Join this free service and expand your sales!
Contact your Hal Leonard sales rep to get started today on the vault!
Quantum 4848
Thunderbolt Audio Interface from PreSonus
Designed for the recording professional, the 48x48-channel Quantum 4848 is PreSonus' fastest and best-sounding audio interface, achieving extremely low latency, thanks to advanced Thunderbolt audio drivers. Route audio from your vintage gear to your DAW and back without any signal degradation, capturing every nuance of your favorite boutique equipment using 32 channels of line-level inputs and outputs at sample rates up to 192 kHz. For a full 48-channels, integrate your favorite digital converter using 16 channels of ADAT I/O.
---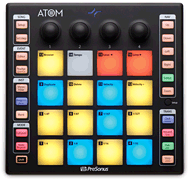 Atom
Production & Performance Pad Controller from PreSonus
Both a flexible performance controller and a tightly integrated production environment, PreSonus ATOM pad controller and included Studio One Artist production software let you create and perform with ease. The most versatile pad controller in its class, ATOM is compatible with most music software and lets you perform and produce with virtual instruments and trigger samples and loops in real-time, using 16 full-size, velocity- and pressure-sensitive RGB pads; 4 programmable rotary encoders; 20 assignable buttons; and 8 assignable pad banks. To fuel your creativity, you get an MVP Loops library custom-designed for ATOM, in addition to more than 2 GB of Studio One content.
---

Free Plug-Ins!
Buy Ensemble and Element series products through January 10th and get a discount coupon good for a 6-month subscription to the Eventide Ensemble bundle featuring
more than 20 plug-ins (a $180 value!)
00201961
-
Element 24
- MSRP/MAP $595.00
00201962
-
Element 46
- MSRP/MAP $895.00
00201963
-
Element 88
- MSRP/MAP $1,495.00
00231656
-
Ensemble Thunderbolt
- MSRP/MAP $2,495.00


Ask Your Sales Rep About Our Current Specials

!
Sales restrictions to some countries may apply. All prices listed in U.S. funds.
Reproduction in whole or in part without written consent of the publisher is prohibited.