Hal Leonard Music Technology Retailer Update /
July 2018

Thanks to all who visited our booth at the 2018 Summer NAMM show in Nashville on June 28-30! One of the giveaways at our booth was our newly created 2018 Hal Leonard Summer Addendum catalog, featuring our latest technology and gear releases. Ask your sales rep to add 90015345 to your next order or view/download/print a PDF here.
While at NAMM, we hosted a Tech Talk Master Class on recording at The Tracking Room studio with Grammy-winning producer Craig Bauer (see photos above). Thirty-five students (and dealers) witnessed and learned how Craig records and mixes using gear and software that Hal Leonard distributes. Special thanks to our co-sponsors Avid, Antares, Blue Mics, iZotope, Solomon, Walrus Audio, Samson, Hartke, Gretsch, Gibraltar and Paiste.
iZotope Software
Coming to Hal Leonard
Hal Leonard is proud to announce that we will soon be distributing software products from iZotope,

the leader in audio restoration software for schools and studios

. Contact your Hal Leonard sales rep for details on iZotope's full line of plug-ins and software.
---
Studio One® 4
from PreSonus
Studio One 4 was designed with ease of use at its core. It seamlessly combines the time-tested and proven recording studio model with today's beat- and loop-oriented production process so you can bring musical ideas to sonic reality more quickly than ever before. An efficient, single-screen interface houses an unlimited number of tracks, intuitive editing tools, and advanced virtual instruments. Spend your precious time creating music instead of wondering what to click next. Studio One doesn't dictate how you work or what you work on.

Studio One 4 is a major update that combines the best of the traditional recording studio model with the modern methods of creating beat- and groove-oriented music. You truly can work better, faster. With Studio One 4, you create music on your terms: Create without boundaries, produce without limits.
00281449 - Professional Edition - MSRP $449.95/MAP $399.95
00281450 - Professional Upgrade - MSRP $199.95/MAP $149.95
00281448 - Artist Edition - MSRP $149.95/MAP $99.95
Purchase StudioOne 4 through the

---
ARC 2.5
Advanced Room Correction System from IK Multimedia
ARC System 2.5 with MEMS microphone is the first acoustic correction system that combines a super accurate MEMS measurement microphone, measurement software AND a correction plug-in to greatly improve the audio monitoring accuracy of speakers in any studio or room listening environment in an elegant, portable, affordable, easy to use and extremely professional solution. With literally thousands of ARC-based studios worldwide, you can be confident you are making a sound choice!
00280271
- MSRP/MAP $199.99
Purchase ARC 2.5 through the
---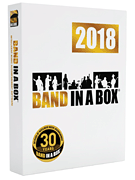 Band-in-a-Box 2018
Macintosh Edition from PG Music
There are over 50 exciting new features in Band-in-a-Box 2018, including: Video RealTracks, a new audio driver system with ultra-low latency, a redesigned Audio Chord Wizard, new Audio Harmonies feature, Fix Tuning, the Piano Roll window, StylePicker enhancements and much more.
00281284
- Macintosh Edition - $129.95
Also available:
Purchase Band-in-a-Box through the
---
Virtual Music Software Vault
from Hal Leonard
All of the new software listed above from PreSonus, IK Multimedia and PG Music are available through the Hal Leonard Virtual Music Software Vault. Contact your Hal Leonard sales rep to get started today on the vault!

UR-RT2 & UR-RT4
USB Audio Interfaces from Steinberg
The premium UR-RT series provides high-speed USB 2.0 connectivity and comprises the UR-RT2 and UR-RT4 mobile interfaces with switchable Rupert Neve Designs input transformers.
Combined with the onboard, high-quality D-PRE preamps, the Rupert Neve Designs transformers deliver a musical, more expressive sound with rich harmonics, which is especially beneficial for vocals, acoustic guitar and other instruments with a versatile dynamic range.
00279832 - UR-RT2 - MSRP $449.99/MAP $349.99
00279833 - UR-RT4 - MSRP $749.99/MAP $599.99
New Book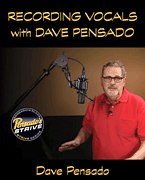 Recording Vocals
with Dave Pensado
Pensado's Strive Education Series
The
Strive
curriculum is the brainchild of online-television sensation
Pensado's Place
and Hal Leonard. It will feature authors who are considered best in class, relevant, and enormously committed to education and giving back.
News & Announcements
Congratulations to TEC Award Nominees
The three books shown at right were nominated for a NAMM TEC Award at the Summer NAMM show last month. Make sure you have these top-notch reference books in your store!
Get more details on the TEC Awards here
Audio Made Easy - 5th Edition
Alan Parsons' Art of Science and Sound Recording
Al Schmitt on Vocal and Instrumental Recording Techniques
00234017
- METAlliance Academy - $24.99 (Coming soon!)
---
Did You Celebrate Make Music Day in June?

Several Hal Leonard Milwaukee employees performed and recorded a song from The Greatest Showman using gear that we distribute in honor of Make Music Day on June 21st.
If you haven't already known about or participated in Make Music Day, keep June 21st in mind for 2019. Go to the NAMM website for more details on this initiative and ideas on how you can partner with other businesses and/or artists in your area for this annual event.


Ask Your Sales Rep About Our Current Specials

!
Sales restrictions to some countries may apply. All prices listed in U.S. funds.
Reproduction in whole or in part without written consent of the publisher is prohibited.