Hal Leonard Music Technology Retailer Update /
May 2018

On April 25th, Hal Leonard hosted over 100 music industry retailers from across the nation at its Winona, Minnesota operation, which is home to its printing and production facilities, administration offices and distribution center. The dealers were in the area for the annual Retail Print Music Dealers Association (RPMDA) convention. Many of these retailers represent the many accessories, gear and technology products distributed by Hal Leonard while others learned more about how the company offers a wide variety of brand-name products to expand their offerings.
Pro Tools, Sibelius & Media Composer Re-Branding
from Avid
Sibelius, Media Composer and Pro Tools products, distributed by Hal Leonard, have recently been re-vamped by Avid. Each of these product "families" has now been expanded to include three tiers: a free "First" edition for beginners to explore, a second tier edition with standard features, and a complete, full-featured "Ultimate" edition. On your next product update or renewal, you'll notice that product names have changed in the software, and in your Avid Master Account and the product UI. Ask your Hal Leonard sales rep for more details on these new product options and place your order today!
PRO TOOLS
Power Your Sound with the Tools That Power the Industry
Pro Tools
Pro Tools | Ultimate (Previously Pro Tools HD)
SIBELIUS
The Fastest, Smartest, Easiest Way to Wire and Share Music
Sibelius (Previously Sibelius First)
Sibelius | Ultimate (Previously Sibelius)
MEDIA COMPOSER
The Professional's Choice for Creative Editorial
Media Composer | Ultimate (Previously Media Composer)
---
Auto Tune Pro Is Now Available!
from Antares
This update to the popular industry-standard pitch correction software, Auto-Tune 8, comes with the rebranding of the Antares brand as a whole. As of April 23, 2018 all Antares software products are only available as a digital download through Xchange Market Platform.
As of April 1, 2018, MAP prices have also been changed on all Antares products. Any of your customers who have purchased Auto-Tune 8 after January 1, 2018 will receive a free upgrade.
00263645
- MSRP/MAP $399.99

AudioBox 96 Studio
Recording Bundle from PreSonus
Start recording today with this complete, all-PreSonus hardware/software package! The package includes:
- AudioBox USB 96 audio/MIDI interface (available as 00237319)
- Studio One 3 recording/production software (available as 00148960)
- HD7 high-definition headphones (available as 00125088)
- M7 large-diaphragm condenser microphone

LSM-9 POP
Premium Dynamic Vocal Microphones from MXL
MSRP $199.95 - MAP $99.95
Features includes:
- Premium dynamic capsule for high-quality vocal performances
- Super cardioid polar pattern for clear sound and reduced feedback
- Designed to actively cancel vibrations and handling noise
- Durable, all-metal construction
- Perfect for stage and home use
- Professional XLR input
---

Eris 3.5
Active Media Reference Monitors from PreSonus
PreSonus' Eris-series studio monitors are used worldwide by audio engineers who need to hear every detail of their recordings. Ideal for gaming and home video production, the Eris E3.5 employs the same technology as the larger Eris models to deliver studio-quality sound, with a smooth and accurate frequency response. Yet they're compact enough to fit almost anywhere.
---

HD9
Professional Monitoring Headphones from PreSonus
When you need to do serious work without bothering anyone in your living space and without being distracted by outside sound, choose PreSonus HD9 headphones. They're clean-sounding, extra-comfortable, and offer a broad, transparent frequency response that ensures accurate mixing.
---

MD2 & PS05 Microphone Stand/Filter Bundle
from Samson
The MD2 mic stand is the ideal mic accessory for any desktop studio. Via a telescoping arm, the MD2 is easily adjustable from 6-8" in height to allow for optimal, as well as versatile, desktop mic positioning. The PS05 pop filter is an essential mic accessory for any studio or other vocal recording environment. It features a dual-layer 4.75" nylon mesh screen that reduces the vocal popping sounds that occur during speech and singing. These two great new mic accessories are now available separately or as a bundle!


00278795
-
MD2 Desktop Microphone Stand
- $24.99
00278796
-
PS05 Microphone Pop Filter
- $37.49
00278797
-
MD2/PS05 Mic Stand/Pop Filter Bundle
- $49.99
---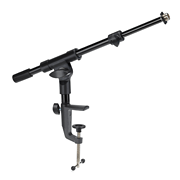 MBA18
Microphone Boom Arm from Samson
This boom arm is the perfect microphone accessory for any radio, podcast or home studio setup. The telescoping design provides a maximum horizontal/vertical arm reach of 18 inches, giving users convenient flexibility with their mic placement.


Tech Talk Training
Producing a Promo Video for Your Band, Part Two
Hal Leonard distributes the tools to create and post a quality video onto YouTube. Here is Part 2 of a TechTalk Training Video that shows you which products to stock to help your customers put themselves online. Products include Smartphone holders, Bluetooth remote switches, recommended recording apps, mobile mics, interfaces, and entry level video editing software.
Price Reductions
Go Mic Mobile Bundles
from Samson
MAP has been reduced $199.99 for the handheld and lavalier bundles for the Go Mic Mobile. Place your order today!
Go Mic Mobile: Handheld Bundle (includes Q8 handheld mic)

Free Control with Element or Ensemble Purchase

Now through June 30th, when you buy an Element 88 or Ensemble, you get a free Apogee Control (00214947 - a $195 value)! Hal Leonard can ship a free Control at the time of the dealer order or reimburse your stock if you give what you have now away.
00201963
-
Element 88 Thunderbolt I/O Box
- MSRP/MAP $1495.00
00231656
-
Ensemble Thunderbolt Interface
- MSRP/MAP $2495.00

Baby Bottle Bundle Pack

This special bundle pack (HL#
00278257
), available until June 29th, is a great deal! For just the price of Blue's
Baby Bottle
(HL#
00214949
), you'll get two add-ons for FREE! It includes the Baby Bottle, plus a
Quad Cable
(HL#
00754511
, retails for $49.99) and the
Pop Filter
(HL#
00754522
, retails for $69.99).

$20 Off on iRig Pre HD & iRig Mic HD
Offer valid through May 31, 2018
00251413 - iRig Mic HD 2 -

$129.99

$109.99
Memorial Day Specials - up to 33% Off!
Offer valid May 25-31, 2018
00120176 - iLoud
-
$299.99
33% Off: $199.99
00214966 - iRig Keys I/O 25
-
$199.99
25% Off: $149.99
00214965 - iRig Keys I/O 49
-
$299.99
23% Off: $229.99
00260962 - iRig Pre HD
-
$99.99
30% Off: $69.99
00196748 - Total Studio Max
-
$999.99
20% Off: $799.99
---

Free Monitor Station with Sceptre S6/S8!
Mail-in rebate worth $369.95 for the Monitor Station desktop studio control center (MSRP 00125087) when you buy one of the items listed below. Valid through May 31st.
00125071 - Sceptre S6 - MSRP $899.95/MAP $499.95
00125072 - Sceptre S8 - MSRP $999.95/MAP $599.95


---

Reason Lite Bundled with Akai Controllers
Reason Lite is free with the purchase of products in the MPK, MPD and LPK series from Akai Professional.
Owners of these products simply need to register their product at Akai Professional's website to get their free Reason Lite license. If you sell these Akai products, stock the Reason Lite Upgrade (HL00254559) to support the demand.


Reason 10 Upgrade Price Reduction
Upgrade to Propellerhead's Reason 10 from Reason Intro/Lite for less! This price has been permanently reduced to $299.


Ask Your Sales Rep About Our Current Specials

!
Sales restrictions to some countries may apply. All prices listed in U.S. funds.
Reproduction in whole or in part without written consent of the publisher is prohibited.