Hal Leonard Music Technology Retailer Update /
November 2018

Holiday sales are now in effect for over 20 participating manufacturers whose products are distributed by Hal Leonard. These specials start with Black Friday and some go through the end of the year. Order now and get ready to make the final months of 2018 as profitable as possible for items from the following manufacturers:
Acoustica - Artiphon - Avid - Blue Microphones - IK Multimedia -
iZotope - Line 6 - Loog - Morley Pedals - MXL - PreSonus -
Propellerhead - Samson - Walrus Audio - Zivix - ...and more!
Ask your Hal Leonard sales rep for more details or to place your order!

Nectar 3 &
Music Production Suite 2
from iZotope
Get your vocals to sit in the mix with Nectar 3's sophisticated set of tools designed specifically for vocals. With more than 10 distinct processors in 1 package, Nectar 3 helps make your vocal tracks sound unmatched by addressing each part of your vocal chain. From corrective to creative vocal production all the way to the final polish, Nectar 3 brings your intended performance to life in isolation and in the context of the mix.
Get actionable visualization with over 30 industry-standard plug-ins that spur creativity and help get everything in your mix in its right place. Music Production Suite 2 offers Neutron 2 Advanced, Ozone 8 Advanced, and the all-new RX 7 Standard, Insight 2 and Nectar 3 (plus Celemony Melodyne 4 Essential).
---
Virtual Music Software Vault
from Hal Leonard
The software shown above and much more is available now through the Hal Leonard Virtual Music Software Vault. Join this free service and expand your sales!
Contact your Hal Leonard sales rep to get started today on the vault!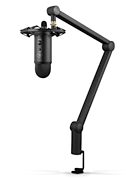 Yeticaster Studio
Professional Desktop Studio Bundle
from Blue Microphones
-

Compass premium broadcast boom arm
- C-clamp for desktop mount
- 3/8" to 5/8" adapter




- PreSonus Studio One Artist Activation Code




- iZotope Ozone Elements Activation Code

.
---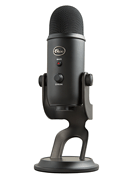 Yeti Blackout Studio Bundle
All-in-One Professional Recording System for Vocals from Blue Microphones
- Yeti multi-pattern USB microphone
- PreSonus StudioOne Artist Activation Code
- iZotope Ozone Elements Activation Code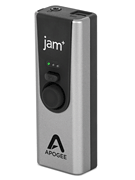 JAM+
USB Instrument Input & Headphone Output
from Apogee
Apogee Jam+ is a professional, USB instrument input and headphone output. Jam+ connects your electric guitar, bass, keyboard or any acoustic instrument with a pickup directly to your iOS device or computer. With an adapter (sold separately) you can also connect a dynamic microphone. The simplicity and portability of Jam+ make it ideal for capturing your best take anywhere you go. The ease of use and sound quality make Jam+ a must-have for beginners and pros.
---
FX Rack Native Plugins Now Available
for Apogee Ensemble & Element Series of Audio Interfaces
Apogee Electronics announces Apogee FX Rack is now available as a limited initial release of 4 native plugins. EQP-1A, Opto-3A, ModEQ 6 and ModComp will be rolling out as a free download to registered Element Series and Ensemble Thunderbolt customers by email. Apogee FX Rack combines a premium selection of modern and vintage plugins with audio hardware DSP and simple yet flexible workflow options.
00201961
-
Element 24
(10-In x 12-Out) - MSRP/MAP $595.00
00201962
-
Element 46
(12-In x 14-Out) - MSRP/MAP $895.00
00201963
-
Element 88
(16-In x 16-Out) - MSRP/MAP $1,495.00
00231656
-
Ensemble Thunderbolt Interface
- MSRP/MAP $2,495.00
---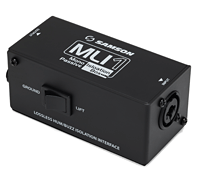 MLI1 Line Level
Passive Isolation Box from Samson
The Samson MLI1 is a line level passive isolation box designed to remove hum and buzz caused by ground loops, as well as to convert unbalanced signals to balanced signals for long cable runs. Combining premium sound circuitry with durable, roadworthy construction, the MLI1 provides high-quality signal connection solutions for live, broadcast and studio applications.
New Wireless Systems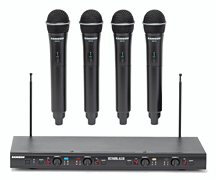 VHF Wireless System from Samson
The Samson Stage 412 is a frequency-agile, quad-channel wireless microphone system with four handheld dynamic microphones that transmit to a single rugged metal receiver. Each handheld features Samson's Q6 dynamic mic element, providing crisp, clear sound and reliable VHF wireless performance for presentation, education, house of worship, karaoke and other applications with up to four performers.
---
XPD2 Series
USB Digital Wireless Systems from Samson
The Samson XPD2 systems allow you to bring a wireless microphone to a variety of sound applications via its uniquely designed USB stick receiver. Offering simple setup, professional full-range audio and 100 feet of wireless operation, the XPD2 is perfect for live performances, digital communications and mobile productions.
Handheld (Includes HXD1 transmitter & Q6 dynamic mic)
Headset (Includes PXD1 transmitter & DE5 micro headset mic)
Lavalier (Includes PXD1 transmitter & LM8 lavalier mic)
Announcements
from Blue Microphones
Blue Microphones is proud to announce that Mix-Fi studio headphones has received the 2018 Emmy® Award for Outstanding Achievement in Engineering Development. The award honors engineering developments that considerably improve existing methods, or innovations that affect the production of television.
---

Free Plug-Ins!
Buy Ensemble and Element series products through January 10, 2019 and get a discount coupon good for a 6-month subscription to the Eventide Ensemble bundle featuring
more than 20 plug-ins (a $180 value!)
00201961
-
Element 24
- MSRP/MAP $595.00
00201962
-
Element 46
- MSRP/MAP $895.00
00201963
-
Element 88
- MSRP/MAP $1,495.00
00231656
-
Ensemble Thunderbolt
- MSRP/MAP $2,495.00
---

Free Spire Bags (a $59 value!)
Get a free bag with a purchase of the Spire Studio
through
November 16th
. The savings is upfront for the dealer so you can place a stocking order to gain extra margin on sales of Spire Studio with a bag after the sale ends.
00284599 - Spire Studio - MSRP/MAP $349.00
---

7.5% DFI & Free Items
00237319
-
AudioBox 96 USB
- MSRP $129.95 - MAP $99.95
00279796
-
AudioBox 96 Studio
- MSRP $249.95 - MAP $199.95
00284898
-
AudioBox Studio Ultimate
- MSRP $399.95 - MAP $299.95
00279797
-
Eris 3.5 Monitors
- MSRP $129.95 - MAP $99.95
00125068
-
Eris 4.5 Studio Monitors
- MSRP $249.95 - MAP $199.95
StudioLive Series III Power-Up Trade-In Program
From now until 12/31/18, when you sell a new Series III console or rack mixer, your customer has the opportunity to return their legacy or AI mixer directly to PreSonus and get a rebate check for up to $600!


Ask Your Sales Rep About Our Current Specials

!
Sales restrictions to some countries may apply. All prices listed in U.S. funds.
Reproduction in whole or in part without written consent of the publisher is prohibited.