CONFEDERRATE FLAG CREATIVELY INSERTED INTO SAN FRANSISCO AREA VETERAN'S DAY PARADE
The appearance of Confederate flags along the route of Friday's Veterans Day parade sparked outrage from San Rafael's Rep.,
Jared Huffman
.
"This greeted me at today's Veteran's Day Parade," Huffman said in a tweet, posting a picture of three young men, who each held flags with different insignia:
One dangled an official Confederate States of America flag, while another waved the
Army of North Virginia Battle flag
, and the third held what appeared to be a "South Will Rise Again" flag, Huffman said.
Parade organizer Steve Kemmerle confronted the men after a police officer noticed them standing in a corner of Walnut Park.
"They said they were 'Sons of Confederate Soldiers,'" Kemmerle said, speculating that the flag-wavers were satirizing the name of a "Sons of Union Soldiers" contingent that marches in the parade every year.
The three men stood with their flags from about noon to 2 p.m., and then quietly left.
Parade organizers and law enforcement were unable to force their removal from the park because the men had never actually stepped into the parade. Had they done so, police would have moved them out. But parade organizers and police have no control over the signs or messages bystanders carry as they are protected 1st
Amendment
speech.
SCV CAMP SAVES FLAG
Tommy Daras had planned on a small publicity event on Wednesday to remove the Confederate flag flying from the edge of the parking lot at his South Carolina restaurant. Then he encountered a hitch.
Two members of the Sons of Confederate Veterans showed up at the flagpole and advised Daras the group owns the small tract of land where the flag flies, deeded to them in 2005 by a former restaurant operator who kept literature supporting slavery in his barbecue joints.
They have a deed showing the restaurant's previous owner, barbecue baron Maurice Bessinger, gave 0.003 acres - or about 130 square feet of land - to the group in 2005, according to Orangeburg County's online records. That's about the size of an average master bathroom in a U.S. home, according to the National Association of Home Builders.
The SCV organization has paid taxes on the land, according to online records.
Bessinger once had nearly a dozen restaurants serving barbecued meat with a mustard-based yellow sauce. He began flying the Confederate flag outside of the restaurants in 2000 after the South Carolina Legislature removed the banner that was on top of the Statehouse dome and put one up on a pole in front of the Capitol.
Bessinger died in 2014, and his family quickly removed the Confederate flags and literature in his restaurants. But the Confederate flag still flies in Orangeburg because of the land donation to the SCV.
"Until you prove this flag belongs to you, we don't want you to mess with it," Sons of Confederate Veterans member Buzz Braxton told Daras outside his restaurant Wednesday.
Warned they could have him arrested for trespassing, Daras is now rethinking his options in his bid to replace the Confederate flag with an American flag outside his restaurant.
If Daras brings down the flag, the SCV plans to bring him to court, said member Carl Platts.
POLICE OFFICER IN TROUBLE BECAUSE OF CONFEDERATE FLAG
An off-duty Traverse City, Michigan police officer wheeled a pickup truck affixed with a Confederate flag into a local protest against President-elect Donald Trump. The flag ruffled the event Friday, when hundreds of locals descended upon the Open Space for the "Love Trumps Hate" rally.
Marshall Collins Jr., of Traverse City, raised a fist in the air as the truck circled the event. Collins, who is black, later confronted the police officer who drove the truck.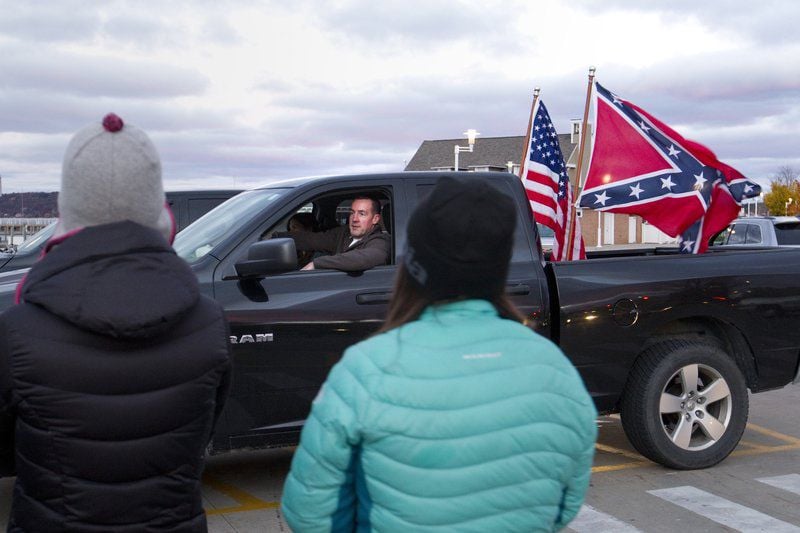 Police Chief Jeff O'Brien on Saturday confirmed the man depicted was Officer Michael Peters, a 18-year veteran with the department. He said a sergeant will conduct an internal investigation starting Monday.
"That's not what the Traverse City Police Department represents," O'Brien said. "We take an oath of office to the Constitution, not the Confederacy. I personally feel that flag stands for hate and hatred."
Officer Peters couldn't be reached for comment.
Ryan Salisbury, a former Grand Traverse County sheriff's deputy - held an anti-Hillary Clinton sign nearby.
Salisbury said the Confederate flag is not a symbol of racism.
On
Monday, Chief O'Brien held a press conference: "

I met with him this morning and I think he understands the ramifications of his actions," O'Brien told reporters

. "I'm not here to judge him; we have a process that we have to go through and we have to allow that process to be implemented. I'm asking everybody in the community to just be patient and let us do our job." At that time the Chief also made it kn own that the "internal" investigation had been upgraded to a CRIMINAL investigation and that Officer Peters had been suspended with pay pending its outcome.
Hours later, Officer Peters was compelled to submit his resignation, according to Traverse City Manager Marty Colburn. Peters, Colburn said, apologized "for the stain he put on the city" and its police department. The Chief and Colburn have assured protesters and the media that his department will maintain the investigation until something can be manufactured with which to prosecute Officer Peters.
CHARLOTTESVILLE WAS

NOT

A HERITAGE VICTORY
To follow-up on a previous story, the Blue Ribbon Commission on Race, Memorials and Public Spaces in Charlottesville, Virginia has recommended that statues of Robert E. Lee and "Stonewall" Jackson remain in place - on the condition that city council rename and redesign the public parks where they stand to "transform" the statues' meaning.
The Commission report, approved by a split vote of its members, includes a handful of other recommendations aimed to help tell "the full story of Charlottesville's history of race."
Replace the existing Court Square Slave Auction Block marker and commission a new memorial on or near Court Square in downtown Charlottesville;
Support conservation of the Daughters of Zion Cemetery and the Bridge Builders Committee's work to improve the visibility and appearance of the Drewary J. Brown Memorial Bridge;
Provide financial assistance for the proposed Vinegar Hill Park and Vinegar Hill Monument, as well as funding for historic resource surveys of African-American, Native American and local neighborhoods and sites;
Sponsor local history research by local institutions, such as the Jefferson School African American Heritage Center and Albemarle-Charlottesville Historical Society;
Find opportunities to name new roads, bridges and other locations after ideas and people who represent the city but reject building new monuments to individuals;
Designate March 3 as "Liberation Day" or "Freedom Day" to commemorate when the Union Army marched into Charlottesville in 1865;
Urge the city to participate in the Equal Justice Initiative's Memorial to Peace and Justice by displaying a memorial marking the lynching of John Henry James to "confront the truth and terror of white supremacy in the Jim Crow era, and
Encourage and support the teaching the history of slavery and impact of racism in African-American and Native American history classes for local public schools.
An organized group of about three or four dozen people have already staged a protest of the commission's recommendation to keep the statues in the park.
One of the leaders of the movement to remove the statues is University of Virginia professor Jalane Schmidt. She wants the statues of Lee and Jackson to be replaced with statues of slaves. "The Confederate statues need to be moved so that history can be publicly retold and physically represented so that we can change our history's narrative around race."
Compariots in and near Charlottesville need to organize quickly or we will be adding their area to the growing list of monuments lost to the liberal avalanche.
Our friend Al Benson submits the following:
"Whitelash" and the Cultural Marxists
Well, a representative of the cultural Marxist class has come up with a new word in a pathetic attempt to define the reasons Trump won the presidential election when he really knew, in his heart of hearts, that Hitlery should have won it. The new term he came up with is "Whitelash." This representative of the cultural Marxist class is presently a commentator for CNN. Some have labeled that "news" network the "Communist News Network" because the Communists seem to get a better shake in their "news" broadcasts than anyone else does.
This CNN commentator is a man named Van Jones. Anyone remember good ol' Van? He was a special adviser for "Green Jobs" in the outgoing Obama Regime. He was Obama's "Green Jobs Czar." You can find Van mentioned in various sites on the Internet. One site noted of him that "There's little question that Jones was an avowed communist." The site www.politifact.com noted that, in 1994 Mr. Jones was one of the founders o STORM, a Marxist-Leninist group whose hero was Chinese Communist dictator Mao Tse Tung. That's what Obama had for a "Green Jobs Czar." Anyone surprised? Jones made such a fuss in certain areas that he eventually had to resign. I don't know when CNN picked him up but they sure didn't get any bargain when they did.
The cultural Marxists had planned on Hitlery winning the election. They thought she was a shoo-in. They made the mistake of believing their own polls. Of course some even went so far as to try to implement her victory by "assisting" the vote totals in several states. If you doubt that then read some of the WikiLeaks material that has been posted on the Internet, or some of the other stuff captured on hidden cameras by the Veritas organization showing Democratic operatives talking about how they planned to "influence" the vote.
So Comrade Jones came up with the new culturally Marxist term to define why the evil Donald Trump won the election when the virtuous Hitlery should have. Remember the word "whitelash" because you will see more of it in days to come as other commentators in the prostitute mainstream media try to blame us evil white folks for the victory of that evil Donald Trump.
Everyone knows we should all have voted for Hitlery to show we have no prejudice against women, just like we all should have voted for Obama in the last two elections to show we had no prejudice against blacks. The fact that many of us didn't swallow that bit of race-baiting shows that we must all be prejudiced and must, therefore, assume our assigned places on "stools of everlasting repentance."
Had we not been guilty of "whitelash" we would all have voted for Hitlery so she could have been enthroned in the White House, have eviscerated the Second Amendment, have promoted her open borders scheme to end our national sovereignty and have promoted a woman's "right" to kill her unborn child when that child became "inconvenient." Just look at all the golden opportunities we missed by not electing her! The fact that us evil white folks couldn't find it in our hearts to do all this shows that we are not only "deplorable" but totally "irredeemable." Problem with this new cultural Marxist pet theory is that there were also black folks and Hispanic folks that voted the same way us evil whites did--against Hitlery. Of course all the blacks that voted for Trump must have been "Uncle Toms." That would explain why they failed in their bounden duty to elect Hitlery, the most compassionate candidate ever. As for the Hispanic folks that voted for Trump, I don't know what the Hispanic term for their "treason" might be. Maybe we could just call them people that displayed an unusual amount of common sense in this instance. But somehow I don't think that definition will appease those of a cultural Marxist persuasion.
But whatever happened, it was, as always, "whitey's fault." It always is. I also noted that a batch of Hollyweird people and various other "celebrities" all said that if Trump was elected they would leave the country. From what I can tell, most of them haven't gone anywhere and don't really plan on making the trip. More's the pity! If the thought of a Trump presidency is so horrendous, then what's keeping them here? They should be packing their bags by now and heading out for socialist gardens of Eden like Zimbabwe or Cuba--and making sure the door doesn't hit their backsides on the way out! As a prejudiced white guy, I won't shed any tears when you all are gone--and I don't care what color you are, or what your sexual preference is.
I guess all of us evil whites need to start attending sensitivity training class that will teach us to hate and loathe ourselves so we don't all fall prey to "whitelash." Blacklash is okay. That's politically correct--and besides, George Soros may fund some of that. Black prejudice is okay and the black "racists" that are prejudiced against us white folks are okay. It's just that we are not permitted to feel the same way toward them. The darker animals in this barnyard are always "more equal" than the lighter animals and us evil whites need to remember that.
What we really need to start doing is taking a good look behind the scenes at who is promoting and paying for this Marxist drivel--and then we need to start exposing them (Ephesians 5:11).

SONG OF THE SOUTH ON DVD - in time for Christmas
I realize that its a bit early but we want to make sure that we can fill all orders and have them shipped out well before Christmas.
The Song of the South DVDs will ship out brand new, in beautiful cases, sealed in plastic. These will be presentation ready and make great Christmas gifts.
When you donate $10 to Dixie Heritage we will ship one DVD - postage paid to anywhere in the US and Canada.
Donate $70 and we will ship 10 DVDs - thats just $7 each. You could give them as Christmas gifts or use them as a heritage organization fund-raiser.
Order
Song of the South
DVD:
Order 10
Song of the South
DVDs:
Also available:
GENERAL SPANKY
General Spanky
is a full-length (not a short) comedy film released to theatres on December 11, 1936.
Spanky (George McFarland), Alfalfa (Carl Switzer), Buckwheat (Billie Thomas) and others form an army called "The Royal Protection of Women and Children Regiment Club of the World and Mississippi River." The group sees unexpected action when Union troops approach, engaging in battles more farcical than fierce. Using clowning tactics instead of military tactics, the kids stop the advance...and later save an adult friend from the firing squad.
When you donate $10 to Dixie Heritage we will ship one DVD - postage paid to anywhere in the US and Canada.
Donate $70 and we will ship 10 DVDs - thats just $7 each. You could give them as Christmas gifts or use them as a heritage organization fund-raiser.
Order
General Spanky
DVD:
Order 10
General Spanky
DVDs:
A SOUTHERN YANKEE
A Southern Yankee
(1948) is an American comedy film starring Red Skelton and Arlene Dahl, and released by Metro-Goldwyn-Mayer. It is also known as The Spy.
In 1865, Aubrey Filmore works as a bell boy at the Palmer Hotel in St. Louis. Aubrey works as a spy for both the Yankee and Rebel governments in a truly comedic manner that can opnly be portrayed by Red Skelton.
When you donate $10 to Dixie Heritage we will ship one DVD - postage paid to anywhere in the US and Canada.
Donate $70 and we will ship 10 DVDs - thats just $7 each. You could give them as Christmas gifts or use them as a heritage organization fund-raiser.
ADVANCE TO THE REAR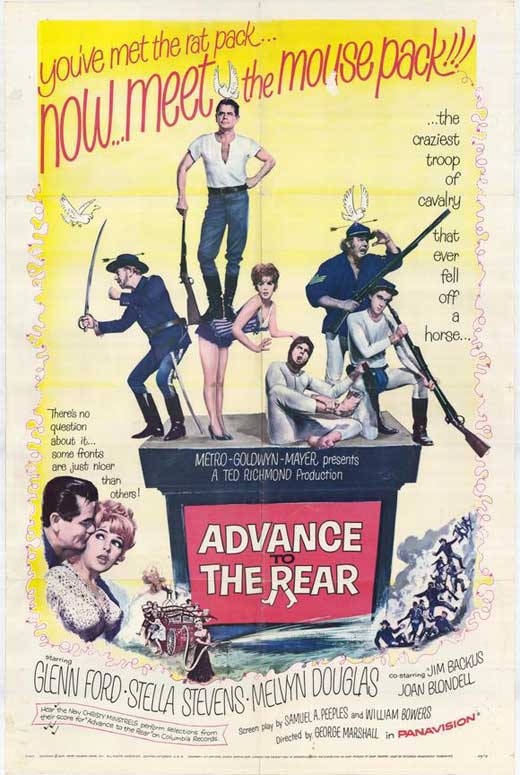 Advance to the Rear
is a light-hearted 1964 American western comedy film set in the War between the States. It stars Glenn Ford, Stella Stevens and Melvyn Douglas and is directed by George Marshall. The film is based on the 1957 novel Company of Cowards by Jack Schaefer, with the film having that title in pre-production and when released in the United Kingdom. However, the novel had none of the comedic elements of the film which retained only the basic idea of a unit formed out of men who had been court-martialed for cowardice and sent out west as well as some character names.
Union Colonel Claude Brackenbury has a cozy arrangement with his Confederate counterpart. They fire a few artillery rounds in each other's general direction at precisely the same time each morning, then go back to contentedly waiting for the war to end.
Captain Jared Heath, however, disturbs the status quo one day by going out and capturing some of the enemy. The Confederates feel obliged to retaliate. One thing leads to another and a military fiasco results. As punishment, Brackenbury and Heath are demoted, placed in charge of all the misfits General Willoughby can find and shipped west, where they can (hopefully) do no further damage.
The Confederates are suspicious. So they too go west to find out the "real" mission. Out West, the soldiers are captured by Thin Elk, an Indian chief in league with the Confederates.
In my mind, the big star of this film is Alan Hale, Jr. (remember him as The Skipper on Gilligan's Island). You'll laugh through this whole DVD!
UNCIVIL WARRIORS
AND UNCIVIL WAR BIRDS
Uncivil Warriors is a 1935 WBTS film starring The Three Stooges (Moe Howard, Larry Fine and Curly Howard). Uncivil Warbirds was a short film released in 1946 and, because of a stroke, was one of the last times Curley would appear as a Stooge.
You will receive BOTH films on DVD!
In both films the Stooges fight for both armies at the SAME time as only the Stooges could. But in the end we discover that their allegiance was always to The South!
In Uncivil Warriors they manage to pass safely between fighting armies by creatively singing Dixie to the tune of The Battle Hymn of the Republic. This resulted in both armies hearing their song and allowing the Stooges to safely pass. It is also the first film in which the Stooges mention "Good Time Charlie." In later films and shorts, when the Stooges meet a guard, they often reference Charlie. The guard asks who Charlie is, and a Stooge replies that "everybody knows Charlie. He walks like this." The Stooges then demonstrate a silly walk until they get clear of the guard, at which point they take off running. This will become a recurring joke in the Stooge films. In Uncivil Warriors, they actually meet a soldier named Charlie, who asks the Stooges, "Are you all looking for me?"
In Uncivil Warbirds, Moe and Larry accidentally join the Union Army, while Curly manages to correctly sign up with the Confederate. Before the error can be corrected, several Union soldiers order Moe and Larry to lock up their "prisoner." A few moments later, a Confederate general sees Curly being released and, upon seeing Moe and Larry, thinks he has captured two Union soldiers. This mix up goes back and forth several times, until Moe and Larry finally find Confederate uniforms, only to be caught in Union army headquarters. They eventually escape by performing minstrel song-and-dance routine in blackface, with Curly playing a Mammy-type character and Larry strumming a banjo.
Order
Three Stooges Uncivil War
films on DVD:
Order 10 Copies of
The Three Stooges Uncivil War
films on DVDs:
BLACK CONFEDERATE REPORTS ON VETERAN'S DAY
On Friday morning, November 11, 2016 (Veterans Day ), I would don the uniform of the Southern soldier, and make my way to Columbia, South Carolina, have breakfast at the Lizard Thicket Restaurant, and afterwards post the Colors of the Southern soldier in the Public easement outside the restaurant, as I awaited the arrival of the Honorable Ralph Meetze who would escort me to where I would join members of the Sons of Confederate Veterans and others of the Confederate contingent in the Veterans Day Parade in downtown Columbia.
The first to come to where I stood was a beautiful young Black lady who would tell me that the sight of a Black man don in a Confederate uniform brandishing a Confederate Battle flag had compelled her to make a u-turn, and come to ask why?
I would tell her that it was Veterans Day, and that the Confederate soldier was an American Veteran, and that the Black Confederate soldier just like his White counterpart in the State of South Carolina where the fight for Southern Independence had began in 1861, should not be forgotten on this day. And, just like last year as I awaited my escort for the event;I would abide my time by posting the Colors.

She would tell me that she was impressed not only by my explanation, but by my bravery to do so, and championed my 1st Amendment to do it as well. And, that I had given her a table full of food for thought . Just as she embraced me and was bidding me farewell, a young Black man would come up and engage me in his newspaper and public school rhetoric about the War For Southern Independence, but would agree that the Emancipation Proclamation did not free a single slave in the South, and had no intent or design to free Northern slaves.
The next to come was the three Black militants whose sole design was to shame me for being a coon and Uncle Tom, and a disgrace of the African Americans, and an idiot Nigger for the White folks who were passing as they blew their car horns and shouted out my name. Never mind the Black folks who too were doing the same; as they put it were just as warped in the mind as I surely was.
They finally felt some solace from an elderly Black man who challenged my statement about Federal Law 425 - Section 10 according to his smart phone was according to the New York Post something that Donald Trump had made up to garner votes from Southern White people. Nigger they exclaimed as the man now stormed away; he just proved you wrong ! I began to understand just how futile this endeavor to enlighten these 3 had become as they continued to ask me questions and allowed no answers from me.
Then, another Black man ( Mr. Al Poteet) whose name I confess that I may have misspelled, would would join in the conversation taking my position about the many Africans, both freed and indentured who had receive State pensions for their service in the Confederate army, and the many others who just did not apply because of their distrust of the government, opting out to go back to the plantations and home places of their former Masters. And, that there were Free Blacks that owned slaves in the State. I told them to go over to the State Museum and ask to see the published book about Blacks who received these pensions.
No Nigger, would be their reply. You keep telling us where to go and get answers; you already been proved wrong on that Trump Law. I could only imagine these three sitting in a classroom, and the teacher trying to explain that a square plus b square = c square.
Who did you vote for Coon? And before I could answer, would in unison answer; you know that Tom voted for Donald Trump! And, I would ask, who did you vote for? We didn't vote would be their reply. We joining up with the Muslims who are buying up land around here to form a country within a country, and we gonna vote in that country. Good luck with that would be my reply. About that time, Mr. Meetze would arrive to escort me to the Parade site downtown. The least intelligent of the three would grab his male organs and voice his expletive ; f- -k you old fool as they walked away discussing what I had to say.
Arriving downtown, I would meet, greet, pose for pictures and hug the members of the Confederate contingent that I would later join in the Parade. I decided to post the Colors a stones throw from where they stood on the traffic island in the center of the street as we awaited the Parade to start.
I had literally taken hundreds of pictures, and fielded as many hugs and warm greetings from the many participants and spectators when a Black man crossed in front of me. I would greet him as I had done so many others. He suddenly grabbed my flag, and attempted to spit on it. The gourmet hole at the bottom of the flag would split, and he turned to face me with his blood shot eyes glaring.
I would strike him across the face with my bamboo staff, and ram the pole into his chest and stomach. Oh my God, I thought; did I kill him as he staggered away? My answer would come as he recovered from the blows, and would take up some kind of fighting stance. I knew that I would have to hurt this man or be hurt by him.
A beautiful White lady that I had moments before stood posing for pictures with; put herself in harms way as she jumped between myself and this criminal. No she shouted, don't do this! Suddenly I found myself surrounded by a large contingent of people who formed a barrier around me . A plains clothed policeman would pull out his badge, identifying himself as a policeman, and warn the man that he about to be arrested. He would turn and flee.
A group of uniformed young ladies that I believe to be ROTC members who stood less than three feet from this altercation would clap, and salute me when I returned from getting a temporary repair to my flag.
I would join Mr. Meetze in the Parade car as we fell in behind the Confederate Contingent , and delight in all the shouts and applause that we would receive along the Parade route. It had been some day in Dixie. God bless you!

Your brother,
HK Edgerton

FROM READER JEFF PAULK IN OKLAHOMA:
AMERICA HAS SPOKEN
The failed socialist policies of the last eight years, with assurance of the same had Hillary won, awoke a sleeping giant within America. People who have never voted, registered to vote for Trump. Democrats voted for Trump. States that typically vote Democrat went to Trump.
Why did this happen?
Not out of any great admiration for Mr. Trump, but because he resonated with what American patriots have been saying for years.
He was not bought-and-paid for by the political elitists or special interests, or by foreign governments.
Is he the perfect candidate? Not by any means. But he loves America and wants to reverse the socialist policies that have been choking it to death.
Why did we vote for Trump?
Because we are tired of not being listened to by a self-serving government. Because we are tired of government shoving the special interests of gays, Muslims, and transgenders down our throats. Because we are tired of runaway debt. Because we are tired of one Executive Order after another bypassing the Congress and the Constitution. Because we are tired of high taxes. Because we are tired of the war on Christianity and the unborn. Because we are tired of open borders and our government not only allowing illegals into our country, but flying them in from known terrorist countries by the thousands. Because we are tired of people leeching off the welfare system that have no right to it. Because we want our trade repaired. Because we want jobs to come back to America. Because we want industries that have suffered under the current administration to thrive again. Because we are tired of the status quo of corruption in Washington D.C. Because we do NOT want more self-serving socialists on the Supreme Court, but want Justices who will abide by the Constitution. Because we want the Constitution to be preserved and followed instead of trampled upon and destroyed. Because we are tired of having a divider, instead of one who unites, in the White House.
Will Trump succeed in all he has promised?
Time will tell.
He has a Congress full of traitors on both sides of the aisle who did not want to see him win this election.
History has been made, and I, for one, am proud to have been a part of it.
Against all odds, this businessman, who was trashed by the GOP, Democrats, and government bought-and-paid-for media, has done the impossible. America has been given one last chance to turn around and head in the right direction.
Those who are very disappointed in Hillary Clinton losing the election, even with the assistance of massive voter fraud and the skewed polls of the liberal media, stand directly opposed to the Constitution and the very principles upon which this country was founded. They seek to turn this country into a socialist country. Socialism has never worked anywhere, and it will not work here. These people are in serious need of a real education of our history and the Constitution. Those who are bent on remaining ignorant and in favor of socialism need to move to a country that has it, while we patriots will try to undo decades of socialist damage done to our country.
God Bless Trump, and God Bless America.
Jonathan Varnell in Virginia submits the following:
Once again Virginia is played to the wrong side because of the liberal leaning NE section (Arlington, Fairfax, Alexandria) adhering to the DC government base. I say cut 'em off, add them to DC and then we'll see Virginia back for the God loving SOUTH!
Randy Harris from Kentucky submits the following:
Dixie Saves the Nation
Ditto and Kudos to Dr. Chuck Baldwin he hit the proverbial nail on the head too bad Virginia did not join with us in saving the nation or at least forestalling its decline. The northern leftists and their self-serving greedy cronies have ruined the once lovely northern Virginia area perhaps now the leftist vultures and their lackeys will begin to depopulate the region perhaps join the exodus to California where they can live in that libtard diverse "never never land", furthermore this Southern Veteran will lose no sleep and shed no tears if that den of multiculturalism and xenophobic liberalism decides to leave the Union; "adios!" and "vaya con Dios" that is if anyone there believes in God. "Adios" to massive welfare programs and ALL federal funding, additionally, do not ask for American tax-payers to give you foreign aid and for the Holly-weird crowd we can make our pictures elsewhere while the profits stay here, "Silly-con Valley" can wither away in their vineyards while we build a wall to keep California out of the United States of America.
November is a month of much that we celebrate in our American nation, we remember our Veterans all those that answered their nation's call, who signed on the dotted line, and took the oath to "Support and defend the Constitution from all enemies." Whether we served in war or peace, the active or "regular" military or National Guard, and the Reserve components of a given branch; Army, Air Force, Coast Guard, Navy, or Marines you are deeply appreciated. The American original South; Delaware, Maryland, West Virginia, Kentucky, Missouri, Arkansas, Oklahoma, Texas, Tennessee, Louisiana, Mississippi, Alabama, Florida, Georgia, North Carolina, South Carolina, and Virginia have maintained a martial tradition since the colonial period and lest we forget the American Revolution was actually won in the South. As a people we fought and won the War of 1812 by contributing more than our share of men to engage British forces and their surrogates. Likewise when the War with Mexico broke out it was again the Southern states that did way more than their fair share of fighting. During the Wars of 1812 and with Mexico the northern states protested and resisted the efforts in much the same way as we remember the Vietnam War protests that were overwhelmingly concentrated in the northern states and left coast while many in the South went forward either voluntarily or when called did their duty.
The organized reserves and National Guard from several Southern states too saw service in Vietnam for those who are students of the War in Vietnam or happen to have served there may remember the desperate fight at Fire Base Tomahawk when 138th Field Artillery of the Kentucky Army National Guard fought through the night to keep from being totally overrun the only flag flying the next morning over the devastated fire base was the Confederate Battle Flag, and why not, the unit's only lineage was the famous Orphan Brigade and Morgan's Cavalry. Troops from the 20th Special Forces Group (then known as Company C; 20th Special Forces Group [Airborne] presently it is the 3d Battalion,20th SF Group [Airborne]), Florida Army National Guard Special Forces unit served in the delta region of Vietnam fighting on the water, in swamps, jungles, and conducting high risk cross border operations into neighboring Cambodia.
From World War II through today Southern men have followed the martial traditions of their ancestors almost as soon as the 911 attacks occurred our Clinton era gutted military was thrust into action. The smoke from the attacks had not settled when National Guard and reserve units began receiving activation orders; Alabama, Florida, Mississippi, Kentucky, and Texas were prominent in the first waves of activations followed by Tennessee, Georgia, Oklahoma, and West Virginia troops. National Guard and Reservists from the Southern states were overwhelmingly and repeatedly called to duty for the Global War on Terror serving in Afghanistan and Iraq additionally the highest percentages of volunteers following the 911 attacks was Southerners of all ethnicities who went into the fight even as war protesters gathered in their northeast and left coast havens before the rubble of the attacks was yet to be removed.
Following the War Between the States through today the national healing process has been ongoing and it is quite ironic however, that when the central government finds itself in another armed conflict declared or otherwise (usually otherwise) Washington turned its manpower needy hands Southward and we generally respond en mass as good citizens. After the war during the oppressive so-called "Reconstruction" era so many of these same men who once fought for Southern independence became good and productive citizens; they donated land, money, and funded buildings and materials for all levels of education including the advancement of former slaves and their children. These Confederate veterans built hospitals, established medical schools, and houses of worship, and other public structures. Other former Confederates built legacies in business and institutions of higher learning (incidentally many created for former slaves peoples and their off spring) many of which we continue to support without a clue as to who founded the enterprise or institution.
During the intervening thirty-three years between the end of the War Between the States beginning with outset of the Spanish-American War (including the Philippine Insurrection) the Southern states all of them whether it was seceded state or not came to the defense of the Constitution and the Republic it characterizes. The same can be said for World Wars I and II as well as the War in Korea, Vietnam, the Central American-Caribbean Contingencies of the 1980's (Grenada, El Salvador, and Panama), Desert Shield/Storm, and the Global War on Terror. Some career officers and non-commissioned officers over recent decades have been known to comment that "if it was not for the South there would be no military." In today's politically correct and purged military such a statement would be enough to have a serviceman barred from reenlistment, reflect negatively on his officer or non-commissioned officer evaluation report, receive a letter of reprimand, or possibly non-judicial punishment known as an "article-15" maybe at the least a counseling statement.
There was a time when Southern soldiers were esteemed and appreciated; their heritage and patriotism admired not subject to ridicule and admonishment. Confederate generals and their campaigns such as General Thomas Jonathan "Stonewall" Jackson's Valley Campaign were studied as lessons on how to win a campaign, and the tactics of Confederate cavalry generals James Ewell Brown "JEB" Stuart, Nathan Bedford Forrest, John Hunt Morgan, and famed partisan leader Colonel John Singleton Mosby were studied in detail, put into practice, and turned into doctrine with full credit given to these innovative Americans.
Since November brings us Veterans Day it is most appropriate that we should look at our Confederate and fellow Southern veterans and some of their offspring who excelled on and off the battlefield. While many in November went to the polls to determine the fate of our Republic and will feast on turkey with all the trimmings on Thanksgiving Day and watch football it is our veterans including us Southerners that made possible those celebratory days and the right to vote therefore all veterans (including our Confederate ancestors) are equal. In every war since the war with Spain through our present conflict it was and is young men from the South who more than performed their fair share of uniformed service including the ultimate sacrifice!
I served my country in war and peace defending the Constitution and the flag that protesters have the objectionable right to stomp, rip, and burn. Now that the trauma of a most divisive electoral process has ended the Nation must tackle more important issues that matter more than a bunch of malcontents many who likely did not vote, never served in the military, some are felons no doubt, and many likely are America-hating non-citizens and are obviously the off spring of decadent northeastern types that burned draft cards and went to Canada. We did not burn down the nation nor threaten an armed revolt when the current White House occupant was elected nor when his Clinton mentors had their turn or else martial law would have been declared south of the Potomac and Ohio Rivers simply because we are a conservative and considered to be a rebellious people who love the constitution; so all you sour grape libtards need to get over it or go into exile,,,or you can secede without the rest of us shedding a single tear.
A READER SUBMITTED TRIBUTE - WRITTEN FOR SCHOOL REPORT
Stand Watie was born in the indian Territory [modern Wyoming] on December 12, 1806. He was 53 when war began. Watie became chief of the Cherokee Indians during the WBTS and was the leader of Cherokee mixed bloods ¾ Cherokee. He lived a Cherokee lifestyle and was said to be kind to a fault. He received a commission from President Davis in Richmond that promoted him to General making him the only Indian general of the war.
He was the last Confederate general to surender on June 23, 1865 to colonel Asa C Mathews.
A Calvary man he won praise of whites and enemy Indians who previously doubted most Indians ability in war. He has been called "The foremost solider ever produced by the north American Indians." he was great at leading charges and once led a charge against 3-1 odds with artillery and captured the gun at Pea Ridge. One of his men after the charge [years later] said "His men would follow Watie to the jaws of death" and the "mysterious power of Stand Watie" was how they took the guns. He always led his command from the front.
"Shermans terrible raid, on a smaller scale, might have been repeated in the Indian territory and Texas had it not been for General Watie and his command. His brigade was like a stone wall between Texas and the foe"
He was a great raider and feared by the Union. One 14 day raid Watie traveled 400 miles, killed 97, wounded many more, captured 111, burned 6,000 tons of hay, captured $1,500,000 worth of property, at a loss of only 6 men killed and 48 wounded. General Kirby Smith called it "one of the most brilliant raids of the war."
"Watie knew as much about movements of Yankees supplies as the federal supply officers themselves," one Yankee report lamented.
Why he Fought for the Confederacy?
Federal troops forced the Cherokee removal from Georgia [trail of tears] causing anger by Cherokee and southern whites by how it was conducted, this played a role in Indian loyalty to the south in the war especially the Cherokee.The federals killed men,woman,children of a neutral tribe, driving more tribes to join the C.S.A. Indians sent delegate to csa government. Richmond sent gov officials and money/food/supply to help aid the Indian territory with needs. The Confederacy fed and financially supported displaced Indian family from union occupation this increased loyalty.
SUPPORT THE ONGOING BATTLE TO ADVANCE "THE CAUSE"
Your direct donation of even the smallest amount enables Dixie Heritage and other pro-confederate organizations in the never-ending battles to preserve and advance our common heritage.
ADD DIXIE HERITAGE TO YOUR ADDRESS BOOK
This will ensure that your weekly newsletter does not end up in a SPAM folder by accident.

LIKE US ON FACEBOOK


If you have not already done so please take the quick moment to like our Dixie Heritage Page on Facebook:
And then, more importantly, click this link to our website:
When you are there request a free copy of my book The Truth About the Confederate Battle Flag. When you do, not only will you receive a copy of the book - you will also be subscribed to receive the weekly Dixie Heritage Letter by eMail. This will ensure that you never miss an issue.
Until Next Week,
Deo Vindice!
Chaplain Ed