Iowa Agribusiness Environmental Partnership Open to AAI Member Companies
All AAI voting members have received information about how to sign up for the Iowa Agribusiness Environmental Partnership, including postal mailing and email.


The Iowa Agribusiness Environmental Partnership (IAEP) identifies important environmental principles in agronomic management. The program, developed by the AAI Agronomy Committee, has two membership classes:

Advising Members - Companies providing retail agronomy products or crop advisor services directly to farmer customers.
Supporting Members - Companies providing technologies and products for agriculture.
Check your postal service mail and your email inbox for more information and sign up instructions for this new, no cost member benefit.
Still Have Time to Register Your Golf Team For July
$10,000 Hole-In-One Prize and
three $100 pin prize at each event!!
We are pleased to have AGP as our co-host at the first two golf events! Join us July 25 & 26 for only $95 per golfer. We have fantastic door prizes for all those who attend, as well as great golfer giveaway items; two great
AGP Titleist golf bags, Gardnier Thompsen Yeti Ramblers and Rodie products! More info on each golf course here:
http://agribiz.org/golf/
Golfers are $95 per golfer per event!
AAI Summer Education
4R Technology Review & Summer Field Day
Tuesday, August 8
Are you offering the best advice to your farmers?
Make sure you have the best information available - attend the August 8, 4R Technology Review & Summer Field Day
! The Summer Field Day has a special focus on 4R technology, plus the latest info on Palmer Amaranth, crop diseases, and hands-on experience in the herbicide injury plots.
Don't miss this opportunity - be your client's best resource! Registration is $50. FREE admission to all those who paid for the February 14 conference! More Information
Grain Grading Workshop

Tuesday, August 15 or Wednesday, August 16
The one-day hands-on workshops will feature the latest information on grain quality. Workshops will be under the direction of the Federal Grain Inspection Service inspectors from the National Grain Center.
More Information
Nurse Tank Testing Workshop
The association is working with USDOT and IDALS to provide you with accurate information on becoming qualified to test your own tanks at your own facilities. 1. Contact your insurance agent with regard to your company liability if you choose to certify your own staff. 2. For a complete list of all certification and record keeping requirements please go to http://www.nursetank.org and go click on the nurse tank inspector information. Classes taught by the US DOT.
More Information
Duracade Corn Approved for Chinese Import
by: Ag Web
Monday Syngenta announced it received Chinese approval for Duracade corn grain and processing co-products for food and feed use. The product received approval from USDA and EPA in 2013.
Duracade provides a unique mode of action against corn rootworm pests. The product showed a 99.7% reduction in adult beetle emergence, according to a recent USDA study. Syngenta will offer Duracade under its grain-use marketing program for the 2017 and 2018 season and is working to identify additional accepting locations where farmers can market the grain. Read More
National Conservation Districts Meet In Iowa

by: Agribusiness Report
In a
conference
in Altoona, Iowa, leaders of the Conservation Districts of Iowa (CDI) and National Association of Conservation Districts (NACD) held a joint meeting and conference.
One of the big topics in the hallways was the farm bill and USDA leadership, conservation districts work closely with the National Resource Conservation Service.
But conservation in Iowa isn't the same as conservation elsewhere according to Clare Lindahl, Executive Director of CDI. There are 3,000 conservation districts across the nation.
Watch it on the Agribusiness Report
Emerald Ash Borer Confirmed Within Cedar Rapids Limits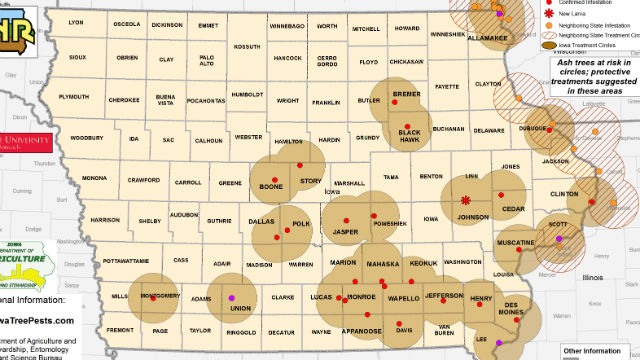 The Emerald Ash Borer (EAB) has been confirmed within the Cedar Rapids city limits.
EAB was confirmed right outside city limits along I-380 at the Iowa DOT rest stop two years ago, but was recently spotted within the core of the city, pending confirmation from the Department of Agriculture. The city will proceed with the immediate removal of the tree. Read More
Iowa Farmers to China: 'We Need Them and They Need Us'

by: KCCI
Gov. Kim Reynolds flew out of the Des Moines International Airport on Wednesday, embarking on a historic trade mission to China that will focus on agriculture.
The governor and representatives from the Iowa Farm Bureau and other agricultural groups will travel to China between Wednesday and July 28 to meet with government officials and industry partners.
Stops on the nine-day trip include Shanghai, Xi'an and Beijing, where they will be greeted by U.S. Ambassador Terry Branstad, who is Reynolds' predecessor as governor of Iowa.
Ron Heck, who plants 4,000 acres on his century farm in Perry, said he's thrilled about the trade mission because, "I'm the beneficiary; I get to sell my crops in China." Read More