AAI Supports USDA Appointments
The Agribusiness Association of Iowa (AAI) signed on to letters endorsing two new appointments for positions within the US Department of Agriculture (USDA).
The National Grain and Feed Association is submitting letters endorsing Stephen Censky as Deputy Secretary for the USDA, and Ted McKinney as Under Secretary for Trade and Foreign Agriculture Affairs. AAI has signed on to the letters in support of these appointees.
Censky is currently CEO of the American Soybean Association. McKinney is the director of the Indiana State Department of Agriculture.

Golf Is Underway - Congrats To Our Winners!
July 25: Fox Ridge - Dike, Iowa
Reilly Vaughan, Bob Tschiggfrie, Bill Bauer, Mike Burton
July 26: Emerald Hills - Arnolds Park, IA
Bill Murphy, Ben Umthun, Matt Vogl
Be A Part of our Final Two Outings!
Two events remain - August 3 and September 7. Golfers are only $95 per person. All golfers are eligible for fantastic door prizes including Yeti coolers, golf bags and swag,
and much more!
Golfers are $95 per golfer per event!
Iowa Agribusiness Environmental Partnership
What happens when your business becomes an IAEP Partner? You'll be recognized as an environmental leader in your community. Your customers will understand the proactive commitment you make to their long term success. And you'll be joining together with other Agribusiness Association of Iowa Members to show the positive impact agribusinesses have on the environment every day.
AAI launched the partnership to advance environmental progress and more clearly identify the important environmental principles in agronomic management - the same principles you use to help your customers make informed decisions about how they manage their crops.
Mailings and emails have been sent out to voting members with information on how to sign up for the Iowa Environmental Partnership (IAEP).


Check your inbox for email about the IAEP or call the home office for more information.
AAI Summer Education
4R Technology Review & Summer Field Day
Tuesday, August 8
Are you offering the best advice to your farmers?
Make sure you have the best information available - attend the August 8, 4R Technology Review & Summer Field Day
! The Summer Field Day has a special focus on 4R technology, plus the latest info on Palmer Amaranth, crop diseases, and hands-on experience in the herbicide injury plots.
Don't miss this opportunity - be your client's best resource! Registration is $50. FREE admission to all those who paid for the February 14 conference! More Information
Grain Grading Workshop

Tuesday, August 15 or Wednesday, August 16
The one-day hands-on workshops will feature the latest information on grain quality. Workshops will be under the direction of the Federal Grain Inspection Service inspectors from the National Grain Center.
More Information
Nurse Tank Testing Workshop
The association is working with USDOT and IDALS to provide you with accurate information on becoming qualified to test your own tanks at your own facilities.
1. Contact your insurance agent with regard to your company liability if you choose to certify your own staff.
2. For a complete list of all certification and record keeping requirements please go to http://www.nursetank.org and click on the nurse tank inspector information.
Student Entrepreneurs Drive Agriculture Tech
by: The Cube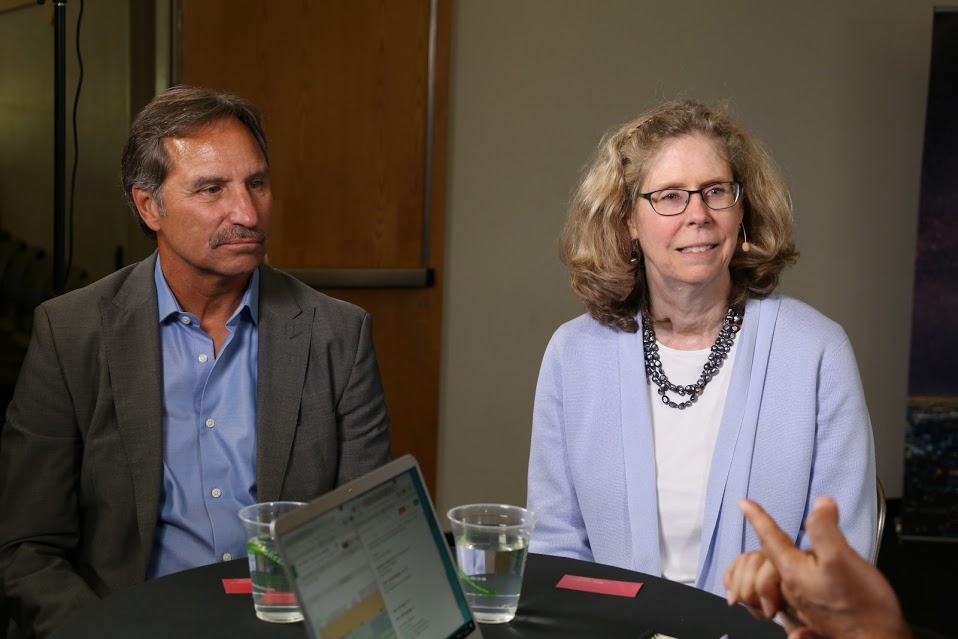 Dr. Andy Thulin
(pictured, left), dean of the College of Agriculture, Food, and Environmental Sciences at Cal Poly San Luis Obispo
was joined on the set by
Dr. Wendy Wintersteen
(pictured, right), dean of the College of Agriculture and Life Sciences at Iowa State University. They discussed how their respective schools foster entrepreneurship, as well as bottom-line challenges facing the farming industry. Watch discussion here>>
Iowa Officials Hope Pork Plant will Keep Town Vibrant
by: AgWeb
Eagle Grove City Administrator George McGuire said the planned Prestage hog processing plant in Wright County, Iowa is an example of how an industry can breathe new life into rural areas.
"We're re-inventing ourselves," he told the
Globe Gazette
. "Out with the old, in with the new."
The $250 million plant is being built about 5 miles south of Eagle Grove.
McGuire acknowledged there's a certain faction of the community that does not know what to expect when the plant, which is expected to employ about 1,000 people, begins operation in about 18 months. Read more
Increase transparency in data contracts
by: Iowa Farmer Today
American Farm Bureau Federation conducted a poll of over 400 farmers in 2016 to understand their issues concerning ag data privacy, security and control. The poll highlighted what are essentially three issues that continue to come up when asking farmers about ag data concerns:
1) Lack of trust: Seventy-seven percent of farmers expressed concern about which entities can access their farm data after the data is uploaded to cloud-based servers.
2) Concern with losing control: Farmers are also concerned that uploading their ag data to cloud-based platforms means they will lose control over downstream uses.
Read more
8 AM - 4:30 PM
Click on the title below to view our info page with sign up and/ or payment options.
Upcoming Events
& Meeting
August 4
Ames, IA
August 8
Field Extension
Education Laboratory
Boone, IA
August 15 & 16
Ziegler CAT Facility
Altoona, IA
August 29
Gilbert Franklin Twp.
Fire & Rescue
Gilbert, IA
The Preserve at
Rathbun Lake
Asmark Posters
We have a limited supply of these, so please order as soon as possible.
Thank you for making AAI great!