2018 Membership Directory
It is almost here! Each spring AAI publishes a membership directory and the new 2018 directories are set to be mailed out in mid-April.
Who Will Receive a Directory in April?
Main Contacts (voting members)
Paid Additional Contacts
Directory Advertisers
Online Orders placed prior to April 2 (orders after April 2 will arrive in May)
How Can I Order a New 2018 Directory?
If you have any questions or concerns regarding your membership please contact
Reilly Vaughan
. If you have questions regarding payment or dues processing please call the main office 515-262-8323. We appreciate the support of our members. Thank you!
AAI Welcomes 4R Nutrient Stewardship Summit - Des Moines June 11-12
AAI will be welcoming the 2018 4R Nutrient Stewardship Summit to Des Moines on June 11-12, 2018.
The annual 4R Summit is hosted by The Fertilizer Institute to share effective nutrient stewardship tenets and practices.
Save these Dates! 2018 Summer Golf Tournament Dates and Locations
Our golf tournaments are a great way to network and grow your connections in the agribusiness community.
We host four golf tournaments in the state of Iowa, two in July, one in August, and one in September. Save these dates!
July 24 | Fox Ridge Golf Course - Dike
July 25 | Emerald Hills Golf Course - Arnolds Park
August 9 | The Legacy Golf Club - Des Moines
September 13 | TBD
First Forum Introduces Candidates for Secretary of Agriculture

by: Agribusiness Report
The first forum featuring candidates to be the next Iowa Secretary of Agriculture was in Arlington, Iowa on Tuesday night, hosted by the Fayette County Corn Growers.
Five of the six candidates showed up to talk to farmers and answer questions, hoping to sway the primary vote this June and the electoral vote in November.
In their introductory statements, the candidates tried to convince voters they were the right choice. Read More
Related Articles:
Lawrence Named Vice President for Iowa State University Extension and Outreach

by: ISU News
After a nationwide search,
John Lawrence
has been appointed vice president of Iowa State University's extension and outreach programs.
Lawrence, interim vice president since March 2017, previously served as associate dean in the College of Agriculture and Life Sciences and director of extension and outreach. He will begin the permanent VP role immediately.
"John has a long history of scholarship and administrative service, and is uniquely qualified to lead
ISU Extension and Outreach
," said
President Wendy Wintersteen
. "I feel confident he will work to strengthen important extension programs and partnerships and enhance the connections of our faculty, staff and students to Iowa communities."
Lawrence holds a bachelor's degree in animal science and a master's degree in economics, both from Iowa State; and a Ph.D. in agricultural economics from the University of Missouri. He joined Iowa State as an assistant professor of economics in 1991, serving as an extension livestock economist. He also has served as assistant director of the Agriculture Experiment Station, and director of the Iowa Beef Center.
Read More
Landus Receives Approval for Iowa Grain Facility

by: World Grain
Landus Cooperative on March 20 received zoning approval from the Story County Board of Supervisors to build a new grain facility outside of Collins, Iowa, U.S.
According to an article in the Ames Tribune, the project, which will include grain bins, receiving pits, a scale and an office building, will cost about $13.7 million.
Read More
Farm Credit Watch: Congress Modifies Tax Bill Provision Benefiting Ag Co-ops
The major tax bill Congress enacted at the end of last year added a new section 199A to the Internal Revenue Code, one portion of which would greatly benefit agricultural cooperatives at the expense of investor-owned grain companies of all sizes - not only Cargill and Archer Daniels Midland but also much small companies purchasing grain from farmers.
That would be the case because 199A would allow farmers "to deduct up to 20 percent of their totals sales to cooperatives," which would have let some farmers reduce their taxable income to zero.
Quite understandably, investor-owned grain companies of all sizes protested the obvious unfairness, to them, of 199A, calling it the "grain glitch."
Congress responded to their complaints, in the just-passed omnibus spending bill, with a provision that caps a farmer's deduction on grain sales to coops at 20 percent of net income, excluding capital gains. Farmers still retain other benefits from doing business at coops where they are members. The FCS, and CoBank in particular, may still benefit from the revised provision, to the extent that it results in increased loan demand from coops that borrow from CoBank. Read More
Naig: State Better Prepared for Bird Flu

Iowa is better prepared to deal with avian influenza, thanks to lessons learned during an 2015 outbreak that resulted in a large economic hit for the state.
"We on the government response are better prepared. Industry has also made significant investments in biosecurity, washing trucks, showering in-and-out facilities, any number of things," said

Iowa's new agriculture secretary Mike Naig.
Two weeks ago, Naig's office issued a notice that a low-pathogenic strain of avian influenza had been confirmed in Texas and Missouri.
The low-pathogenic strain is "good news" since birds can more easily recover from the disease, he said.
Even so, Naig wanted to caution Iowa producers about outbreaks down south.
The 2015 outbreak of bird flu, a high-pathogenic strain, resulted in the deaths of more than 30 million hens in Iowa. An Iowa Farm Bureau Federation report put the cost for Iowa's economy at $1.2 billion, with more than 8,400 jobs lost. Read More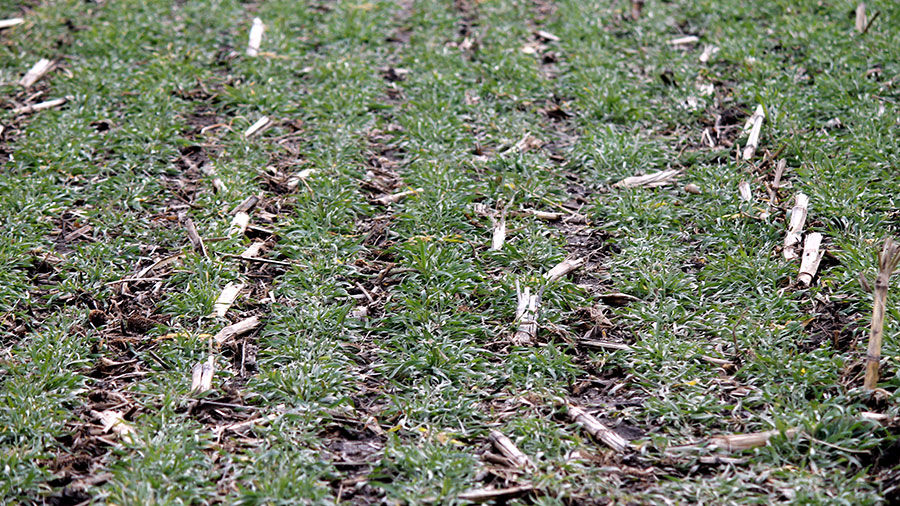 For the second year, Practical Farmers of Iowa has planned a series of spring field days focused on cover crop issues in grazing and row crop systems. Farmers are invited to see cover crops in action on working farms around Iowa and learn about practices used to maximize the financial return from cover crops. Read More
Strategic Partners Bring Service and Savings to AAI Members

Dicamba/auxin training sessions can be found at:
Upcoming Events
& Meeting
March 30
Good Friday - Office Closed
April 3
Early Closure at 3:00 PM
AAI Executive Committee Meeting
10:00 AM
April 10
AAI Board Room
AAI Board Meeting
10:00 AM
April 17
AAI Board Room
Agribusiness Showcase & Conference Committee Meeting
10:00 AM
May 8
AAI Board Room
Office Closures
May 28
Memorial Day Monday
Summer Hours Begin
(M-Th 8-4:30 PM; F 8-12 PM)
July 4
Independence Day
AAI Golf Tournament #1
Co-host: AGP
TBD
July 24
Fox Ridge Golf Course
Dike, IA
AAI Golf Tournament #2
Co-host: AGP

TBD
July 25
Emerald Hills Golf Course
Arnolds Park, IA
AAI Golf Tournament #3

Co-host: USA
Shotgun Start: 10AM

August 9
Agribusiness Showcase & Conference Summer Workshop
Office Closures
September 3
Labor Day Monday
Summer Hours End
WATCH THE AGRIBUSINESS REPORT