DMACC Scholarship Dinner Honors Foundation Donors
(pictured from left to right) Rob Denson, DMACC President, Mark Morrissey, AAI Foundation Chair, Macy Janssen of Shell Rock, Zachary Hummel of Hornick, and Joel Brinkmeyer, AAI CEO
Scholarship recipients and donors were honored at the 6th Annual DMACC Foundation Scholarship Dinner last week.
More than 300 student scholarship recipients, donors, and other dignitaries were in attendance at the annual dinner held to recognize all contributors to the scholarships offered by the DMACC Foundation. AAI Foundation Chair Mark Morrissey and CEO Joel Brinkmeyer attended the November 20, 2017, event in Ankeny.
The Agribusiness Association of Iowa Foundation is a bronze level donor ($30,000) to the Mark Pearson FFA Leadership Scholarship. This fall, more than 40 former Iowa FFA chapter leaders received the scholarship which pays 100% of tuition at DMACC.
Brinkmeyer and Morrissey had the opportunity to visit with several of the scholarship recipients at the event, and share time with DMACC President Rob Denson. Pictured above are two of the 40 students that received the Pearson Scholarship, Macy Janssen of Shell Rock, IA and Zachary Hummel of Hornick, IA.
"Community college graduates with agriculture degrees are continuing to find excellent career opportunities with Iowa Agribusiness Association members, and AAI and Community Colleges have an excellent working relationship," said Brinkmeyer.
AAI Attends IIC Annual Meeting

photo by Iowa Institute of Coops
Agribusiness Association of Iowa (AAI) staff members have been out and about representing members at a number of different meetings this week, including the
Institute of Cooperatives meeting in Ames on November 21.
Membership Director Reilly Vaughan and CEO Joel Brinkmeyer attended on behalf of the association. The meeting included discussion of the upcoming federal farm bill as well as a variety of market and economic analysis. Speakers included AAI board member Matt Caswell, AGP, and Iowa Sec of Agriculture Bill Northey
The AAI staff continues to stay involved in these various meetings and groups to stay abreast of developments in the ag sector as well as to represent our member's interests.
View the 2018
schedule of events
online today! Register before Jan 16 and receive up to $50 off your purchase. All attendees are invited to the brand new Wednesday morning breakfast featuring the antics of Chris Cakes. A pancake company that you'll flip for!
Attention Exhibitors: Your registration deadline is fast approaching on Dec 15, 2017!
Quick Access Materials:
Asmus Farm Supply Named Retailer of the Year
by: CropLife
Based in Rake, IA, the operation -
ranked No. 56 on the CropLife 100
- is lead by second-generation owners Harlan and Amy Asmus. AFS specializes in crop protection, plant nutrition, seed sales and seed treatment.
"Asmus farm supply started in the 1950s by my late father Harvey," said Harlan. "Our customer relationships go deep-decades and three generations. And we also have some that are prospects for the first year, but with all our customer relationships we really view them as partnerships."
Husband and wife Harlan and Amy have grown the business from one location to five, and have become well-known and respected industry leaders. Sons Holden and Garrett are now involved, as is Holden's wife Billie.
Read More
EPA Wants to Extend Effective Date of WOTUS by Two Years
The U.S. Environmental Protection Agency wants to prevent the controversial 2015 waters of the United States, or WOTUS, rule from taking effect while the agency undertakes a complete rewrite, proposing to extend the effective date of the rule by two years.
The rule, developed by former President Barack Obama's administration, remains held up in 13 courts nationwide and faces a date in the U.S. Supreme Court.
The EPA and the U.S. Army Corps of Engineers are preparing a notice for the Federal Register, which would then trigger a 21-day public comment period. The move would give the agencies time to continue stakeholder meetings across the country ahead of a complete rewrite.
Read More
Northey Requests Funding For Iowa Ag Programs

by: Wallace Farmer
Iowa Secretary of Agriculture Bill Northey on Monday met with Iowa Gov. Kim Reynolds at the state Capitol to present his proposed budget for the Iowa Department of Agriculture and Land Stewardship for the coming fiscal year.
Northey requested an additional $150,000 for the department's Animal Industry Bureau to provide added support for preparations for and potentially responding to a foreign animal disease outbreak. He also requested continued funding to support the state's Renewable Fuels Infrastructure Program and the Agriculture Drainage Well Closure Program. He highlighted the need for support for long-term water quality funding.
These funding requests are for fiscal year 2019, which begins July 1, 2018. The Iowa Legislature and Reynolds will consider the proposed IDALS budget during the upcoming 2018 legislative session beginning in January.
Read More
Watch it on the Agribusiness Report
Save the Date: 2018 4R Summit To Be Held
in Des Moines

June 11-12
by: TFI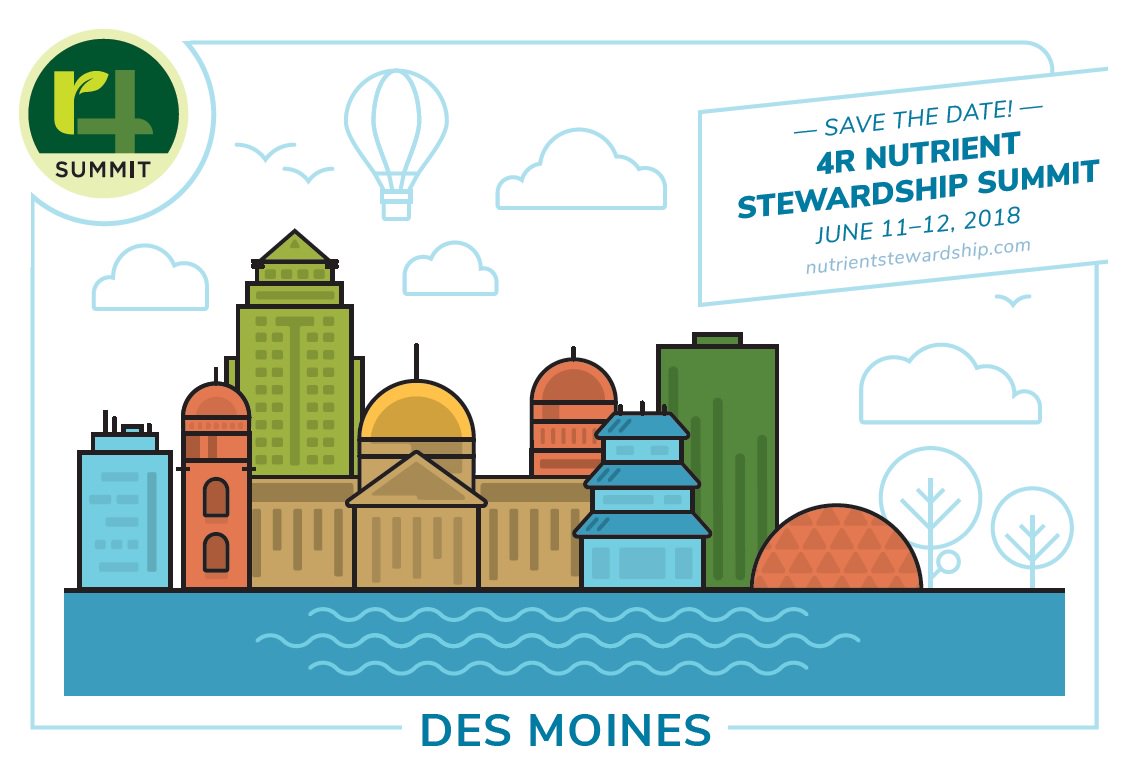 Mark your calendars! The 2018 4R Summit will be held June 11-12 at the Embassy Suites in downtown Des Moines, Iowa. The Summit provides opportunities to learn more about 4R Nutrient Stewardship, 4R practice interactions with other on-farm conservation practices and how stakeholders across the country are implementing 4R principles. Read More
Iowa's Senators Call for 'Robust' Report on Ag Impact if NAFTA is Changed

Iowa's two U.S. senators are calling on the nation's commerce secretary to create a detailed report on how any changes to the North American Free Trade Agreement would impact the country's farmers and ranchers.
Republicans Chuck Grassley and Joni Ernst co-signed the letter with 15 other senators from both parties. Grassley says they're asking Secretary Wilbur Ross to conduct a "robust economic analysis" before changes are made to NAFTA.
Read More
ISU Advanced Grain Elevator Operations Management Course Waiting List Available
The new Advanced Grain Elevator Operations Management Short Course offered by AAI and the ISU Grain Quality Initiative is full!
Names are being collected for a waiting list and a possible additional course offering on a future date.
Please visit for more information and wait list:
WATCH THE AGRIBUSINESS REPORT
Click on the title below to view our info page with sign up and/ or payment options.
Upcoming Events
& Meeting
Career Day
Subcommittee
Conference Call
Dec 5, 2017
1 PM
Conference line
Agribusiness Showcase & Conference Committee
Dec 19, 2017
10 AM
AAI Board Room



Christmas Holiday
Office Closed
December 25
New Years Holiday
Office Closed
January 1, 2018
Advanced Grain Elevator Operations Management Short Course

AAI Executive Committee Meeting
Jan 16, 2018
10 AM
AAI Board Room
AAI Legislative Breakfast
Jan 23, 2018
7 - 9 AM
Iowa Capital
AAI Board Meeting
Jan 23, 2018
9:30 AM
AAI Board Room
Agribusiness Showcase & Conference
Feb 13-14, 2018
VI Building, Fairgrounds
Strategic Partners Bring Service and Savings to AAI Members

Because of the support of our sponsors, AAI is able to bring you an innovative conference! Thank you!