From Human Dignity and Humiliation Studies (HumanDHS)

Painting created and shared by Ardian Adzanela and his son Andis from Sarajevo. It symbolizes the mutually dignifying spirit of our collaboration as a global community.
Remembering a Beloved HumanDHS Leader,
Scholar, and Global Activist

Morton Deutsch


1920 - 2017
Dear Friends and Colleagues,

Please join us in honoring the remarkable life and work of one of our most beloved and inspirational HumanDHS leaders, the visionary scholar and activist,
Morton Deutsch
, who passed away March 13, 2017.
Mort was the first
Honorary Lifetime Member of the HumanDHS Board of Directors
and the first recipient of the
HumanDHS Lifetime Achievement Award
in 2009. He was also a Founding Member of the
World Dignity University initiative
.
We lovingly encourage you to read more about the extraordinary life of Morton Deutsch:
Peter Coleman, Director of the MD-ICCCR invites you to read the story of Mort's groundbreaking efforts on the Teachers College website. You may also leave a message in remembrance.

| | |
| --- | --- |
| | |
| | Imagine a Global Human Community |
Please also see Mort's invitation to "Imagine a Global Human Community," which he wrote to guide our community's work in the world. (It has been made into a printable poster as a gift for you to share with others.)
All of us are sending Mort's family, friends, and colleagues a world of loving support during this sad time.
Morton Deutsch left HumanDHS with the footprints we need to plant and cultivate the seeds of dignity. Thank you for joining us as global gardeners of his vision for a better world, a world strengthened by the wisdom of compassionate collaboration, dignity, and peace.
-----
Take a Look
--
April 2017
-----
This edition is a tribute to Morton Deutsch
and
his awe-inspiring influence on the work of HumanDHS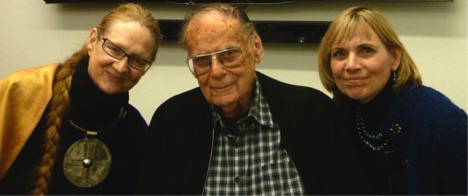 Evelin Lindner, Morton Deutsch, and Linda Hartling (2014)
Thanks to the efforts of so many of you, we can make our collaborative endeavors a lasting tribute to, and celebration of, Morton Deutsch.
We hope you enjoy reading about these activities, which are made possible by all who build bridges of dignity throughout the world.
Indore
,

State of Madhya Pradesh, Central India
We are very much looking forward to welcoming you to our 2017 Human Dignity and Humiliation Studies Conference, "Dignity in Times of Globalization," in August 2017.
Our conferences are part of our global efforts as a creative collaborative community -- united in our diversity -- to address the distressing dilemmas unfolding in the world today. We hope you will join us to share in our endeavor to transform the destructive dynamics of humiliation and conflict into life-enriching systems of equal dignity.
Our Collaborative Format
Our conferences follow a fluid, unfolding format grounded in mutually supportive engagement and insight-cultivating conversations. Rather than having an "audience" listening to "speakers,"
our aim is to create a community that builds ideas together through dignifying dialogue, what we call
Dignilogues.
P
lease allow us to share this introductory handout on
Digniloguing.
A World of Gratitude to Our Hosts
Important Information for Everyone:
If you haven't already done so, we would greatly appreciate receiving your introductory information (e.g., contact information, CV, papers, and technical equipment needs). Thanks for sending it to: conferences@humiliationstudies.org

.
We do not charge registration fees for our events. We share responsibility for this conference by dividing the expenses equally and inviting all participants to contribute according to their ability.
It would be wonderful if you could spend the entire conference with us so that real dignity-family-building can emerge. However, it is also possible to participate only in our Public Event or only in the workshop portion of our event.

Thank you for making your travel and accommodation plans soon. Please see the conference webpage for details.
Nomination for the 2017 Nobel Peace Prize
We are very thankful that our HumanDHS community, as represented by
Founding President Evelin Lindner
,
is nominated again this year
for the
Nobel Peace Prize
,
for the third time!
Over the last three years, we've seen how this nomination has protected many members of our network who are vulnerable when they stand up for dignity in their communities.
Please remember that this nomination is
your
nomination; it is a tribute to our ongoing collaborations as a global community.
Evelin Lindner's New Book!
Honor, Humiliation, and Terror: Humiliation and Terror -

Defusing and Preventing an Explosive Mixture, Volume I
Honor, Humiliation, and Terror. She has been working night and day on this text that explores the roots of multiple forms of terror, from economic exploitation, to environmental destruction, to international political conflict.
In the foreword, Linda Hartling, Ph.D., notes that this "

book serves as a universal affirmation for those who courageously strive to build bridges of equal dignity in their own lives and around the world." Most of all, it serves as an invitation to all who wish to do their part to replace cycles of humiliation and terror with dignity for people and the planet.
"The Globalization of Dignity"
Columbia University, Teachers College
Our
13th Annual Workshop on Transforming Humiliation and Violent Conflict
was an unforgettable event! It wa
s filled with thought-provoking conversations and creative collaborations, generating a wealth of ideas in support of
"The Globalization of Dignity."
We are excited to announce the release of a "mini-documentary" about this year's workshop, beautifully compiled and created by
Mariana Ferraz
. It captures the mutually dignifying spirit of our community by interviewing some of the many participants who made this and earlier workshops special.
In addition, you will see many wonderful photos posted on our
webpage
.
Our preplanned and co-created Dignilogue groups allowed us to bring tough and crucial topics and questions to the table.
Please see our collection of
videos
documenting the creative work of these groups.
A Special Thanks!
This workshop would not be possible without the loving support of all who shared in the responsibility of co-creating it. We especially thank this year's

wonderful

team of moderators, careholders, dignigardeners, videographers, photographers, and our team of music and movement leaders!



14th Annual HumanDHS Workshop on

Transforming Humiliation and Violent Conflict

"The Nature of Dignity -- The Dignity of Nature"
Thursday - Friday, December 7 - 8, 2017
Teachers College, Columbia University, New York