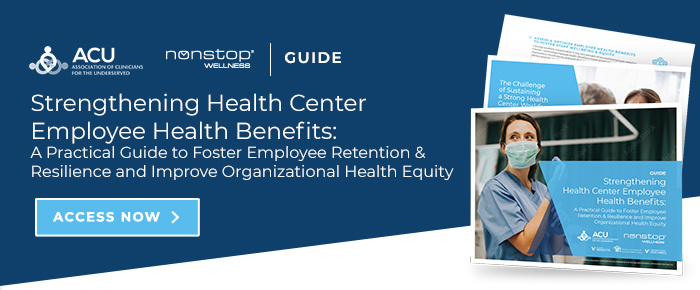 Current workforce disruptions are forcing many community health centers to respond to new and different types of challenges, all of which present opportunities for reevaluation and innovation. Nonstop Administration and Insurance Services, Inc. (Nonstop) and the Association of Clinicians for the Underserved (ACU) have partnered to create an executive guide that outlines essential steps that administrators and HR leaders can take to sustain a strong health center workforce, and maximizing employee health benefits to improve health equity for patients and staff alike.
Access this complimentary guide to:
Take action using a checklist of best practices to boost employee resilience & wellness;

Incorporate tools for evaluating your existing employee health benefits program;

Access a detailed list of resources to improve hiring, retention, and employee satisfaction.