- Huge selection of styles and colors.
- Flexible and non-porous.
- Low price, low maintenance.
- VCT are an easy to DIY if the subfloor is level.
Cons:
- Vulnerable to scratches, tears, stains and wear.
- Doesn't have a "high-end" look. (Does not suit all decors.)
Made from natural materials like linseed oil, recycled wood flour, cork dust and limestone.
Pros:
- Huge selection of styles and colors. Available in tiles or sheets.
- Natural, biodegradable and hypoallergenic, composed of flax and natural resin.
- Does not trap dust or bacteria, which helps air quality.
- Low maintenance, durable and mildew-resistant.
Cons:
- Doesn't have a "high-end" look. (Does not suit all decors.)
Hard glazed squares typically made of ceramic or porcelain.
Pros:
- Huge selection of colors, styles and designs.
- Strong, durable and stain resistant.
- Easy to clean and sterilize.
Cons:
- Can cause discomfort to legs and back after prolonged standing.
- Can be cold on bare feet.
- Can crack or chip. Needs a level subfloor.
A multi-layer synthetic flooring product fused together with a lamination process. It simulates wood (or sometimes stone) with a photographic applique layer under a clear protective layer.
Pros:
- Great selection of styles and colors. Looks like wood, stone, ceramic.
- Resists stains, scratches, dents, even cigarette burns.
- Relatively easy to DIY, often directly on top of existing floor.
- Click-into-place styles can simply be dismantled and taken with you when you move.
- Very durable. (Good-quality laminate can last 25 years or more.)
Cons:
- Not recommended for bathrooms or other damp areas.
- Must be replaced when worn. (Cannot be sanded/refinished.)
Flooring that is milled from a single piece of timber.
Pros:
- Oak and maple are the most popular. New: pre-oiled exotic woods, now available with semi-gloss and gloss finishes.
- Creates a warm, natural atmosphere. Never goes out of fashion.
- More comfortable for legs and back than harder surfaces.
- Durable if properly sealed.
- If damaged or scratched, can be sanded and refinished.
Cons:
- Requires refinishing every few years.
- Dirt can accumulate in joints between boards.
- Not as stable as engineered hardwood. (More susceptible to warping/cupping.)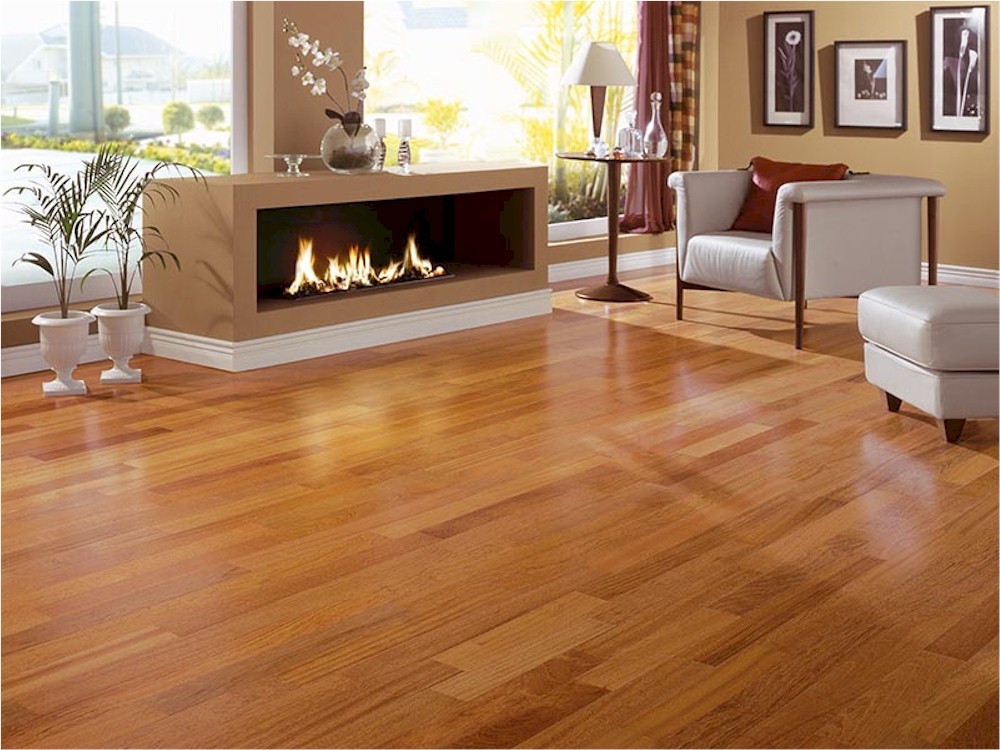 Sometimes referred to as composite wood, engineered wood differs from hardwood in that it is a veneer of hardwood on top of several wood layers underneath (Plywood). Engineered is mandatory when going over a concrete slab foundation.
Pros:
- An alternative to solid hardwood and laminate, it is also a more versatile option.
- Does not expand or contract with temperature changes. Sold pre-finished.
- Can be glued or clicked into place directly over concrete or an acoustic underlay.
Cons:
- Less durable than hardwood. (Typically cannot be sanded more than twice.)
An option that makes use of different types of natural rock carved out of a quarry and then cut for flooring application. Slate, marble, limestone and sandstone are popular choices.
Pros:
- Has a natural "earthy" feel and look.
Cons:
- Can cause leg and back discomfort after prolonged standing.
- Because it is a natural material, stone can contain imperfections (texture, color and veining).
- Needs regular sealing.
Synthetic options are conventionally made of polyester, nylon or polypropylene while natural carpet can be made of wool.
Pros:
- Creates comfort and warmth while acting as an insulation to retain heat during cold months.
- Acts as a noise dampener.
- A relatively inexpensive flooring option.
Cons:
- Can easily stain and be difficult to clean.
- Tend to wear out fairly easily.
- Can cause health issues for those that suffer from allergies.
*This article was sourced from "GMH Today" Magazine for which Dave is an article contributor. For a direct link to this informative magazine, click here.