co-editors: Julie O'Mara & Cathy Gallagher-Louisy
design & production editor: Shawndra Cox
for All People Interested in Diversity, Equity, and Inclusion
*Please share this newsletter and the GDEIB with others. Our goal is to increase its visibility, credibility, and usability.
Share your news with us for inclusion in a future newsletter!*
WHAT YOU'LL FIND IN THIS NEWSLETTER
Quote from Nancy Ngou, EY Advisory, Japan

Sponsor or Donate

to The Centre

Welcome to Our New ED,

Sudeep Mohandas!
| | | |
| --- | --- | --- |
| Appreciation for ED Search & Onboarding | Free Webinar on Artificial Intelligence | Nestlé Pakistan: Enabling an EO World |
GDEIB Launch Events

Schedule

JP Morgan Report on Racial

Equity Investing

Spotlight on

Our Sponsors
GDEIB Co-branding

Opportunity

What Research Questions

Do You Have?
| | | |
| --- | --- | --- |
| BCT Partners Receives Entrepreneurial Award | Dr. Kumar Receives Prestigious Padma Shri in India | EP Sharon Nash's Journey into Self Inquiry |
Solving for X: The Forum Conference Open for Registration

EP Shirley Davis pens DEI for Dummies book

d&i Leaders

Benchmarking Study



Call for Proposals for
ODN Conference
Due 27 January 2022
"What sets the GDIB apart from other D&I maturity frameworks is 1) It is truly global. Because it is reviewed regularly by D&I experts from around the world, it reflects a true global view, rather than western leaning, 2) It is holistic. The framework includes organizational change elements, not just talent management and other human resources activities. Creating true inclusion requires a cultural shift, involving organization and people elements."
Nancy L. Ngou,
Partner People Advisory Services,
EY Advisory & Consulting Co. Ltd.•Tokyo, Japan
A MESSAGE
FROM SUDEEP MOHANDAS
Executive Director, The Centre for Global Inclusion
December 7th 2021 is when I hit the ground running. The moment I signed the contract with The Centre, I was already engaged and planning out what was to be done in the weeks to come. My first week with the Board which happened on December 12th had me sharing my plans for the next 120 days.
All that would not have been possible if not for the amazing Board members. Special thanks to them for making my transition smooth.
In the coming months, I do hope to bring change, positive and purpose related change. To make that happen I do need to start the process of engagement and relationship building with many of you. It also means I will need to understand the history, the work done in the US and globally.
I wish to thank all our Donors, Contributors, Expert Panellists, Alliances, Partners, and Supporters across the globe who have made this organization what it is.
Let me wish everyone who celebrated January 1st as their New Year: have a Great New Year. To those around the world who celebrate their New Year on another date: have a great new year when your New Year begins.
Thank you and have a great 2022
Sudeep
Go HERE to see bio of Sudeep
THANK YOU TO ALL THOSE WHO
HELPED WITH THE SEARCH AND HIRING
OF OUR NEW EXECUTIVE DIRECTOR
The Centre's Board of Directors thanks all who helped with the search and hiring of The Centre's new Executive Director, Sudeep Mohandas (see related article). We appreciate the extensive global search by the search committee and the diligence regarding the hiring process which required contracting, determining benefits, and what seemed like an abundance of requirements. This team included authors, thought leaders, experienced nonprofit leaders and DEI experts. Please give a round of applause to this team.
Go to the links for full bios, but here is a brief bio on each. Note that each person serves as a GDEIB Expert Panellist.
Deepa A. Agarwal (India)

Author and Chief Inclusion Officer of Re-Link Consulting

Lorelei Carobolante (US) Centre Board Member and President and CEO of G2nd Systems

Ralph de Chabert (US) Centre Board Member; SVP, Chief Diversity & Global Community Relations Officer for Brown-Forman Corporation
Melanie Harrington (US) Chair of the Search Committee, Centre Board Member; Senior Director for Affiliate Equity Programs for the ACLU National

Zahid Mubarik (Pakistan)Centre Board Member; CEO of HRMetrics

Mary Waceke (Kenya)

Executive Coach, Diversity, Inclusion & Unconscious Bias Expert
Lynda White (Canada)

Centre Board Chair;

President of McLeod White and Associates
SEEKING SUPPORT
TO DRIVE THE FUTURE OF DEI
Join the incredible momentum the GDEIB — the Global Diversity, Equity & Inclusion Benchmarks — is creating for improving the quality of DEI work around the globe.
Platinum Sponsor at

 $45,000

Diamond Sponsor at

 $35,000
Or help us with these projects:

Creating a DEI Research Agenda

Our webinar series

Educational videos, slides, infographics, handouts, and presentations

Increasing accessibility of our website and tools

Social & traditional media support

Your ideas

Loaned executives & other support services
UPCOMING GDEIB LAUNCH EVENTS
Please go to our website here: https://centreforglobalinclusion.org/events/ to see the latest information on the many Launch Events on the new GDEIB presented by Expert Panellists, Users, Sponsors, and others associated with The Centre. Note that some launch events are planned in English, Portuguese, or Spanish. Please check back frequently.
NESTLÉ PAKISTAN: WORKING TO
ENABLE AN EQUAL OPPORTUNITY WORLD
Nestlé Pakistan is among the top three inclusive companies in Pakistan due to its use of the Global DEI Benchmarks (GDEIB) to create opportunities for all stakeholders.
The Pakistan GDEIB Awards recognize and encourage progressive organizations who use the GDEIB standards to align DEI with their organizational policies and processes for sustainable financial and social performance. The award winners are selected by a panel of DEI experts from around the world and are awarded annually at a gala event hosted by HR Metrics – Diversity Hub.
In 2021, Nestlé won six Pakistan GDEIB awards in the categories of Vision, Leadership, Structure, Recruitment, Benefits and Social Responsibility. This is a tremendous accomplishment!
Nestlé's philosophy is that best way to promote diversity in the workplace is by embracing it and having a broader outlook. Nestlé focuses on connecting with colleagues regardless of their cultural background, finding a common ground, deepening appreciation of differences and promoting an inclusive and welcoming environment. Nestle believes that their efforts as an organization and more importantly as individuals will help create opportunities for everyone all around them and build a safer more inclusive world for all.
Click this link read more details about why Nestlé was chosen: https://thehrmetrics.com/nestle-pakistan/
28 ORGANIZATIONS WIN
GDEIB AWARD IN PAKISTAN
| | |
| --- | --- |
| | HR Metrics – the CEO is GDEIB Expert Panellist and The Centre Board member, Zahid Murbarik -- conducts annual GDEIB awards in which organizations are given the opportunity to disclose their diversity, equity, and inclusion accomplishments in line with GDEIB benchmarks; with a focus on social and economic impact on all stakeholders. Awards were assessed by a seven member global Jury on a merit-based scale of 1-5 including Best Practice, Progressive, Proactive, Reactive, and Inactive levels. During 2021, total 28 organizations have won GDEIB Award in multiple categories. More details at https://thehrmetrics.com/gdeib-awards-press-release-2021/ |
"WE'VE LEARNED WHAT WORKS"
-GDEIB BEST PRACTICES-
ACTIONS TO HELP ACHIEVE THIS GLOBAL DEI BENCHMARK
JP MORGAN REPORT ON
RACIAL EQUITY INVESTING INCLUDES THE GDEIB
JP Morgan's Global Emerging Markets Equity Research report, written by Pedro Martins, Junior, CFA, for October 2021 delved into ESG investing with a focus on diversity, equity, and inclusion and specifically racial equity investing.
The Centre is pleased that the GDEIB categories and model are discussed on pages 9 and 10. It says that the GDEIB, "…is designed to guide organizations to achieve best practices. The model with its 15 categories helps leaders and DEI professionals implement strategies that work as an integrated system."
Racial equity investing is a form of socially responsible investing with an aim to promote DEI helping close the gaps in investments based on race as a diversity dimension. The core motivations that drive racial equity investing are twofold in our (J.P. Morgan's) view: (1) leverage the influence that institutional investors have over society to promote DEI and (2) search for sustainable outperformance across investment opportunities.
Highlights from the report include:
• Stakeholders and racial equity investing. Investable capital can be used as a lever to tackle systemic racism and racial barriers, such as owning shares of minority-owned businesses, investing in companies with a strong diversity mandate, and avoiding investments in companies that disproportionately negatively affect historically disadvantaged groups.

• Search for sustainable outperformance via DEI investing. Qualitative benefits for investing in companies that promote racial equity investing include the ability to attract a stronger talent pool, to improve the decision-making process, and to enhance the company's image.
FROM & ABOUT EXPERT PANELLISTS & ALLIANCES
BCT PARTNERS RECEIVES PRESTIGIOUS ENTREPRENEURSHIP AWARD FROM EY
BCT Partners is a sponsor of The Centre for Global Inclusion.
Dr. Randal Pinkett and Lawrence Hibbert, Founding Partners of BCT Partners, were named Entrepreneurs of The Year® 2021 New Jersey Award winners by EY.

The Entrepreneur of The Year Awards program is one of the preeminent competitive awards for entrepreneurs and leaders of high-growth companies. The award recognizes those who are unstoppable entrepreneurial leaders, excelling in talent management, degree of difficulty, financial performance, societal impact and building a values-based company, and originality, innovation and future plans.
Dr. Pinkett and Mr. Hibbert were selected by an independent panel of judges.
As Mr. Hibbert stated, "Randal and I are so proud to have won this award. When we started BCT Partners with our two other founders, we had vision and determination but no guarantee as to whether that would translate into a long-lasting business. Twenty years later, we have not only built a successful company that we are still running together, but we are making a lasting social impact. We are driving diversity, equity, and inclusion forward through the power of our people, data insights and technology."
To learn more, please go to this link: https://www.bctpartners.com/post/lawrence-hibbert-and-dr-randal-pinkett-named-ey-entrepreneurs-of-the-year-for-new-jersey
DR. NIRU KUMAR AWARDED WITH
PRESTIGIOUS PADMA SHRI IN INDIA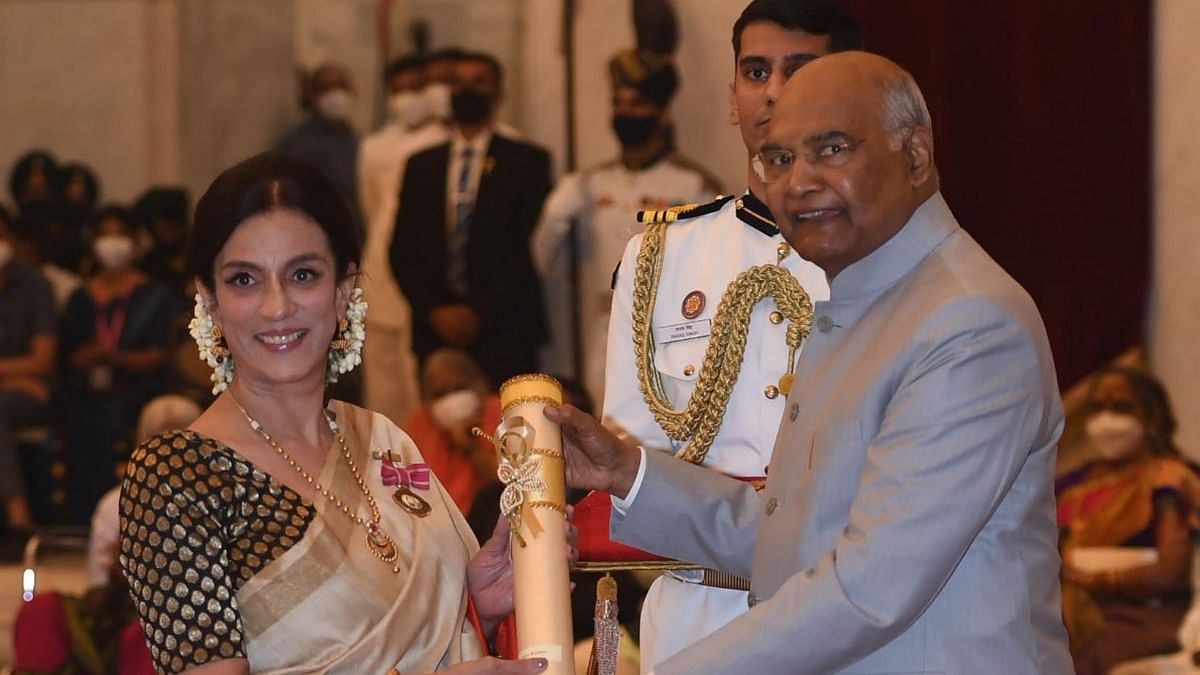 Dr. Kumar is a former GDIB EP and longtime supporter of The Centre for Global Inclusion. Please join us in celebrating this prestigious award.
Padma Shri is the fourth highest civilian award of the Republic of India. The Padma Shri is awarded to citizens of India in recognition of their distinguished contribution in various spheres of activity including the arts, education, industry, literature, science, sports, medicine, social service and public affairs.
A medical doctor and gender diversity consultant, Dr. Kumar is the founder of "Ask Insights," a Diversity and Inclusion Consulting Organization.
Dr. Kumar was awarded the Padma Shri in the area of Social Work.
She is a pioneer in raising awareness about the concept of diversity and inclusion among Indian companies. "At that time, about 15 years back, I was perhaps the first person who began the conversation of diversity at workplaces, particularly gender diversity, in India," she says.
In June 2020, the Election Commission of India named Dr. Niru Kumar as one of the 'National Icons' and inducted her as a board member of the advisory committee on voter accessibility.
We are delighted to celebrate with Dr. Kumar on this momentous recognition of her achievements.
To read more, please go to this link: https://theprint.in/features/padma-shri-winning-mars-venus-coach-niru-kumar-lets-her-work-do-the-talking/770337/
EXPERT PANELLIST, DR. SHIRLEY DAVIS
ANNOUNCES THE RELEASE OF
THE DEI "DUMMIES" BOOK SHE WROTE
The Centre congratulates Dr. Shirley Davis on the publication of Diversity, Equity, & Inclusion for Dummies. It will be available on January 12. John Wiley & Sons, publisher of the For Dummies books, explains that this is an extensive series of instruction/reference books which are intended to present non-intimidating guides for readers new to the various topics covered." Julie O'Mara, Centre Board member and GDEIB coauthor, says "The production of a For Dummies book on DEI is another signal that DEI is a strong influence and that many people want to know more about the topic. Thank you, Shirley for including the GDEIB in the book."
DIVERSITY'S AGE-OLD BLINDSPOT
—UNARMED IN THE TRUE BATTLE FOR TALENT
Go here to read an article, Diversity's Age-Old Blindspot—Unarmed in the True Battle for Talent. It discusses phased retirement. Nadia and Paul Rupert, Founder & CEO, Rupert Organizational Design, who are knowledgeable advocates for phased retirement, have written this article published in Manage HR Magazine October 2021.
Phased Retirement is a broad range of employment arrangements that allow an employee who is approaching retirement age to continue working with a reduced workload, and eventually transition from full-time work to full-time retirement. One of their many research-based points is "In the era of greater longevity, it is critical to abolish the outdated 'sell-by date' or 50+ and the time of extended work, to strengthen ongoing training and development for all workers both young and old." The authors make the case that regarding the diversity dimension of age, the focus is mostly on youth in the workplace and more attention needs to be on older workers and looking at workplace arrangements like phased retirement.
Nadia Younes and Paul Rupert, have been accepted as presenters for the Forum on Workplace Inclusion suite of offerings. The Forum is an Alliance of The Centre (see article in this newsletter on the upcoming Forum annual conference).
FORUM ON WORKPLACE INCLUSION
Virtual Conference Set for
April 5 to 7, 2022 Central Standard Time
For the 34th year, the Forum on Workplace Inclusion will hold its annual conference April 5 to 7, 2022. We encourage you to register. This conference has always delivered high quality, relevant learning.
The theme this year is Solving for X: Tackling Inequities in a World of Unknowns. Addressing complex challenges can be daunting especially when the foundations of our structures are shifting. As we look to a future of continuous and unforeseeable change, what must we do to tackle systemic inequities deeply embedded in our everyday environment and unharness inclusive, equitable, and sustainable ways of working?
Go here for additional information and to register:
| | |
| --- | --- |
| | "MY JOURNEY INTO SELF-INQUIRY" BY EP SHARON NASH RECEIVES "OUTSTANDING ARTICLE OF THE YEAR AWARD" BY THE OD REVIEW |
GDEIB Expert Panellist, Sharon Nash, MSc CFCIPD, Head of OD for one of the largest, most diverse Health Boards in Wales, UK. Here is what was said about Sharon in the Award announcement: "Sharon Nash is an Organisational Consultant, Business Growth Strategist and Leadership Coach who is regarded as a bold and disruptive force for transformational change. She has a passionate interest in the psychology of human behaviour and works to tackle change at a systemic level to enable transformational change. Sharon has worked with some of the most senior leaders in large institutions, corporate establishments and start up enterprises, and her signature work in organisation development and culture change has seen her operate across geographical and cultural boundaries to establish scalable, purpose driven leadership and diverse cultures and structures, across media, technology, entertainment, healthcare and financial services, working with iconic brands such as Sony PlayStation and Coutts & Co."
The article is brilliant. Here is just one quote by Sharon from the article: "Based on my experiences, my premise is that changing the way we think about our roles as OD practitioners starts with confronting the legacies of our own leadership By holding the mirror up to ourselves, it is conceivable that we will be better place to see the blind spots in our profession."
In the GDEIB we offer five approaches to DEI work (see the graphic): Advocating for social Justice, Being in Compliance, Building Competence, Developing the Organization, and Honoring Dignity. The approach, Developing the Organization, is very much aligned with an OD approach to DEI work.
DR. NATASHA WINKLER-TITUS TO
CHAIR THE HR DIRECTOR CONFERENCE
ONLINE FROM SOUTH AFRICA
9 to 10 March — 2 day conference online
8 March — Pre-conference workshop
GDEIB Expert Panellist Dr. Natasha Winkler-Titus will chair the HR Director Conference presented by Knowledge Resources. Debbie Atwell, Conference and Events Manager, says, "We are pleased to welcome one of South Africa's best Organisational Psychologists to the HR Director Conference 2022. Thank you Natasha; we look forward to your professional and engaging manner of facilitation and your wealth of experience and knowledge you bring to the field."
Go here https://kr.co.za for more information
PLEASE PARTICIPATE IN
THIS BENCHMARKING SURVEY
We're pleased to support this annual survey done by our Alliance d&i Leaders in the UK. And two of the GDEIB Expert Panellists are involved as well.
The 2021/22 survey is now open for submissions!
For in-house DEI practitioners only
(consultants – please forward to clients)
The annual d&i Leaders Global Benchmarking Survey and Report explores the size, structure, renumeration, well-being and impact of in-house D&I leaders and their teams.
We would really appreciate it if you could spare 20 minutes to complete the 2021/22 survey before 14 January.

350+ from 15 countries responded last year!
Sections cover:
• Remuneration, reporting lines, and team size
• Well-being and mental health
• D&I's sense of empowerment and influence
• Career development
• Good practice and measurement
• Accelerators and barriers to D&I
Who is the survey open to?
This survey is only intended for in-house diversity, inclusion, HR and talent related leaders, managers and team members, along with executive sponsors and employee resource group leaders.
If you hold another role such as an external consultant, we would appreciate you forwarding details to clients and relevant in-house contacts to ensure we achieve full representation – you will be able to read the final report.
2022 International OD Network Conference
Orlando, Florida -- June 8-11, 2022
Humanizing the Future of Organizations
Call for Proposals
Due 27 January 2022
FROM & ABOUT THE GDEIB & THE CENTRE
ANNOUNCING OUR
GDEIB TRANSLATIONS
FROM ENGLISH TO SPANISH,
PORTUGUESE, AND FRENCH
The Spanish and Portuguese translations of the GDEIB are ready and the French translation will be ready in the next few weeks. We will celebrate these translations with articles and events soon, but if you are eager to get started using them go to our website and download the translations. Please note that you need to sign the User Agreements to use the English and all the translations. As is the English version – the translations are all free.
THE GDEIB CO-BRANDING OPPORTUNITY
Your logo here!

+ 2 inside pages

about your DEI program



The Centre is offering all GDEIB users an opportunity to add your organization logo to the front cover of the GDEIB and create two inside pages that will be positioned before the Table of Contents. You may use those two pages to contain a message from your organization or diversity leaders, or a description of your DEI program, or however you see fit.
Please send us a high resolution logo and prepared "camera-ready" copy for the two pages. They will be back-to-back, with the first page appearing on the right side and the second on the left hand side of the page; therefore you cannot create a spread. Cost is $1,000 and we will invoice you. This offer also applies to the Portuguese, Spanish, and French translations – all of which will be ready shortly. Please give us about a week or 10 days from the time we receive your logo and copy for the two pages before we send you your customized GDEIB. Contact: thecenter@centreforglobalinclusion.org.
*SAVE THE DATE*
FEBRUARY 16, 2022
THE CENTRE'S NEXT WEBINAR WILL BE ON ARTIFICIAL INTELLIGENCE – WHAT DEI ADVOCATES NEED TO KNOW AND DO
It features Francesco Carobolante, Technology Executive, Principal IoTissimo®




Artificial Intelligence (AI) can be a new powerful tool to address inclusion in the workplace and society, but it is fraught with pitfalls and marketing hype, which overshadow reality and can lead to results that are opposite to expectations. In this webinar, you will gain some insight on:
The basics of algorithms and how AI algorithms operate

How poor quality, as well as conscious and unconscious bias can affect algorithms

How to ask questions, leading to understand their fit for purpose and effectiveness
Understanding how AI algorithms are developed and how they operate, and developing a methodology of validation, can facilitate the appropriate deployment of such tools, prevent painful blunders and foster outcomes that align with your organization's values and expectations.

*An Idea: Consider using this webinar as an educational event for your organization or your clients.
More information and registration will be sent soon.
Please watch for it.
WHAT DO YOU WANT
TO KNOW ABOUT DEI?
At The Centre for Global Inclusion, we are always striving to be an educational hub for our readers and GDEIB users.
We are launching a new initiative to survey our readers on current DEI trends and will share the results of our survey in subsequent newsletters.
Do you have a question you'd like to ask our DEI newsletter audience?
Please send your suggested questions to: thecentre@centreforglobalinclusion.org
Subject line: "Survey Questions for the Newsletter."
SPOTLIGHT ON OUR SPONSORS
Evolution
At Evolution, we believe that businesses, and the leaders who lead them, have the power to change our world. We believe that business is the leverage point for global change and the place that is already writing the next chapter in human history. We believe that by thoughtful and intentional growth in the heart and mind of the leader, in the team and culture, and the organization and product itself, the greatest and most sustainable impact can be had. We believe in Evolutionary Business. Evolution is a community of people who share similar values. Chief among these values is Anti-Racism, and a willingness to do our own work in the realm of Diversity, Equity, Inclusion & Sustainability (DEIS) individually, as a company, and as a community. This allows us to bring ending oppression work to our clients from an authentic place. While we are seeing change happen in the United States in combating our existing systems of oppression, we understand this is an ongoing fight that requires we all join in.
ICEBERG Cultures of Inclusion

Iceberg Cultures of Inclusion is a Diversity, Equity and Inclusion training and consulting company based in Latin America. Since 2009 training expatriates, global teams, and regional leaders with international exposure about cross-cultural work and adaptation strategies; and also working together with Diversity and Inclusion Teams, Organizational Development and Human Resources departments in international organizations with the purpose of developing inclusion, equity and diversity strategies, business case, and learning and education programs. We are an experienced, diverse and multicultural team able to understand the cultural similarities and differences when it comes to work at Diversity, Equity and Inclusion regional programs in Latin America. The countries we have worked in most are Colombia, Argentina, Brazil, México and Chile. This with international corporations of several industries as Finance and Insurance, Oil and Gas, Construction, Pharmaceutical, Agriculture, Chemistry, Manufacturing, Consumer Goods, and much more. Our team is highly qualified to work throughout all levels within organizations: from entry levels and young professionals to directors and CEO's. Shirley Saenz – Director of Iceberg Cultures of Inclusion. Intercultural, Diversity, Equity and Inclusion Expert.
Westfield
Westfield was founded in 1848 by a small group of hard-working farmers who believed in the promise of the future and the power of the individual. That promise is evident today in the company's mission to enable customers' peace of mind and financial stability. Today, as one of the nation's leading P&C companies, Westfield remains true to its vision and dedication to making a positive difference in the lives of its customers offering personal insurance in 10 states, commercial insurance in 21 states and surety services in 50 states through a network of more than a thousand independent agencies. Westfield believes in the power of community – where we take care of each other and value everyone equally. Last year, in the wake of COVID-19 and social unrest, the company knew they had a responsibility to do more. Being mindful of the additional barriers that people and communities of color face, the company aims to do more in their D&I efforts and more for the community. Westfield's corporate foundation continues to help families and businesses stabilize and recover.
THE CENTRE & GDEIB ALLIANCES
The Centre is grateful for its Alliances as they help spread the word about us. If your organization mission is in alignment with The Center Mission—to serve as a resource for research and education for organizations and individuals in their quest to improve diversity, equity, and inclusion practices around the world—and if you want to form an Alliance, please send an email to thecentre@centreforglobalinclusion.org and ask for the criteria for being an Alliance.
THANK YOU TO OUR DIAMOND,
PLATINUM, GOLD & SILVER LEVEL SPONSORS
Our 112 GDEIB Expert Panellists are the thinkers and contributors behind the GDEIB. They have contributed to the development of our latest editions, guide us in preparing for the next update, and serve as strategic partners. This month we feature these four:
UPCOMING EDUCATIONAL EVENTS BY OUR ALLIANCES OR OUR EXPERT PANELLISTS
OR WHERE THE GDEIB IS INCLUDED



The Centre for Global Inclusion

GDEIB Launch Events

Multiple Sessions



The Centre for Global Inclusion

with Francesco Carobolante

February 16, 2022



The Forum on

Workplace Inclusion

April 5-7, 2022


PUBLIC EDUCATIONAL OPPORTUNITIES OFFERED BY EXPERT PANELLISTS & ALLIANCES
Listed here are programs offered by GDEIB Expert Panelists and Alliances. Many are offered numerous times on an ongoing basis. While these courses may not be specifically about the GDIB, the content will be helpful in achieving many of the GDIB benchmarks. If you are an Expert Panelist or Alliance and offer programs open to the public, please let us know and we will list here.
Because we are a global organization, from now on The Centre for Global Inclusion will follow the editorial guidelines for English published by the UN. Go here Spelling - United Nations Editorial Manual Online (dgacm.org)
<http://dd.dgacm.org/editorialmanual/ed-guidelines/style/spelling.htm>
These guidelines mix American and British spelling.
If you want to use the GDEIB in conference presentations, blogs, articles, chapters and so forth, we will support by providing slides, handouts, and ideas. Go to our site and explore. We've put a lot of effort into providing these resources. Please help by adding to what we offer.
SEND US YOUR NEWS
SO THAT WE CAN FEATURE YOU
in upcoming editions of the GDEIB Newsletter
We are always looking for stories of organizations around the world that are making strides in diversity, equity, and inclusion, and/or organizations that have achieved GDEIB benchmarks. You don't have to be at the Best Practice level on every benchmark to be featured. We like stories that describe how an organization achieved ONE of the benchmarks. To submit a story, please contact us: https://centreforglobalinclusion.org/contact/
Please pass this newsletter along to anyone you think might be of interest.
Thank you!