Was this forwarded to you?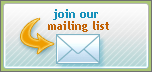 Consulting Services
IT Strategy
EA / SOA / BPM
IT Innovation Briefings
IT Due Diligence
Vendor Selection
Executive IT Seminars
Cloud Computing
Grid Computing
Security Maturity
Knowledge Strategy
Technical Communities
Knowledge Capture
Enterprise Social Networking
Contact Us:
Forward this newsletter to colleagues and friends:
use the "forward email" link below at left, rather than "Forward" in your email software, to preserve your privacy, give the recipient more options (their own unsubscribe link, etc.) and to give us better click-through data from ConstantContact. Thanks!
Practical Guide to Cloud SLA


The Cloud Standards Customer Council (CSCC) just released the eagerly awaited sequel to its Practical Guide to Cloud Computing. The new document focuses on what customers should look for in Service Level Agreements for cloud offerings. The document, as well as the recording of the April 10 webinar during which it was presented, can be obtained here.

Membership in the CSCC is free, and given the quality and speed with which it came up with both the initial "Practical Guide" and its SLA-specific companion paper, it seems worthwhile for end-user organizations interested in cloud computing to join.
The Data Distribution Service (DDS)

DDS, a standard from the Object Management Group, continues to mature as a sophisticated publish-and-subscribe mechanism in the realm of real-time data acquisition. At the OMG meeting in Reston, Va., at the end of March, six different vendors demonstrated the interoperability of their DDS-compliant products. Interestingly, two of the vendors had just finished new implementations of DDS "from scratch," and had never before participated in an interoperability demo; yet, apart for a few typical glitches, the demonstration was successful.
Highlights from the Cutter Summit

The annual Cutter Summit was held in Cambridge, Mass., on April 2-4. As usual, the highly interactive event was designed to facilitate extensive contacts between clients and consultants during exercises, workshops and roundtable discussions.
The focus was on corporate leadership, and included two sobering perspectives. First, Dick Nolan, author of "Harder Than I Thought," used Boeing as an example of the challenges faced by a CEO in a changing world, where a legendary company can lose its vision of technical excellence as it focuses on financial management. According to Dick, "the company is now in a tailspin."
Michael Roberto wasn't much more positive about executives, leading the audience through a case study he wrote about the BP Macondo accident.
Claude Baudoin led a very well attended breakfast roundtable on the convergence of knowledge management, collaboration, and social media usage in the enterprise. Claude also contributed to Michael Rosen's workshop on enterprise architecture by presenting on "communities of architects," using the Schlumberger Network of Architects as an example.

Columbia University's New Master's Program

Knowledge Management is a recognized discipline, with a number of conferences and organizations that provide training and consulting, but has been lacking a formal recognition in the academic world. This may change with Columbia's new Master of Science in Information and Knowledge Strategy. This is a 16-month continuing education program, with low residency requirements, tailored for practitioners who want to pursue this degree while working full-time. An online information session is planned for April 25 at noon EDT.

Seen Recently...


"If you have a 'yes-man' working for you, one of you is redundant"

-- Barry Rand, CEO of AARP, past executive at Xerox

(quoted by Michael Roberto at the Cutter Summit)

"If anyone is having a bad day, remember that today in 1976 Ronald Wayne sold his 10% stake in Apple for $800. Now it's worth $58,065,210,000."

-- Matt Smith, professional football player, @mattjpsmith