Was this forwarded to you?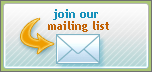 Consulting Services
IT Strategy
EA / SOA / BPM
IT Innovation Briefings
IT Due Diligence
Vendor Selection
Executive IT Seminars
Cloud Computing
Grid Computing
Security Maturity
Knowledge Strategy
Technical Communities
Knowledge Capture
Enterprise Social Networking
Contact Us:
Forward this newsletter to colleagues and friends:
use the "forward email" link below at left, rather than "Forward" in your email software, to preserve your privacy, give the recipient more options (their own unsubscribe link, etc.) and to give us better click-through data from ConstantContact. Thanks!
Humanoid Robotics News

French robotics company Gostai, which we occasionally mentioned in The Kit, has been acquired by its compatriot Aldebaran Robotics, also focusing on humanoid robots that can serve as assistants in learning and social situations. Gostai created the Urbi programming platform for such robots, and the Jazz mobile telepresence robot. Aldebaran is the creator of NAO.
LinkedIn Outlook Connection: Don't Wait

LinkedIn announced that the next version of Microsoft Office will integrate the capability of the Outlook Social Connector. That's good news (although you wouldn't know it from some dreadfullly written articles, like the one in BusinessInsider). But there is really no reason to wait. While the current connector, out for two and a half years already, requires an extra download and configuration step, it works with Outlook 2007 and it also provides a connection to the Facebook profiles of the people you exchange e-mail with.

Cloud Case Study Contest

The Cloud Standards Customer Council (CSCC) has announced its Case Study Competition. The deadline for submission is November 9, and the contest is only open to CSCC members -- but membership is free. Winners will be recognized at the CSCC meeting in Burlingame, Calif. (near San Francisco) on December 11.

Another List of Most Popular ACM Books

This list of books is periodically sent by ACM to its members. Access to electronic versions is free to ACM Digital Library subscribers, or to employees of companies with subscriptions to Safari or Books24x7.
Write With Your Eyes

It is a development that may some day not only help paralyzed people communicate, but could have may more applications. Researchers at the National Center for Scientific Research (CNRS) in France have tested a visual feedback system that allows a user to control eye movements well enough to write, in cursive script no less, at 20-30 characters per minute, which is only a few times slower than writing by hand. The result looks too crude to enable reliable OCR, but this is only the first research prototype.

Not the Olympics

There is an international competition going on, and it is not the 2012 Olympics. It's the fight against spam control centers that move from country to country in order to stay ahead of the cybersleuths that try to shut them down. This BBC article describes the pursuit, and links to articles about more efforts to take botnets out of service.

Seen Recently...


" 'Bring your own Internet' is the next trend to vex IT pros."

-- Andy Wolberg in his TechRepublic blog

"Thanks to #NBCfail many are learning methods people in China and Iran use to access blocked sites on the internet."

-- Rex Hammock (@R), CEO of media/content company Hammock,

referring to how U.S. residents learn to access Olympic events that

NBC is not showing live, even online, before airing them on TV