Was this forwarded to you?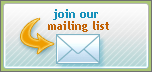 Consulting Services
IT Strategy
Enterprise Architecture Roadmap
Business Process Modeling & Analysis
Enterprise Software Selection
IT Innovation Briefings
IT Due Diligence
Executive IT Seminars
Cloud Computing
Security Maturity
Software Process
Knowledge Strategy
Technical Communities
Knowledge Capture
Taxonomy development
Enterprise Social Media
Contact Us:
Forward this newsletter to colleagues and friends: use the "forward email" link below at left, rather than "Forward" in your email software, to preserve your privacy, give the recipient more options (their own unsubscribe link, etc.) and to give us better click-through data from ConstantContact. Thanks!
Anniversary :-)

No. 97 may not strike you as an important number, but with two issues a month since its inception, The Kit is now exactly four years old. You can help it grow older and bolder by sending your comments and suggested articles.
Erratum :-(

In the last issue, the name of entrepreneur Seth Godin, author of the quote listed in the "Seen recently" section, was misspelled.
ACM Leaning Center Update

The Association for Computing Machinery (ACM) published its latest hit parade of popular online learning content. The books are available free of charge to ACM members and to subscribers to Safari Books Online or Books 24x7. These titles are:

ASP.NET MVC 4 (video)
Learning Whitehat Hacking and Penetration Testing
NoSQL Distilled
Head First HTML and CSS
iOS Programming: The Big Nerd Ranch Guide
Programming in Scala
Matlab: A Practical Introduction to Programming and Problem Solving, 2nd Ed.
RHCSA/RHCE Red Hat Linux Certification Study Guide (Exams EX200 & EX300), 6th Ed.
Learning Python Programming (video)
Head First Design Patterns
Data Protection & Privacy Conference

The 4th Annual Data Protection and Privacy Conference will take place in Brussels on September 17, 2013.
"Taking place as the EU institutions continue to negotiate the reformed Data Protection Regulation, this event will bring together senior policymakers and stakeholders from Europe and beyond for a lively and interactive discussion on what the new rules might look like, and what their impact will be for businesses, governments, consumers, and ultimately for the wider privacy landscape."

Information Mining and Management

Want an invitation to Lisbon? The deadline to submit papers to the 3rd International Conference on Advances in Information Mining and Management is June 26. The conference itself will take place on November 17-22.

Knowledge Discovery, Engineering, etc.

Another conference in Portugal! The deadline for papers has passed, but the International Joint Conference on Knowledge Discovery, Knowledge Engineering and Knowledge Management (IC3K) will take place in Vilamoura, Algarve, Portugal, on September 19-22, 2013.
Domain-Specific Languages

Patrick Viry, of Semantic Designs, recommends Markus Voelter's book "DSL Engineering: Designing, Implementing and Using Domain-Specific Languages." Patrick says that while the book was written by Markus as a marketing tool for his consulting business, "the result is brilliant."

Seen Recently...


"So, here's the insight I'm currently tossing around in my head: The problem is that software isn't built; it's written. The final product is not like the Bay Bridge. It's like a novel."

-- Kurt Leafstrand, VP Products at Clari, on his blog

"No, that's not right. [...] Maybe you're writing novels, but most of us are doing improv theater."

-- Kellan Elliott-McCrea, responding on his blog, Laughing Meme