Inspiring Discovery through Free Access to Biodiversity Knowledge.

The
Biodiversity Heritage Library
(BHL) improves research methodology by collaboratively making biodiversity literature openly available to the world as part of a global biodiversity community.
Introducing the New "About BHL" Site!
BHL Welcomes the Auckland Museum as a New Affiliate!
Tracing its roots back to 1852, Auckland Museum was one of New Zealand's first museums and is regarded as one of the finest in the Southern Hemisphere. The Museum is home to one of New Zealand's finest heritage research libraries. The Library recently uploaded Auckland Museum's first contribution to BHL, Edward Donovan's
An epitome of the natural history of the insects of New Holland, New Zealand, New Guinea, [etc.]
(1805). The title is the first of many currently being digitized for BHL from the Library's collection.
Version 3 of the BHL API Now Available!
Version 3 of the BHL API has been launched
. The API can be used to programmatically request and extract data from BHL. The development of a new API version was spurred by the recent introduction of full-text search to the BHL website. In addition to the inclusion of full-text search, the entire API has been examined and updated.
BHL at the Joint SPNHC/TDWG Conference in Dunedin, New Zealand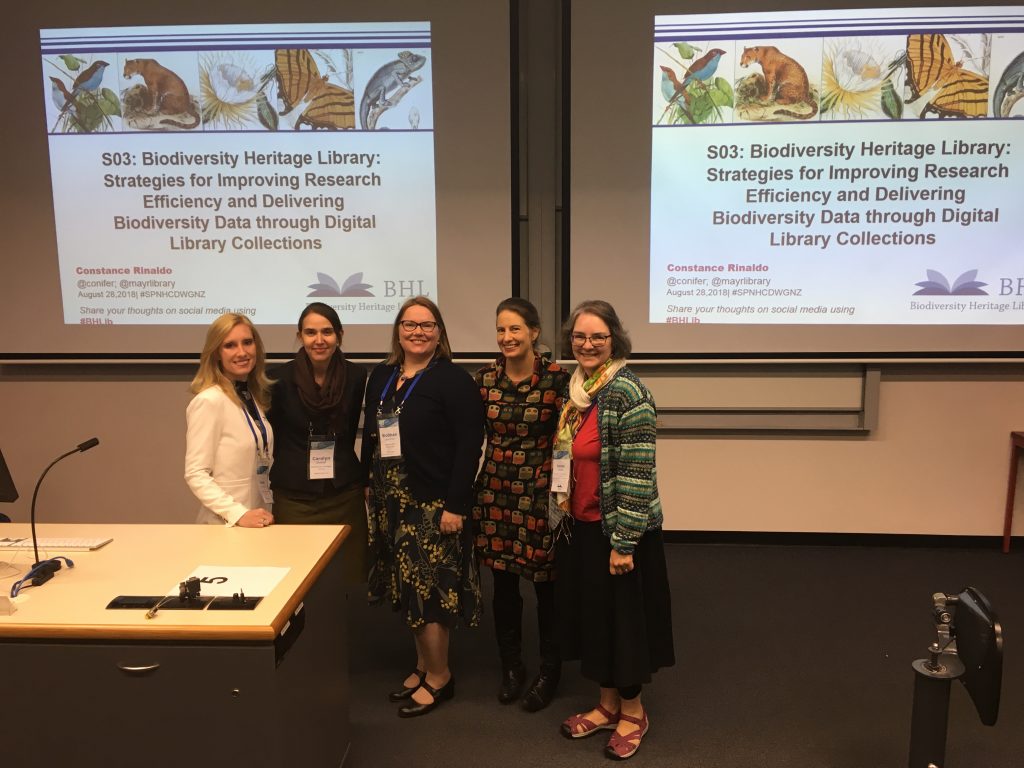 BHL representatives preparing to deliver talks as part of the BHL Symposium. Left to right: Grace Costantino, Carolyn Sheffield, Siobhan Leachman, Nicole Kearney, Constance Rinaldo.
As part of its participation, BHL hosted a conference table as well as a symposium, "Strategies for Improving Research Efficiency and Delivering Biodiversity Data through Digital Library Collections", consisting of four talks covering topics including citizen science, linking specimen records to literature, DOIs, and recent efforts to improve search efficiencies in BHL, from full text search to extracting geo-reference data.
BHL at the GBIF 25th Governing Board Meeting in Kilkenny, Ireland
The
25th Meeting of the GBIF Global Governing Board
was convened in Kilkenny, Ireland, 15-18 October 2018. Constance Rinaldo, Librarian of the Ernst Mayr Library at Harvard University and Chair of the BHL Members' Council, served as the BHL representative at the meeting.
The Global Biodiversity Information Facility (GBIF) operates through a network of global nodes to develop and maintain an open data infrastructure for sharing digital biodiversity data. BHL has been an
Associate Participant in GBIF
since 2014.
Videos of the public sessions of the meeting are available on the
GBIF website
.
Entertaining Royalty: The Résultats and the Prince of Monaco
The 110 volume
Résultats des campagnes scientifiques du prince de Monaco
(1889-1950) presents the science and data from global research expeditions led by Prince Albert I of Monaco from the late 19th to early 20th centuries. How did this publication help MBLWHOI Library prepare for a recent royal visit?
1,000+ Botanical Woodcuts from One of the Fathers of German Botany
Eicones plantarum
(1590) features more than 1,000 botanical woodcuts. Authored by Jacobus Theodorus, one of the fathers of German botany, the work is a re-publication of the woodcuts from Theodorus' seminal work,
Neuw Kreuterbuch
(1588), which took 36 years to complete. The
Eicones
has been made freely available in BHL thanks to the Lenhardt Library of the Chicago Botanic Garden.
To Contemplate Without Dread: Brown's Taxidermist's Manual

Got taxidermy questions? Thomas Brown's
Taxidermist's Manual
(1833) has you covered. From how to construct false eyes out of enamel to recipes for chemical compounds used in preservation, Brown's
Manual
was a valuable guide for taxidermists. The Thomas Fisher Rare Book Library of the University of Toronto dissected the history of the practice and the
Manual
's place in that history just in time for Halloween.
A Curious Volume of Original Fungi Watercolors
In the archives of the Farlow Reference Library of Cryptogamic Botany at Harvard University, there is a curious volume of 249 original watercolors of fungi species bearing the title
Icones fungorum Niskiensium
. Devoid of any creator identification, there is little to suggest that this sketchbook is actually an important document in the history of mycological research. The truth, however, is that this volume is the work of the "Father of North American mycology", Lewis David von Schweinitz, and it helped inform one of his later, monumental publications on German fungi.
Supporting Worldwide Research
Did you know that passenger pigeon fossils have been uncovered from the La Brea Tar Pits in California? Does this suggest that there could have been resident populations in the western U.S.?
Dr. Libby Ellwood
used BHL to research this question. What did she discover?
From Elizabeth Blackwell's
A Curious Herbal
to Henrietta Maria Moriarty's
Fifty Plates of Green-House Plants
and beyond. How is BHL helping
Dr. Anna K. Sagal
, a Teaching Fellow at Cornell College, conduct research on women in science?
Presentations, Events, and Workshops
Explore some of the BHL presentations, events, and workshops that staff have given and hosted over the past few months.
Providing researchers with free access to biodiversity knowledge is critical to saving life on Earth. Help us accomplish this goal by donating to BHL today!
143,000+ Titles | 237,000+ Volumes | 55+ Million Pages