Inspiring Discovery through Free Access to Biodiversity Knowledge.

The
Biodiversity Heritage Library
(BHL) improves research methodology by collaboratively making biodiversity literature openly available to the world as part of a global biodiversity community.
Her Natural History: A Celebration of Women in Natural History
Through social media and blog posts, interactive programming and citizen science opportunities,
Her Natural History
aims to increase awareness of and information about women in the biodiversity sciences.
When? 8-31 March 2019
Where? Social Media (Twitter, Facebook, Instagram)
What? Join us in celebrating women in natural history this Women's History Month! Follow along and join the campaign using #HerNaturalHistory.
We hope you'll join us in celebrating #HerNaturalHistory in March!
Join Us! Wikipedia Editing Workshop for Women in Natural History on 13 March
You can help enhance information in Wikipedia about women in natural history!
The Biodiversity Heritage Library (BHL) and Smithsonian Libraries, with support from Wikimedia DC, are hosting a
Wikipedia Editing Workshop
from 10am-2pm ET on 13 March. Attendees will learn to edit Wikipedia and improve or create Wikipedia articles related to women in natural history. No editing experience is necessary.
You can attend in-person at the National Museum of Natural History Library or participate remotely.

When? 13 March 2019. 10am-2pm ET.
Where? In-person at Smithsonian Libraries (National Museum of Natural History Library, Washington, D.C.) and remotely
Registration Required:
A Fond Farewell to Carolyn Sheffield (BHL Program Manager)
The Biodiversity Heritage Library's loss is the gain of the University of Maryland, Baltimore County, Albin O. Kuhn Library & Gallery. Carolyn Sheffield, BHL Program Manager, will be taking on a newly developed position as Associate Director, Library Technology and Digital Strategies effective 4 March 2019.
Carolyn first came to the Smithsonian in July 2010 as the Project Manager on the Field Book Project, a joint initiative of the National Museum of Natural History and the Smithsonian Institution Archives. She subsequently joined Smithsonian Libraries and has been serving as the Program Manager for the Biodiversity Heritage Library since 2013. She has provided financial, administrative, and technical project management for the BHL consortium and has played a key role in several of BHL's grant-funded initiatives, including grants for adding field notes to BHL, the National Digital Stewardship Residency program, and the LIS Education in Data Science program.
We will all miss her keen analytical mind and sense of humor. We all wish Carolyn fair winds as she takes on new challenges.

BHL and WikiCite 2018
How can citations, images, and data from BHL and other open access repositories be used in Wikimedia Foundation projects like WikiCite, Wikidata, and Wikipedia?

BHL-affiliated representatives attended WikiCite 2018 to present suggestions as part of the
WikiCite and the Biodiversity Heritage Library
presentation and
exchange ideas with conference attendees. They shared their experiences and take-aways on the BHL Blog.
"WikiCite and the Biodiversity Heritage Library" presented by Katie Mika (former BHL NDSR resident) and Siobhan Leachman (BHL citizen scientist).

Connecting Art+Science: Vanity & BHL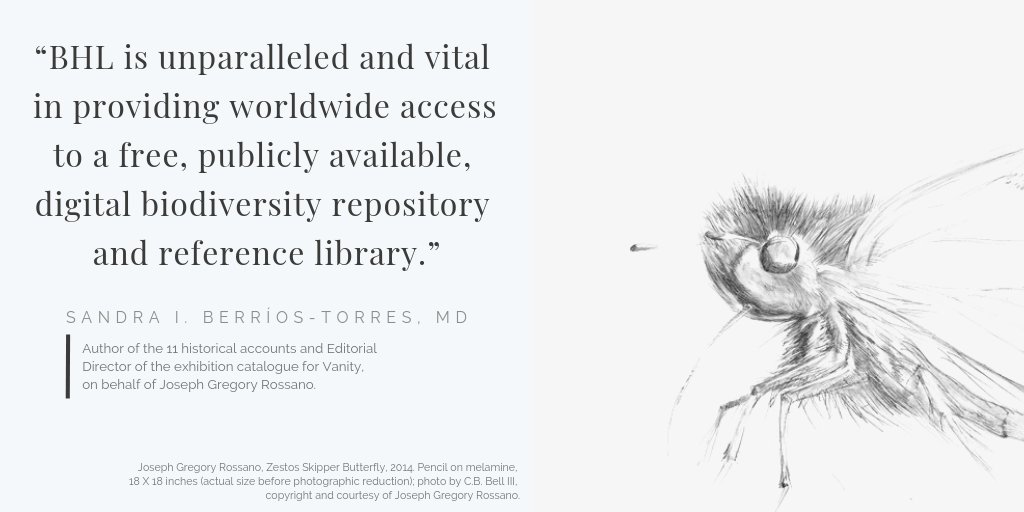 Zestos Skipper Butterfly. 2014. Photo by C.B. Bell III. Copyright and courtesy of Joseph Gregory Rossano.
The Biodiversity Heritage Library represents a beautiful intersection of art and science. For scientists and artists alike, the collections are a source of valuable inspiration and discovery.
Created for and with the support of the Museum of Glass (MOG), the exhibition tells the story of eleven species and subspecies, presumed extinct, presented through the lens of humanity's role in their demise. Rossano collaborated with Sandra I. Berríos-Torres, MD, to produce historical accounts for the included species to complement the exhibit.

The Biodiversity Heritage Library was a vital resource for
Berríos-Torres
, providing access to dozens of publications offering
original descriptions, early illustrations, and more.
A Book's Eight Year Journey to the Biodiversity Heritage Library
Vroeg's Catalogue (1764) is an important early work in the history of Linnaean taxonomy and the source of dozens of new species of birds. It is also extremely rare, with only a handful of copies known to exist worldwide.

In 2010, a researcher in Germany requested that it be digitized for BHL. Eight years later, after overcoming challenges stemming from rarity, condition, and more, the title is now freely available in BHL thanks to Smithsonian Libraries. The digital copy has since been used to uncover taxonomic errors that had persisted for at least a century.
Orchids Under the Microscope
Illustrations of Orchidaceous Plants
(1830-38) brings together the work of two of the most important early contributors to our understanding of orchids: artist Franz Bauer and English botanist and gardener John Lindley. It's freely available in BHL thanks to the Natural History Museum Library, London.
Labillardière and the Botany of the Levant
At the end of the 18th century, French naturalist Jacques-Julien Houtou de Labillardière spent two years exploring and collecting plants in the Levant, visiting Syria, Turkey, the Holy Land, Lebanon and Damascus. Complete copies of his publication on the botany of the region are rare, but thanks to Kew Gardens you can access
Icones plantarum Syriæ rariorum
(1791-1812) for free in BHL.
The MUDPIE newsletter is an important historical record of early developments in computer technology and its application in museums and systematic biology. The only known complete set is held by Smithsonian Libraries, and it's now freely available to the world through BHL.
Supporting Worldwide Research
Dr. Robert Mesibov has been studying Australian millipedes for nearly 30 years. Obtaining the necessary literature used to be a long and expensive process. How has BHL revolutionized his research process? Find out!
Providing researchers with free access to biodiversity knowledge is critical to saving life on Earth. Help us accomplish this goal by donating to BHL today!
145,000+ Titles | 239,000+ Volumes | 56+ Million Pages