Share the Network's Policy Agenda with your State and Local Leaders!
Read and share the Policy Agenda,
here
, and remember that your voice as a constituent is valued!
The USAF Band Holiday Flash Mob at the National Air and Space Museum 2013
The work of EPLC and the Pennsylvania Arts Education Network, including this monthly Note, is currently supported by a generous grant from The Heinz Endowments. But we need your help. Please consider making a tax-deductible contribution to support the Pennsylvania Arts Education Network by donating either online or by check.
Pennsylvania Arts Education
Network Updates
Pennsylv

ania A

rts
Education
Network and AEI Staff Changes
As reported last month, Erin Gough resigned from her position at EPLC as Pennsylvania Arts Education Network Coordinator and Manager of the Arts and Education Initiative (AEI), and headed west to her new home in California.
Erin provided great leadership for the arts project and the work of the Network. We will miss her and appreciate all that she did during her 18 months at EPLC.
In the future, please direct information about upcoming events, research reports, awards, and all other news for inclusion on the Network website, Facebook page, calendar, or monthly Note to Laura Abbott at abbott@eplc.org.
All other matters about the Network, the Policy Agenda, and related advocacy should be directed to Ron Cowell at cowell@eplc.org.
December Harrisburg Briefing Conference Call
A
recording is now available
from the December 19 Harrisburg Briefing conference call. These
Statewide Pennsylvania Arts Education Network conference calls
are held on the Third Thursday of every month at 4 p.m. to update network members and friends on statewide arts and education activities. Participants on the call also have an opportunity to share news from their organizations. The recording is always made available for those who are unable to join the live conversation.
Details about how to access the recording and to participate in future statewide Network conference calls can be found at

www.ArtsEducationPa.org on the first tab

under "Resources."
Governor's School Alumni Network
To support the advocacy effort to re-establish Pennsylvania Governor's School for the Arts (PGSA), the Pennsylvania Arts Education Network continues to search for Alumni of the PGSA. If you, or someone you know, taught at or attended the Pennsylvania Governor's School for the Arts, please complete this form and share with others. We have been contacted by nearly 700 alumni already, and appreciate all of the help from former students and faculty in spreading this message.
Save the Dates for Advocacy
T
h
e
Pennsylvania Music Educators Association
will host its annual Music
Education Advocacy Day at the
Capitol on
Wednesday, March 26, 2014
,
during Music in O
ur Schools Month.
The PA Arts Education Network will be promoting advocacy for arts education throughout the month of March in Harrisburg and local communities. Several member organizations of the Network Steering Committee are hosting their annual advocacy days in the spring of 2014. Look for more information in the upcoming Notes and on the Network Calendar.
Arts and Culture Caucus
The
Arts and Culture Caucus
held a meeting on November 13. The meeting began with the discussion of two bills,
Senate Bill 1070
(Sen. Pat Browne, R-16) and
House Bill 1635
(Rep. Jerry Stern, R-80). SB 1070 would establish the Pennsylvania Museum Preservation Act, and HB 1635 would dedicate a portion of the state hotel occupancy tax to support tourism, museums, and the arts.
Chairman Browne l
aid out several expectations of Caucus members, one being to identify a staff member to deal with arts and culture issues. He also
suggested Caucus members reach out to the arts and culture organizations in their communities.
Chairman Costa suggested the creation of a quarterly newsletter for the Caucus beginning in 2014 and outlined what the content might look like.
There was also a discussion about upcoming legislative field trips for the Caucus members to visit areas across the Commonwealth. Each trip is envisioned to include a policy presentation and visits to local arts and culture centers. It was suggested by Senator Costa that the first trip be to the Lehigh Valley in the spring. Senator Wiley suggested they visit Erie in the fall.
The members set a list of future topics to discuss: arts education, tourism, job creation/workforce development, and STEM to STEAM.
The Caucus plans to meet again in late January.
Arts and Education News in PA
AEP National Forum
The
Arts and Education Partnership
(AEP) is hosting its
2014 National Forum
in Pittsburgh, September 11-12. In recent editions of AEP's ArtsEd Digest, AEP asked, "
What great thinkers would you like to hear speak? What major education and arts issues deserve to be part of this national conversation?" Submit your suggestions to
aepforums@ccsso.org
.
"A Celebration of the Arts" at the Governor's Residence
First Lady Susan Corbett
invited visitors throughout the first weeks in December to enjoy "A Celebration of the Arts"
at the Governor's residence, which is decorated for the holidays. Each tree donated by the Pennsylvania Christmas Tree Growers Association has a specific theme showcasing the different art forms: theater arts; dance; literary arts; visual arts and film; culinary arts; musical arts; and folk art.
Arts and Education Reports
School Visits to Art Museums
The New York Times recently posted an
article
referencing a study from Arkansas that provides evidence on the benefits of school tours to art museums.
The Crystal Bridges Museum of American Art in Arkansas opened in 2011 with an endowment partially dedicated to offering free tours to schools. However, the museum lacked the capacity to accommodate the large demand for tours. A group of education researchers and social scientists from the University of Arkansas partnered with the museum to conduct a lottery system that gave way to a large-scale, random-assignment experiment that determined a strong causal relationship between culturally rich experiences and a range of desirable outcomes. The study was published in the journals
Education Next
("The Educational Value of Field Trips") and
Educational Researcher
("Learning to Think Critically: A Visual Art Experiment").
"The Educational Value of Field Trips" by Jay P. Greene, Brian Kisida and Daniel H. Bowen.
Arts Accessibility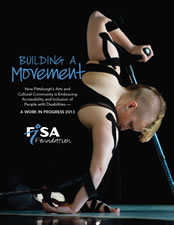 Over the last four years, the
FISA Foundation
, along with strategic partners of the
Pittsburgh Cultural
Trust
and the
Greater Pittsburgh Arts Council
,
has been invested in promoting inclusion of people with disabilities in the Pittsburgh region's arts and cultural life. In October,
the Foundation issued a
progress report
of their multi-year effort to build a movement to expand arts access. The report highlights the growth in the arts accessibility and inclusion between the years of 2009 and 2013. The groups involved suggest that common accessibility accommodations for the arts are good for everyone and promote diverse audiences, which benefits business.
National Center for Arts Research Inaugural Report
The
National Center for Arts Research
earlier this month released its
Inaugural Report
, sharing the evidence-based insights from the Center's exploration into the health of U.S. arts and cultural organizations. Performances indices for this report include the following general areas: Contributed Revenue, Earned Revenue, Expenses, Marketing Impact, Bottom Line, Balance Sheet, Community Engagement, and Program Activity. For each index, the report offers averages for all arts and cultural organizations, and averages divided by sector, organization size, or geography.
Arts and Cultural Production Satellite Account Estimates
On December 5, the
U.S. Bureau of Economic Analysis
and the
National Endowment for the Arts
released a
preliminary report
on the impact of arts and culture on the U.S. economy, the first federal effort to provide in-depth analysis of the arts and cultural sector's contributions to gross domestic product (GDP). Among the key findings was that the arts and cultural production (ACP) accounted for nearly 3.2 percent, or $504 billion, of current-dollar GDP in 2011. The gross output of ACP was $916 billion. Below are the eight leading contributors to the ACP output:
Turnaround Arts Initiative
I
n late November, the
President's Committee on the Arts and the Humanities
published an
interim report
on its Turnaround Arts initiative.
The report examines progress indicators for the Turnaround Arts schools in their first year. The report notes that while still in the early stages, the Turnaround Arts schools already saw positive change.
The Turnaround Arts schools are a part of a larger cohort of School Improvement Grant schools, designated among the bottom five percent of schools in their states. Turnaround Arts schools focus on eight Arts Pillars targeted to achieve larger school objectives: 1) principal leadership; 2) strategic use of arts specialists; 3) non-arts classroom teachers integrating arts into core content; 4) the use of teaching artists and community organizations; 5) the engagement of the district, parents, and community; 6) strategic arts planning; 7) professional development; and 8) improvements to the school environment.
PBS NewsHour: Arts Education
On November 27,
PBS aired a segment on arts education access
. According to NewsHour correspondent John Merrow, a
federal government report
found that nationwide 96% of public elementary schools do not offer theater or drama, 97% public elementary schools do not offer dance, and about four
million elementary students do not get instruction in the visual arts.
Yet 46 states require that the arts be taught in elementary school. In this
video
, PBS
focused on North Carolina, where they found "schools promise arts education but access is far from equal."

In another video, John Merrow spoke with students, as well as the art, music, dance, and classroom teachers of an arts and science magnet school in North Carolina that specializes in arts integration.


Opportunities for
Arts Education Professionals
White House Student Film Festival
The
White House
is accepting entries for its
first-ever Student Film Festival
. The video contest is open to all students in grades K-12, and finalists will have their short films shown at the White House. The theme of the contest is
technology in schools
. For important entry requirements and more guidelines on the theme,
click here
. Submissions are due by
January 29, 2014
.
Arts Entrepreneurship Call for Nominations
Artists and arts organizations for all parts of the arts and culture sector are eligible for nomination. The call for nominations opened November 25 and will
close on December 22, 2013
.
2014 National Arts and Humanities Youth Program Awards
T
he President's Committee on the Arts and the Humanities (PCAH) is accepting applications for the
2014 National Arts and Humanities Youth Program Awards
, the Nation's highest honor for out-of-school arts and humanities programs that celebrate the creativity of America's young people, particularly those from underserved communities. Twelve programs are awarded each year. The Awards are a signature initiative of the
PCAH
, done in partnership with the
National Endowment for the Arts
, the
National Endowment for the Humanities
, and the
Institute of Museum and Library Services
.
Applications
are available online
here
. The deadline for submissions is
February 10, 2014
.
Vans Sneaker Custom Culture Competition
Vans Sneakers is hosting their fifth
Custom Culture competition
, a national high school shoe customization contest where schools from all over the United States compete for a chance to win up to $50,000 for their art programs. Registered schools will receive four pairs of blank Vans sneakers to be customized in four themes: Art, Music, Action Sports and Local Flavor. Registration must be completed by one teacher or school administrator per school, beginning January 6, 2014. Only the first 2,000 schools will be eligible. Registration ends February 14. More information can be found
here
.
Call for Papers
The Educational Forum
, Kappa Delta Pi's premier educational research journal, is seeking empirical research and conceptual essays
for its Fall 2014 themed issue entitled
"Aesthetic Education, Arts and Learning."
Of particular interest
are articles
that explore aspects of the arts as critical curricular components of a comprehensive education, and connects the themes of arts and learning to classroom practices and student/teacher experiences. Submissions are due by
February 10, 2014
.
Click here
for more information.
Update your Profile
If you are interested in what is going on in the State Legislature regarding education policy generally, and other education-related news, consider
updating your subscription profile via a link provided at the
bottom of this AEI Note
. In addition to receiving information about the arts and Pennsylvania Arts
Education Network activities, you can choose to receive information about any of the following Education Policy and Leadership Center (EPLC) publications, projects, or programs:
EPLC Education Notebook Weekly online publication that tracks and translates State policymaker activity regarding education issues. Includes summaries of activities of the General Assembly, the State Board of Education, and the Department of Education.
Pennsylvania School Funding Campaign
Coalition of advocates for adequate and equitable funding of Pennsylvania's public schools.
Legislative Candidate or School Board Candidate Workshops
Regional programs for prospective candidates or interested, civically engaged citizens.