APRIL 28, 2022 | VOLUME 34, ISSUE 16
Third Sunday of Easter

Sunday, May 1, 2022




Acts 9:1-6

Psalm 30

Revelation 5:11-14

John 21:1-19




Preacher: The Reverend Ryan D. Newman

Saturday, April 30

Sisters' Venue: Taco Party

7:00 PM

Luther Hall




Monday, May 2

Sisters of Bede Meeting

7:00 PM

Luther Hall & Zoom




Wednesday, May 4

Wednesday Education:

The History and Archaeology of the Bible

7:30 PM

Luther Hall & Zoom




Sunday, May 8

Grass Roots Neighbors

1:30 PM & 5:00 PM

Holy Nativity Episcopal Church

Bible and Breakfast

Tuesdays | 9:30 AM

Luther Hall & Zoom




Midweek Eucharist

Tuesdays | 6:00 PM

Sanctuary & Watch Online




Evening Prayer

Wednesday | 7:00 PM
Alleluia! The Lord has Risen!
Dear St. Bede's Family,
Thank you for an extraordinary Holy Week and Easter! Your presence, leadership, and service during the week allowed the community to experience the drama of our Lord's Passion and Resurrection. We wandered, we wallowed, we waited, we watched, we cried, and we rejoiced. It was an emotional, Spirit-filled, and memorable week.
I want to especially thank Rea Crane for her tireless and selfless service throughout Lent, Holy Week, and Easter. Rea did the work of five sacristans. Thank you Rea!
Also, I want to thank Frank Basile and our amazing St. Bede's Choir. The music was stunning. Without you, our worship experiences would be very different (and often bland). Our musicians dedicate numerous hours of rehearsal time and study for every worship service. Thank you Frank and St. Bede's Choir!
The Easter Brunch was exceptional and delicious! Thank you to the Sisters of Bede, who oversaw every celebration detail. It was wonderful to gather as a congregation after the 10:00 AM Easter service--the party was long overdue amid the pandemic. Thank you Sisters!
Finally, thank you to everyone who assisted with our Lenten, Holy Week, and Easter experiences. Countless thoughtful people shared their time, talents, and resources for the Glory of God. Thank you good people of St. Bede's!
Let us continue to rejoice in our Savoir's resurrection.
Faithfully,
The Reverend Ryan D. Newman
Interim Pastor
Our parish profile is almost ready to send to the Diocese! We are now in the last stages of preparing it and will submit it to the Office of Transition Ministry to officially seek candidates for our next rector beginning mid-May. Then we will have 8 weeks to wait and pray for all those discerning whether to answer the call, and for ourselves as we prepare for our own discernment process. During that time, the Search Committee will determine how we will organize and focus our interview process once we receive the candidate list from the Diocese.
Please continue to ask any questions and share your thoughts with the committee (rectorsearch@stbedesla.org).
As a reminder, the committee members are Tom Elliott (co-chair), Akani Fletcher, Bond Harper, Travis LaFerriere-Holloway (co-chair), Liz Mohler, and Alice Short.
Thank you for your interest and involvement in this process!
WEDNESDAY NIGHT CLASS RESUMES
The Wednesday Education Class will resume next week on May 4th at 7:30 PM with a 12-part series, "The History and Archaeology of the Bible," offered by National Geographic's Great Courses series. The goal is to offer the class both in-person and online via Zoom.
Before each session, Evening Prayer will be offered (in-person only) and starts at 7:00 PM.
The History and Archaeology of the Bible offers a multidimensional journey through the Bible from Genesis to the Crucifixion, seen through the lens of the latest historical and archaeological findings, and accompanied by vivid video footage of many of the sites where the stories of the Bible unfolded. Jean-Pierre Isbouts, a National Geographic contributor, eminent biblical historian, and award-winning filmmaker, offers the lectures. (The Great Courses Website)
To learn more about the video series, click here.
VOLUNTEERS ARE NEEDED
May 22th | 1:30 PM & 5:00 PM
**DATE CHANGE IN MAY DUE TO MOTHER'S DAY**
Grass Roots Neighbors is a volunteer community organization. They meet the immediate needs of our neighbors experiencing food and housing insecurity. GRN mobilizes to fill the gaps in existing services by providing assistance with love and respect. The organization's vision is to be a community effectively involved in ending poverty. ​
Among their outreach programs, GNR cooks and delivers a hot meal every Sunday to various encampments on the Westside. Once a month, St. Bede's with Holy Nativity assists GNR with preparing and providing meals. There are now four different volunteer time slots:
2 - 4 PM (mostly chopping of fruits and veggies)
4 - 6 PM (mainly packaging food)
6 - 8:30 PM (loading and distributing the food)
7:30 - 10:30 PM (distributing food in Venice by bike)
GNR utilizes the kitchen facilities at Holy Nativity Episcopal Church.
GNR, Holy Nativity, and St. Bede's have created a Google Sign-Up Form to assist with monthly volunteer coordination. Please click the button below to access the volunteer sign-up form.
The Mission Committee would like to thank all who have donated to support Ukraine through Episcopal Relief and Development. We have posted a chart in the narthex to reflect our response to this crisis. You are invited to place a blue and yellow sticker on the chart to symbolize your donation. The chart represents our parish's commitment to protecting democracy and human rights around the world.
Episcopal Relief and Development offers an opportunity to give and has a direct link to Ukraine aid on the website.

If you would prefer to donate through the church, you can write a check to St. Bede's with the words "Episcopal Relief and Development/Ukraine Crisis Response" in the memo field. (And thank you to Betsy Hiteshew for proposing this!)
Launching of the new Fred and Barbara Borsch Writing Workshop will be among highlights of NYA's 39th annual Scholarship Benefit, a reception set for 5:00 PM – 6:45 PM on Saturday, May 14 at St. Matthew's Episcopal Church in Pacific Palisades.
All are welcome to share in this gathering that will recognize some 25 NYA students who have applied for more than $90,000 in scholarships to be awarded in the coming academic year. Under the theme "Opening Doors to a Bright Future," the benefit also will salute NYA's Class of 2022. Its members have so far received multiple acceptances to some 35 universities including UC Berkeley, UCLA, UC Irvine, UC San Diego, USC, Fordham, Loyola Marymount, the University of Connecticut, Williams College, and the Cal-State campuses. Most NYA high school seniors are the first in their families to attend college.
Tickets, priced at $125 each, may be purchased through the NYA website. Benefit guests are asked to note that this year's event has been planned in the format of a catered reception and abbreviated program recognizing health considerations as the pandemic slows. The program also will be livestreamed via NYA's Facebook and YouTube accounts.
Text courtesy of the Episcopal News.
FROM THE EPISCOPAL NEWS
A newsletter serving the Diocese of LA
SAVE THE DATE
Episcopal Night at Dodger Stadium to return Sept. 23
After a two-year Covid pandemic-imposed hiatus, Episcopal Night at Dodger Stadium will be back on Friday, Sept. 23. The home team will play the St. Louis Cardinals, and the game, win or lose, will be followed by fireworks.
Ticket sales will be handled by congregational representatives. Watch here for more information, and save the date.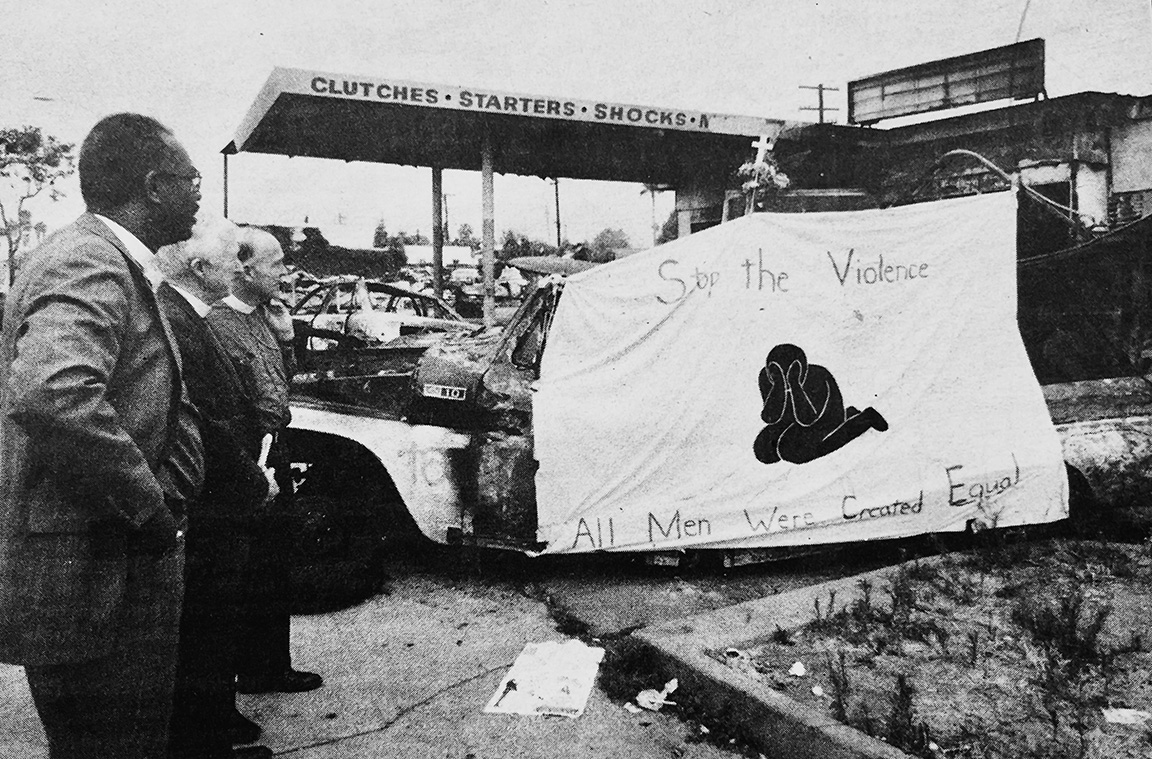 Reflection: 30 years after 1992 L.A. uprisings, diocese continues work for economic, racial justice
By Bob Williams
[The Episcopal News – April 27, 2022] The 1992 Los Angeles riots – which left 63 dead and property damage exceeding $1 billion during five days of reaction to the April 29 acquittal of police officers charged with beating Rodney King – compelled local Episcopalians into action that continues to work for economic and racial justice locally and beyond.
Marking this 30-year milestone is the Episcopal Community Federal Credit Union – founded within six months of the unrest to assist directly with microloans to businesses and individuals lacking access to traditional banking. More about the credit union, including its search for a successor to its founding CEO, is here.
Meanwhile, ongoing initiatives confronting racism were joined in 2021 by the Commission on Gospel Justice and Community Care, formed by Bishop John Harvey Taylor in response to the murder of George Floyd in 2020, to focus on resources for community policing and mental health.
In immediate response to the 1992 unrest, then-Bishop Frederick H. Borsch underscored aspects of "outrage and hope" in calling the diocese to action. (His later 1996 book by the same title added context to the church's mission of serving society's most vulnerable members.)
Links to Borsch's original message to the diocese as well as his testimony to the Christopher Commission, together with key 1992 coverage by The Episcopal News, follow here:
Outrage and Hope in Los Angeles
Rodney King and Dignity: Testimony to the Christopher Commission
As Southland burns, Church offers relief, seeks answers
Presiding Bishop visits to 'stand with' diocese during turmoil
Parishes lived through violence, now cope with aftermath
'Build bridges, reach out,' Jesse Jackson urges Pasadena church
— Canon for Common Life Robert Williams is diocesan historian/archivist.
Fort Worth-based Episcopal Church in North Texas announces it will pursue reunion with Diocese of Texas



The Episcopal Church in North Texas, one year after a legal defeat forced the diocese to relinquish to a breakaway group the last of its former properties and its former identity as the Diocese of Fort Worth, is poised to combine with the Episcopal Diocese of Texas. Leadership votes could take place as soon as June.




The plans were unveiled to Diocese of Texas clergy in a Zoom meeting April 20 and announced publicly on April 22 in a joint news release. If approved by the two Episcopal dioceses, their reunion then must be affirmed by a majority of bishops and standing committees of The Episcopal Church. It would not require action by General Convention because the Fort Worth-based diocese once was part of the Diocese of Texas.

Madeleine Albright honored at Washington National Cathedral funeral, with eulogies by Biden, Clintons




President Joe Biden, as well as former President Bill Clinton and former Secretary of State Hillary Clinton, were among those who paid tribute to Madeleine Albright, the former secretary of state, during her funeral held April 27 at Washington National Cathedral in the nation's capital.




Albright, who first served in the Clinton administration as U.S. ambassador to the United Nations in the Clinton administration before later becoming the first female secretary of state in 1997, died of cancer on March 23 at age 84. She regularly attended St. John's Episcopal Church in Washington's Georgetown neighborhood and was serving on Washington National Cathedral's governing body at the time of her death.
Episcopalians help launch national gun buybacks on June 11 to turn weapons into garden tools




Episcopalians in Connecticut, Ohio and California are helping to launch a national ecumenical initiative called Guns to Gardens that will stage numerous gun buyback events on June 11 and turn the weapons into garden tools.




Retired Connecticut Bishop Suffragan James Curry spearheaded the initiative, which builds on his work with Swords to Plowshares Northeast and similar anti-gun violence blacksmithing ministries. Curry and other organizers hope this inaugural Guns to Garden day will become a catalyst for annual buyback events that draw attention to the problem of gun violence and promote gun safety while supporting families and communities that have been affected by gun-related deaths.

Executive Council closes 'pandemium' with further commitments to racial justice, preparation for General Convention




The Executive Council of The Episcopal Church closed its last meeting under its current roster on April 23 with a review of the work it has done over the past four years, noting successes, challenges and issues for the next council to address.




Throughout the April 20-23 meeting, members shared their evolving understandings of the council's mandate to implement the policies of General Convention, which convenes July 7-14 in Baltimore, Maryland, where new members will be elected.




The current council's term was dominated by a series of crises – the COVID-19 pandemic, political chaos in the United States, the racial justice reckoning after the murder of George Floyd. Each term is normally a triennium, but because General Convention was delayed a year, this one was technically a quadrennium – or, as it was described during a committee meeting, a "pandemium."