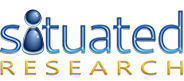 The Usability Insider
Newsletter from Situated Research - July 2011

Using Social Media to Boost Your Website's Rank
Situated Research has compiled the definitive guide on using social media to boost your website's search rank. Search engines like Google and Bing monitor your website traffic, as well as the content on the pages of your website.
Blogs, Facebook Fan Pages, and landing pages can help drive traffic to your website by providing fresh, keyword-relevant content. This encourages search engines to raise your search rank, and visitors to come back to your website to read new content.
To learn more, download the free white paper today!
Free Webinars and Podcast
For those looking to learn more about search engine optimization (SEO), you can watch the following free webinars (or get the podcast):

Whether we help you design tomorrow's video games, software, or websites, you should know exactly what kind of experience you create for your users. This knowledge helps to design situations that yield intended, meaningful outcomes with lasting results.



All the best for you and your business this month,

The Situated Research Team

Follow Situated Research to get the latest news: