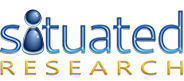 The Usability Insider
Newsletter from Situated Research - June 2011

E3 Gaming Expo in Los Angeles June 7-9th
At Situated Research we pride ourselves on the powerful research we conduct for gaming companies. This year we are excited to meet with 29 gaming companies at the E3 Gaming Expo. Our team will be featuring our new Situated Research t-shirts, so keep an eye out and stop us for more information about our video game research.
If you want to schedule a time to meet at E3 later this week, email us at info@situatedresearch.com. We hope to see you there!
FREE Webinars:
We had over 1700 people attend our webinar last week, titled Gamer Psychology: Designing Hit Video Games. If you missed it, watch via our podcast or check out the recording on our website (on-demand):
Watch Now (On-Demand)
Here are two upcoming webinars you don't want to miss:
1. Website User-Friendliness: Communicating Effectively With Your Customers
June 15th @ 1pm CDT
2. Designing Effective Products: Incorporating Usability to Ensure Profitability
June 21st @ 1pm CDT
Seats are limited, so sign up today!
Whether we help you design tomorrow's video games, software, or websites, you should know exactly what kind of experience you create for your users. This knowledge helps to design situations that yield intended, meaningful outcomes with lasting results.



All the best for you and your business this month,

The Situated Research Team

Follow Situated Research to get the latest news: