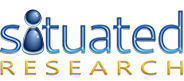 The Usability Insider
Newsletter from Situated Research - May 2011

This month's focus is on video game usability and how to make your game user-friendly.
The rate of success when developing video games is relatively low when compared to other industries. Designing a hit video game requires a brilliant concept, hard work, and a bit of luck.
What can game companies do to raise their success rate in building profitable, hit games? User experience research may be the key to raising the success rate, but misconceptions of what it entails and confusion with QA testing often leave it on the back burner.
If you want to make your video game better for your customers, start by attending one of our FREE webinars in May. Let us help you to take the first step!
June 3rd Networking Event
Downtown Naperville
$25 Attendee Fee Includes:
Two in a half hours of networking.
Drawing for prizes.
Hors d'oeuvre ranging from cheese platters to personalized pizzas.
Unlimited red and white wine from the regions of Spain.
NO PAY AT THE DOOR - PRE-REGISTRATION IS REQUIRED
Agenda:
7:00 - 9:00 Networking
9:00 - 9:20 Presentation - Announcement of Prize Winners
9:20 - 9:30 Close of Event
Food delivery starts at 7:30pm
This event is for serious professionals and when you attend this event you can expect to meet professionals from the following industries:
Business Owners and Managers | Entrepreneurs | Angel Investors | Non Profits | Social Services | Staffing Services | Professional Placement Services | Accountants | Business Development | Consultants | Copy Writers | Digital Media | Law Firms | Marketing | Public Relations | Recruiters | SEO | Social Media | Web Design
The list goes on and on.....register now so you can meet your next connection!
All the best for you and your business this month,
The Situated Research Team
Follow Situated Research to get the latest news: