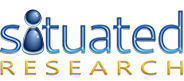 The Usability Insider
Newsletter from Situated Research - August 2011

Website Usability and Functionality: Effects on Search Rank
Did you know that your website's usability and functionality can have a large impact on its search rank?
Situated Research has compiled a brief guide discussing basic usability problems can not only throw your users off, but the search engines attempting to read your website.
Utilizing free tools such as Google Analytics and Situated Research's free usability report can help you pinpoint issues that might be costing your business the exposure it needs in high search ranks.
To learn more, download the free white paper today!

Recent Blog Posts

Our recent blog posts highlight topics in video games, virtual reality and search engine optimization (SEO):

Whether we help you design tomorrow's video games, software, or websites, you should know exactly what kind of experience you create for your users. This knowledge helps to design situations that yield intended, meaningful outcomes with lasting results.



All the best for you and your business this month,

The Situated Research Team

Follow Situated Research to get the latest news: