Our Picks!
Price: £8.99
ISBN: 9781845233341
Price: £9.99
ISBN: 9781845233334
Price: £8.99
ISBN: 9781845233464
Price: £9.99
ISBN: 9781845231002
Price: £12.99
ISBN: 9781845233532
Price: £8.99
John Robert Lee
Jacob Ross
Price: £7.99
Well it's been a busy few months - so much so that we've not been in touch for a while. That means this is a bumper issue of news, reviews and releases.
Jeremy reports that he had a wonderful time at Short Wonder Festival, Charleston, where he attended
Welcome to the Caribbean: New Short Fiction and Poetry from Island Nations
, curated by the Bocas Lit Fest and presented with the support of the Artists International Development Fund. Jeremy enjoyed readings + Q and A from a stellar line-up of Peepal Tree writers, Olive Senior, Anthony Joseph, Helen Klonaris and Nicholas Laughlin. Helen was the festival's International Writer in Residence, so it really was a brilliant turnout for Caribbean writing across the programme.
Jeremy and Hannah also got to attend the
Northern Fiction Alliance Roadshow
at Waterstones in Manchester with Jacob Ross, where editors and authors from 8 Northern Fiction Alliance presses introduced their publishing houses and showcased their books to a sell-out crowd.
Shortlisted for the Clarissa Luard Award
We are thrilled to report that we have been shortlisted for the prestigious Clarissa Luard Award for Independent Publishers. We are in some excellent company, as the shortlist includes 3 other indies, Lantana Publishing, Little Toller Books and Penned In the Margins.
The Judges said, "
Communication is top of the list for the four shortlisted publishers of the Clarissa Luard Award for Independent Publishers. Eclectic in their scope, these independent publishers champion diversity, niche areas and under-served markets in the publishing industry, and top of their list is their desire to create new channels to reach their public direct."
If we are lucky enough to win the £10,000 prize money (a significant amount for a small press like Peepal Tree), then we hope to produce a new a fortnightly radio-style programme delivered as a podcast: The New Caribbean Voices.

New signings! New Rights Sold!
New international editions
We love it when the ink dries on a new contract and we're able to tell the world about what's coming!
Meanwhile, the prestigious
Valparaiso Ediciones in Granada, Spain will be publishing a Spanish edition of Pepper Seed by Malika Booker.
W

e've also just signed on the dotted line with celebrated British-Trinidadian author Anthony Joseph. We'll be publishing two of his books. One is a fictional biography of Lord Kitchener called
Kitch
, and the other is a breathtaking novel called
The Frequency of Magic
. Keep an eye out in 2018 and 2019 for these titles.
Shivanee Ramlochan
Everyone Knows I Am a Haunting
Ramlochan's poems take the reader through a series of imaginative narratives that are at once emotionally familiar and compelling, even as the characters evoked and the happenings they describe are heavily symbolic.
Praise for Shivanee Ramlochan
"
Ramlochan's poetry is lawless, provocative and uncompromising. It is a 'reckoning', as she writes, of 'your sins in sargasso thread'. Her poems take us into the brutal daily rounds of the abortionist, the stillborn, the mixed-race child that is 'bastardising into birth', the rapist with whom she breaks bread, the clerk who is also a chantwell, and the policeman who 'smashes the lyre you were'. [...] It's a world of cold comforts, of thaumaturgy, and of women's linguistic and cultural resourcefulness in a world where there's 'You and me and the fires we used to keep each other alive' when 'you are the skinniest raft / not provided for by the government'. Presence comes in the book only in ghostly form, a ghostliness that unravels the brutality of the past and a violent masculinity... What survives in this landscape is the possibility of encounter, of intimacy that must be safeguarded against the wrestle of survival: 'anything', as Ramlochan writes, 'to keep the density of cartography from the sheets'.
"
-Jess Cotton for Poetry London, Autumn 2017: Issue 88
Jacob Ross
Tell No-One About This
This substantial short story collection confirms Ross as amongst the very best short story writers in the Caribbean and the UK. It brings together stories written over a span of forty years, including from Song for Simone (1986) and A Way to Catch the Dust (1999) and more than a dozen new stories. The previously published pieces have been extensively revised. They range from stories set in Grenada at different periods from the 1970s onwards, to stories set in the UK.
Jacob Ross has been hailed as 'a writer of formidable technical range and emotional depth'. His novel The Bone Readers won the inaugural Jhalak Prize in 2017.

"Ross's characters are always powerfully delineated through brilliant visual descriptions, dialogue that trips off the tongue, and keenly observed behaviour. He excels at creating empathetic female characters. Women hold communities together; they raise the children alone, they turn to each other for support, they are let down by the men.
"
-Bernardine Evaristo, The Guardian
---
" [The Bone Readers] engages - and with a masterly, feather light touch - with history as well as contemporary politics of the Caribbean. Complex issues of memory, identity and, individual and collective sense of self, are stunningly woven into this beautifully written novel. As the first of the Camaho Quartet, it hints at the expanse and scale of the forthcoming books... I know this is a book I shall go back to again and again"
- Sunny Singh for the judging panel of The Jhalak Prize
---
Speaking Volumes:
Olive Senior & Marcia Douglas
Throughout October, two of Jamaica's leading writers of novels, short stories and poetry are taking part
in events across the UK promoting the publication of their new books.
Digitalback Books and Brent Libraries

Desiree Reynolds, Leone Ross & Rod Usher
Date: Tuesday 31 October 2017, 6-7
.45pm
Venue: The Library at Willesden Green, 9
5 High Rd, London, NW10 2SF
Tricia Wombell, f
ounder of Black Book Swap/Black Reading Group will be facilitating the short story readings by
Desiree Reynolds,
Leone Ross and
Rod Usher.
Earlier this month Jacob Ross introduced library users to his Jhalak prize-winning crime novel, The Bone Readers.
Following an exciting partnership between Brent Libraries and Digitalback Books, a wide range of deliciously diverse stories are now available to access online for Brent library users - including titles from Peepal Tree Press.
To read Digitalback Books titles for free, go to digitalbackbooks.com and log in with your Brent library card number.)
Olumide Popoola in conversation with
Desiree Reynolds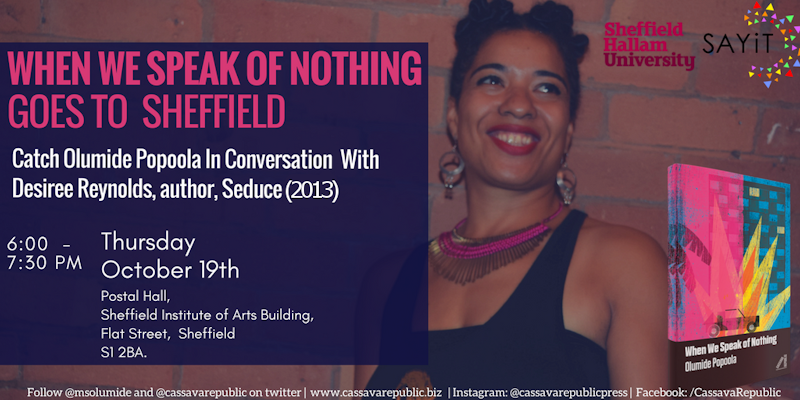 Catch Olumide Popoola, author of
When We Speak of Nothing
, in conversation with Desiree Reynolds, author of
Seduce
(2013).
An event jointly organised by SAYiT and Sheffield Hallam University, in association with Cassava Republic Press.
Books will be available to purchase at the event.
Thursday 19th October 2017
6.00-7.30pm
Postal Hall, Sheffield Institute of Arts Building, Flat Street, Sheffield S1 2BA
Frankfurt Book Fair
Alecia McKenzie
Hannah is heading off to Frankfurt with the Northern Fiction Alliance, and author Alecia McKenzie will be appearing on the Saturday, where you can catch her reading from her novel
Sweetheart
, which was a
Commonwealth Book Prize Regional Winner.
Alecia will also be signing copies of her books, so come and say hi!
Saturday 14 October
SI Leeds Literary Prize Launch 2017

Prize-winning authors Mahsuda Snaith (The Things We Thought We Knew) and Winnie M Li (Dark Chapter) discuss their journey to publication, their first novels and the role of prizes in the UK's literary ecology.
The event launches the 2018 SI Leeds Literary Prize for unpublished fiction by BAME female writers, a national award that has given a platform to some of the UK's most talented new authors.
The SI Leeds Literary Prize is a collaboration between Soroptimist International of Leeds, Peepal Tree Press, Aspire-igen Group and Ilkley Literature Festival.

And an essay by Shara McCallum
The Autumn 2017 issue of Poetry London features an essay by Shara McCallum, 'Metaphors of the Spirit', in which she reviews the collected poems of both Mervyn Morris and Lorna Goodison (both published by our friends at Carcanet).
Read the article in full online.
Everyone Knows I Am a Haunting
Collected Poems 1975-2015
Finding Myself:


Essays in Race, Politics and Culture
Visit our blogs
and keep watching our Facebook and Twitter for more news and information. Thanks for reading!
Adam Lowe