Multiple Choice Tests
April 5,
3:30 - 4:30 p.m.
Essay Exams
April 6,
2:30 - 3:30 p.m.
KC 119
Mindfulness Stress Reduction Relaxation
Every Tuesday & Thursday
12:30 - 1 p.m.
Reflection Room
Thursdays,
3:30-4:30 p.m.
Reflection Room
Every Thursday at
3 p.m.
April 7, 7 p.m.
April 8,
12 p.m. - 1:30 p.m.
Residence Drop-In Support Program
Awards of Excellence in Teaching
Nomination Deadline
April 30
Lunafest: Short Films
May 11, 6 p.m.
Kenny Theatre
Eucharist
April 5, 12 p.m.
April 8, 12 p.m.
April 10,
10:30 a.m. (WOTM)
& 5 p.m. (LH)
Christ the King Chapel

Volume 3 / Issue 32 / April 4, 2016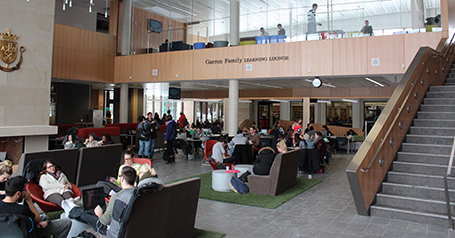 Good luck on your last week of classes. There's a lot of support here for you at King's as you finish your last semester. There are extended hours in the Student Life Centre as well as the library. You can find that here. You can also access support on our wellness page.

If you have submissions for Things@Kings please send them to
communications@kings.uwo.ca
. Our deadline is Wednesday at noon for publication in the following Monday's newsletter. Please let us know about your events, or share your favourite campus photo.
Sincerely,

King's Communications Team
Summer School Registration & Proposed Course Offerings
Summer school registration has now begun! To see the courses offered by King's in the summer, as well as the Summer Calendar, click
here
.
Check out the 2016-17 Proposed Course Offerings
here
.
Faculty Association Award for Outstanding Achievement
This award is granted to a graduating student from King's University College. It will be granted based on academic success, as well as individual and social achievements at the College and/or in the community. An overall average of at least 75% is required.
Application deadline: April 30, 2016.
This week's seminars:
Multiple Choice Tests,
April 5

,

3:30 - 4:30 p.m. &
Essay Exams
, April 6,
2:30 - 3:30 p.m.
English 3998E: CREATIVE WRITING at King's 2016-2017
Looking for an opportunity to express yourself? Take the Creative Writing course at King's--English 3998E--in 2016-17! Students from all disciplines are welcome! For information, contact tkhimasi@uwo.ca.
Business cards are now available for students to order!
The cards will be available for pick up at Central Services by providing a student card or proof of identification. An email will be sent to notify students when their business cards are available. Business cards are limited to fourth year students only; third year students may purchase business cards with the presence of a letter of recommendation.
Please go
here
to order. Order in quantities of 50 or 100.
This student written play tells the story of Polycarp, an early Christian martyr. "Polycarp" takes audience members through the life of Polycarp as he begins preaching and follows him until his death. Written, directed and performed entirely by students, this play highlights the intensity of Christian persecution within the Early Roman Empire.
Come see it in the Vitali Lounge on Thursday, April 7th at 7 p.m. Admission is free. More details can be found here.
King's Business Help Centre Tutorials
Final Exam Review Tutorial:
Friday April 8th
in SA 150 from 1 to 4 p.m.
Basic Income: A Deeper Look
Basic Income: A Deeper Look
provides Londoners with opportunities to learn, dialogue and engage with the topic of Basic Income Guarantee over a series of two days through a collaboration between the LPRC @ King's, the London Public Library, and members of our community interested in the topic of basic income guarantee.
On
April 19
, join the
London Poverty Research Centre @ King's University College
for an evening of learning and conversation on the topic of Basic Income Guarantee. Hear from the nation's leading experts on Basic Income Guarantee and participate in the discussion as we consider how Basic Income Guarantee can work for London & Middlesex.
The evening's speakers are:
Senator Art Eggleton
, Deputy Chair of the Standing Committee on Social Affairs and Member of the Human Rights Committee at Senate of Canada
Dr. Evelyn L. Forget
- Professor of Economics and Community Health at the University of Manitoba and Visiting Scholar, Massey College
(Parking will be available for event guests at King's University College, Lot P1)
WHEN

WHERE

Kenny Theatre, Darryl J. King Student Life Centre.
Ingredion Canada Class Visit
Professor Felipe Rodrigues took his Operations Management Class (MOS 3330) to a visit at Ingredion Canada. Ingredion is a food processing plant specialized in converting corn into several different starches, sugary syrups and proteins.


Their products are used in an incredible amount of products, ranging from the food industry to animal feeds and pharmaceuticals. The visit started with Ingredion managers and engineers giving a presentation about all the their products, processes and operations. Later, students took a guided tour of the plant, where they saw the plant's manufacturing process. Students could see many aspects of process management, capacity planning, quality management, inventory management and control in real time.


Prof. Rodrigues thinks such visit adds reality to the classroom experience: "Seeing the operations of a high technology plant such as Ingredion is truly memorable. It gives students a new appreciation for the role of manufacturing and operations".

Prof. Rodrigues would like to thank his students and his hosts, Mariana Bombonati (process and environmental coordinator at Ingredion), Joel Spurdza (Operations Manager) and Gene Ryan (Safety Manager) for such a wonderful afternoon.
HigherEdPoints Announcement!
HigherEdPoints has just announced the addition of TD Travel Rewards to their program! This means that students can now convert both TD Travel Points and Areoplan Miles into money that can be used towards King's University College tuition and fees. For further information and details, please visit;
http://www.higheredpoints.com/