The Tifton Grapevine




WEEKENDER




Local News, Views & Previews




This Week in Tifton, Georgia --

June 14, 2013







A service of Sayles Unlimited Marketing, LLC
229.387.9688 and 229.848.7043
TIFT SCHOOLS FACE
TOUGH BUDGET YEAR
But BOE OK's Budget With No Tax Hike
After the state reduces funding by more than $5 million for Tift County public schools, the local school system is forced to make reductions -- among them: Six staff furlough days, four fewer instructional days, larger class sizes and elimination of public library funding.
Travis Pratt Stuns National TV Audience
Travis Pratt America's Got Talent Audition
Some Tifton talent was on display in a big way this past Tuesday when Tifton native Travis Pratt wowed the judges and the audience on NBC's "America's Got Talent" with his operatic voice -- and he also wowed his girlfriend of five years when he proposed to her on stage on national TV.
As The Huffington Post reported, "Travis blew the judges away with his operatic voice -- and ridiculously high range. After hearing that it was his girlfriend who pushed him into doing this, Howie Mandel convinced her to go up on stage. And then, Travis got down on one knee.
"I have loved you from the very first moment I laid eyes on you," he told her. "Will you marry me?"
She said yes ... and the judges said yes to Travis going on to the next round of the competition.
One of the judges, Howard Stern, told Travis, "This is the most outrageous audition I have ever seen!" (Click the video above to see the audition.)
His performance was enough to earn Hollywood Life's top act of the night. Buddy TV loved it, too, saying that it was "a whole lot of big TV' at one time.
Pratt has performed recently on stage at the Tift Theatre, doing his Easter show on March 31 and starring in the stage play "Love Unbreakable" at the Tift this past Jan. 27. The Tift County High School graduate now lives in Houston, Texas.
Next week, "America's Got Talent" airs an hour earlier, at 8 p.m., on NBC's Tuesday night lineup.
Live Entertainment Each Saturday Night!
Keith Evans performs
6:30 p.m.-10 p.m., Saturday, June 15
Come Join Us for Dinner!

229-382-8484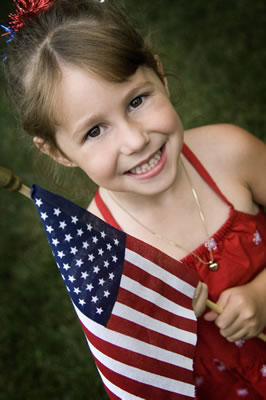 Friday is Flag Day for the
Red,
White
&
Blue
Friday, June 14, is Flag Day, so show your colors proudly throughout the Tiftarea.
The Second Continental Congress had determined the design of the American flag on June 14, 1777. There are now 50 stars where there were once 13.
Flag Day is now recognized on the "birthday" of the Stars and Stripes as a result of the efforts of a Wisconsin teacher, Bernard John Cigrand.
In 1885, Cigrand, a 19-year-old school teacher, placed a small flag in an inkwell and had his students write essays on what the flag meant to them. He called June 14 the flag's birthday.
From that day forward, Cigrand dedicated himself to inspire not only his students but all Americans in the real meaning and majesty of our flag.
As a result of his efforts, President Woodrow Wilson in 1916 proclaimed Flag Day to be celebrated on the anniversary of the Flag Resolution of 1777. But it was President Harry Truman who in 1949 formally established June 14 as Flag Day in the United States.
TO THE OLYMPICS!
Tifton Turfgrass Headed for Brazil Competition
A turfgrass variety being tested in Tifton is heading to Rio de Janeiro, Brazil, when golf is reintroduced as an Olympic sport at the 2016 games.
Zeon Zoysia grass, developed by David Doguet and Blade Runner Farms in Poteet, Texas, is currently being tested on the UGA College of Agricultural and Environmental Sciences' Tifton campus.
"It has a stiffer leaf blade so the golf ball sits perfectly in the fairway. Golfers love it," said UGA turfgrass breeder Brian Schwartz.
This is the first time golf will be an Olympic event since 1904. The Olympic Committee selected Zeon Zoysia after visiting the Atlanta Athletic Club, where Zeon is used. The grass, which is shade tolerant for rough areas and excels in the sun, is starting to be utilized on more golf courses.
Nominations Accepted for Arts & Humanities Honor
The Governor's Awards for the Arts and Humanities honor outstanding individuals and organizations that have made significant contributions to Georgia's civic and cultural vitality through service to the humanities or excellence in the arts.
Presented by the Office of the Governor in partnership with Georgia Council for the Arts and the Georgia Humanities Council, the Governor's Awards recognize the value of the arts and humanities in the creation of a thriving economy and their contributions to innovation and growth.
The Governor's Awards pay tribute to the most distinguished citizens and organizations that have demonstrated a lifetime commitment to work in these fields.
Literacy Volunteers Grilling For Your July 4 Dinner
Simplify your
July 4
celebration by letting the cooking team at
Literacy Volunteers of Tifton-Tift County
prepare your pork.
They will be grilling ribs and Boston butts all night July 2 so you can pick your succulent meat up from
noon-4 p.m.
on
July 3
. All you will have to add is potato salad and pie.
Charles Posey
and his team will be preparing his incredibly juicy meat for your dining pleasure. A large slab of ribs is $15; a Boston butt is $25. Contact any Literacy Volunteer board member for a ticket, or email
Liz Carson Keith
at
lizcarsonkeith@hotmail.com
The Tifton Grapevine
WEEKENDER
Hear it Through the Grapevine!
Thousands of local residents get the Tifton Grapevine Weekender delivered
FREE
to their email.
Want local news & videos sent automatically to your computer and mobile device?

YOUR WEEKEND
At a Glance....
SATURDAY, June 15
Wiregrass Farmers Market

, 9 a.m., Georgia Museum of Agriculture, Tifton.

Downtown Farmers Market, 9 a.m., Old Train Platform, Tifton.
Miss Georgia Forestry Pageant, 5 p.m., Teen Miss and Miss, Performing Arts Center, Tift County High School, Tifton.

Keith Evans performs on the patio, 6:30 p.m., Hilton Garden Inn, Tifton.
SUNDAY, June 16
Father's Day: Remember Dad on his Special Day!
June 6
Nancy Thompson Purcel, 62, Lakemont
June 7
Helen Rose Patten Rainer, 92, Tifton
June 8
Carl Vinson Tapp Sr., 67, Tifton
Earnest Clayton Stone, 61,
Nashville
Normajean Holcombe O'Bryant, 62, Tifton
June 9
Robert M. "Bob" Shaw, 69,
Tifton
Jean Barrentine Dixon, 89, Alapaha
June 10
Vera Mae Neal, 74,
Tifton
Patricia "Pat" Holden Durley, 65, Tifton
Lena Gordon Williams LaHue, 85, Fitzgerald
June 11
Charles Maxwell DeBerry, 84, Tifton
June 12
Marion Scott Culpepper Whiddon, 93, Tifton

She was a former Tift County teacher, a
well-known, longtime volunteer for the
local Meals on Wheels organization, and an active volunteer in several other community groups, including the
20th Century Library Club, the Special Olympics
and several bridge clubs.
SERVING YOU WITH PROFESSIONALISM
BEFORE, DURING & AFTER THE SALE
$122,500
Convenient county location and move-in ready. Quiet area on large corner lot with plenty of room for family fun. This 1,714-square-foot, 3 BR, 2 bath home has beautiful laminate and tile floors, a spacious kitchen with ample cabinet space, a large pantry, stove, refrigerator and dishwasher. Large bar overlooking family room and open to the kitchen, which also has a breakfast area. Formal dining room or bonus room for office; large family room with French doors to back yard. Custom molding throughout and an alarm system.
Give Dwana Coleman a call .............. 229-386-4222
Through Each & Every
Real
Estate
Transaction!
Have news for the Grapevine?

Contact us today!