Programs in 2018
At the Avatar Meher Baba Center of So. California
1214 South Van Ness Avenue

Los Angeles, California 90019

telephone: (323) 731-3737
All Programs open to the Public
All Programs free of charge
(unless otherwise noted)
THIS WEEK
Sunday,
Jan. 14:
Live Traditional Persian Music and Open House
(with musical guest
Behrouz Vosoughi)
NEXT WEEK
Sunday,
Jan. 21:
"Remembering Jurgis Sapkis: a Meherabode
Memorial"
AT MEHERABODE
(Los Angeles)
Sunday, Jan. 14:
Live Traditional Persian Music
and Open House (with musical
guest Behrouz Vasoughi)
Wednesday, Jan. 17:
Young Adults' Discourses Group
Sunday, Jan. 21:
"Remembering Jurgis Sapkis:
a Meherabode Memorial"
Wednesday, Jan. 24 :
Young Adults' Discourses Group
Sunday, Jan. 28:
Rumi and Hafiz Recital
(hosted by Reza Abrahimzadeh)
Tuesday Jan. 30: AMARTITHI Celebration
(with special guest Allan Cohen)
11:00 am - 11:30 am: Coffee / Tea / Fellowship
11:30 am - 1:00 pm:
Live Traditional Persian Music
with Behrouz Vosoughi
(and Open House)



Behrouz Vosoughi




(will be playing dulcimer

this Sunday at Meherabode)
This coming Sunday at Meherabode we are pleased to present traditional Persian music from Behrouz Vasoughi, who will be sharing a few songs played on his dulcimer.
Behrouz first heard about Meher Baba from his eldest son in 2007, and soon after he began to explore some of Baba's words in book form. Shortly after reading Baba's messages about love and eternity Behrouz then was inspired to visit the Avatar's tomb shrine in Meherabad, India. To date he has visited Meherabad on three separate occasions.
Behrouz' wife and son (as mentioned above) are also followers of Meher Baba and have been regular visitors to our Center over the last couple of months. We are pleased to invite them into our community, and we are especially honored that Behrouz will be sharing his music with us!
Please come and join us for an enchanting afternoon of soaking in the Beloved's Presence amongst friends.
Jai Baba!
Also Happening at Meherabode
Wednesday, January 17
YOUNG ADULTS' DISCOURSES

Please Note: The Discourses Group has a new day. Meetings are being held on WEDNESDAY nights. The next meeting of the New Year will take place on January 17th.
The Young Adults' Discourses Group continues its weekly meetings, which are open to younger-generation Baba-lovers & Seekers.
7:00 - 7:30 pm
Fellowship & tea
7:30 - 9:00 pm
Reading & Discussion
The subject of study and discussion is Meher Baba's
Discourses
, which are available in print (e.g. at
Meher Baba Books
). The
Discourses
are also accessible online here:
Each week we chronologically read a Discourse and discuss how it relates to our daily lives. Come join us and delve into Meher Baba's amazing Discourses like never before!
Here's our Facebook page:
If you have any questions please contact Aaron Hemeon:
Jai Baba!
The NEW 2018 Meher Baba Calendar is here!
Available now in our bookstore or to order online!




Visit Meher Baba Books, our Bookstore online:
MEHER BABA BOOKS has a New Look in 2018!
Come Visit Our Newly Redesigned and Redecorated Bookstore!
(talk to Behnaz about any special requests or suggestions)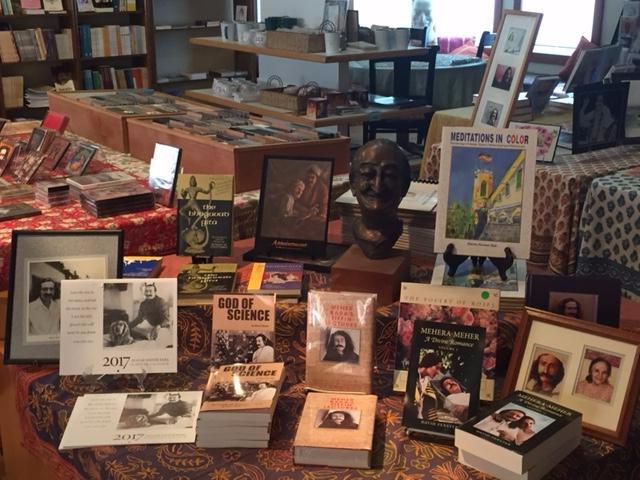 Photo by Brent Carter
Meher Baba Books exists both in the brick & mortar real world and also online as a purveyor of books, CDs, DVDs, and specialty items relating to Avatar Meher Baba -- including Baba's major published works, biographies chronicling his life and work, and diverse offerings. The bookstore is a successor to a sequence of Meher Baba Bookstores that have been a feature of Southern California since the late 1960s onward.
This bookstore is a public-service activity of the Avatar Meher Baba Center of Southern California (AMBCSC). The most essential aim of Meher Baba Books, consistent with AMBCSC's Mission Statement, involves the spread of Meher Baba's message of Love and Truth.
www.meherbababooks.com
Avatar Meher Baba Center of Southern California
1214 S. Van Ness Avenue
Los Angeles, CA 90019
More Southern California Meetings
Mondays

at 7 PM in

South Bay

(San Pedro)
Call Glenn and Payam Russ: (310) 519-7776
Santa Barbara

:
Monthly Meetings
Call Donnalyn Karpeles: (805) 682-1877
DONATION OPPORTUNITY
The Avatar Meher Baba Center gratefully appreciates
donations, large or small, that help sustain our Center and all its activities.
The Avatar Meher Baba Center of Southern California is a nonprofit tax exempt

organization as defined in section 501(c) (3) of the Internal Revenue Code.
Donations are tax deductible to the extent allowed by law.
All donations are acknowledged.
=================================
For an alternate route to up-to-date information, like us on Facebook!