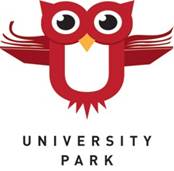 2300 S. St. Paul St., Denver, CO 80210
720-424-3410
Principal
No School April 27th
Please note that there is no school tomorrow, Friday, April 27th. Denver Public Schools has cancelled all classes due to the teacher walkout in support of improved education funding. Our 5th grade students will still participate in the Shakespeare Festival. Discovery Link will be available for currently enrolled students from 6:30 am-6:00 pm. Please click
here
to view the email that was sent out this week with additional information and details to help you plan for the day.
*Don't forget to download the UPark App
HERE
!
PTA News
Thank you to everyone who made the 2018 UPark Auction such a success! If you missed out on it, there is still a chance to bid on some items and sign up for Parent Experiences and/or Teacher and Staff Experiences. These experiences are activities or parties hosted by a UPark staff member or parent and include a Catch Football Game with Miles (the Denver Broncos mascot), Dodge Ball with Ms. Hartin, An Evening in Candyland (formerly the Daddy/Daughter Dance), Mom's Only Happy Hour Club, and much more! To bid or sign up, please go to upark.ptapal.com until Thursday, May 3rd, 2018 at 9:00 PM.
The PTA board would like to say THANK YOU to our 2018 UPark Auction Chairs: Katie FitzGerald & Becky McDonald! They put their blood, sweat and tears into making the 2018 Auction our most successful auction to date! And also a huge thanks to our committee members and all the parents, teachers, staff and community members who contributed to the organization of our auction. We couldn't fundraise for our school without the support of our wonderful UPark community!
CO PTA Statement Re: Friday April 27th Teacher Rally at the State Capitol
In light of tomorrow's teacher rally at the state capitol, we wanted to share with you a statement from the CO PTA on Adequate Funding and the Teaching Profession
HERE
.
The CO PTA and our UPark chapter have been working with Great Education Colorado, an advocacy organization working to increase Colorado's K-12 funding levels. Colorado ranks 43rd in the nation for its per pupil funding of K-12 education. We spend approximately $2,000 less per pupil than the national average.
Colorado also ranks last in the competitiveness of teacher pay
. This inadequate funding of our public schools has led to teacher shortages, four day school weeks in over half of Colorado school districts, and larger class sizes due to staff reductions.
We are working to put the Great Schools, Thriving Communities Ballot Initiative (93), on the November ballot. This initiative would create a Quality Public Education Fund financed through higher taxes on higher incomes above $150,000 and on "C" Corporations. It will provide sustainable support for schools by stabilizing property taxes, and address the most pressing needs of our local schools while ensuring that decisions about how to use new funds are made at the local level. Our PTA members have joined citizens across the state to gather signatures to put this initiative on the November ballot. If you haven't signed the ballot yet or would like to collect signatures yourself, please join us at our next PTA meeting, Tuesday, May 8th at 6pm in the Art Room. We will have representatives from Great Ed with petitions to sign, and hand out for those who would like to collect signatures. In the meantime, if you would like more information regarding the Great Schools, Thriving Communities Ballot Initiative, please visit the campaign website
HERE
.
Meet UPark Principal Candidates
Please join us for the Community Forum on Monday, April 30th at 6:00 PM in the auditorium. This forum is a chance for community members to get to know and provide feedback on the final 2-3 UPark principal candidates. All are welcome to attend and we would love to have input from as many of you as possible. Childcare will be provided by the PTA. See you there!
Parent Satisfaction Survey
Deadline extended! Please complete the survey and return it by mail in the prepaid return envelope by tomorrow, Friday, April 27th.
This survey helps us understand how well our school is supporting your students' needs and is a part of our School Performance Framework (SPF). These surveys are anonymous and confidential. We will never see your individual responses, only the total and averages at the school level.
Click here for more
or contact the main office at 720-424-3410 with questions.
3rd Annual UPark Golf Tournament
Join us for the 3rd annual UPark Golf Tournament!
When: Saturday, May 12th starting at 8am
Where: Wellshire Golf Course
Digital Flyer:
Click
here
!
*We still have plenty of openings for the tournament, please share the above information with family, friends, and colleagues!!!
It's time for the UPark School Wide Spelling Bee!
Does your child love spelling and learning new vocabulary words? Is he or she a first through fifth grader? If so, come join the fun!
Spelling word lists were sent home by classroom teachers via email last week. For more information or to obtain another copy of the word lists, please click here
. Thank you!
Heather Wise, UPark GT Teacher
4th Grade
Lauren Beatty will join the UPark team as a part time 4th grade teacher starting next year. We are excited to have her as part of the UPark team! Click
here
for more about Lauren.
Kindergarten
Please welcome Alexis Morof back to the UPark team! She has accepted our Kindergarten teaching position starting next school year. Please read more about Alexis
here
.
Personalized Learning
Sarah Holdeman has accepted a full time teaching position at Polaris Elementary for the 2018-19 school year. Her current position was reduced from full time to part time by central office. We wish her well in her new position and will miss her at UPark. Please click here to read her community letter.
Special Education Paraprofessionals
We are excited to welcome Edward Rogers and
Gregory Shackelford to our staff! They will be supporting in room 205 with Ms. Kendra, Mr. Pete and Ms. Nicki.
1st Grade Paraprofessionals
Anne Jones will be joining our 1st grade team as a paraprofessional for the 2018-19 school year. Click
here
to read more about Anne.
Summer Construction
University Park will be closed for the summer starting June 4th due to construction. Scopes of work for 2018 Summer Construction include:
Condensate piping replacement throughout the building (all 3 levels)

Unit Ventilator replacement (all rooms)

Kitchen Waste Line replacement (basement level)
3rd Annual UPark Golf Tournament
When: Saturday, May 12th starting at 8am
Where: Wellshire Golf Course
Digital Flyer: Click here!
*We still have plenty of openings for the tournament, please share the above information with family, friends, and colleagues!!!
All Enrichment Classes are cancelled tomorrow, Friday, April 27th. Please see this email for details about make-up dates.
Spring Enrichment Classes that end early:
| | |
| --- | --- |
| Spring Enrichment: | Date of last class: |
| Rock Climbing | 4/26 |
| Yoga (R) | 4/26 |
| Pottery | 4/30 |
| Yoga (M) | 4/30 |
| Yoga (T) | 5/1 |
| Move! Dance! Pilates! | 5/4 |
| After School Art | 5/4 |
| KidStage | 5/4 |
| Leap N' Learn | 5/11 |
For Discovery Link Summer Camp information please click here.
Registration for 2018-2019 Discovery Link
Registration for current families goes live online on Monday, April 16th
Registration for new families goes live online on Monday, May 7th
For more information and how to register, please click here.
Questions? Please contact
Jesse
.
University Park Elementary Calendar
Click on the calendar icon to the right, look below, or visit the
University Park Website
to access calendar information!
5 Star Wizard Hat Students
Congratulations to last week's 5 Star Wizard Hat students! They were recognized by their teachers for positive behavior.
Last week's students include: Mohan Wei, Jude Crowley, Brody Gold, Brinley Bourke, Brynn Kopera, Delaney Muilenburg, Abby Belenky, Justin Criswell, Jayden McClinton, Lara Olsthoorn, Olivia Harris, Salem Bendawi, Wesley Tyner, Helena Calderon-Mateos, Anna Muilenburg, Lilah Tuchez, Serenity Aceves, Leora Starks, Gabrielle Panella, Jordan Stevenson, Samara Mendez, Jackson Trinen, Audrey Downes, Shreyas Rao, Gus Jasper, Fabian Bustos, Abdullah Saleh, Elliot Bieschke, Lulu Blanchard, Railey Leathers, Oliver Samuels.
Wizard Hats are given throughout UPark to celebrate students' good choices and positive behavior. We use a common vocabulary and teach Critical Thinking skills using the BrainWise curriculum. Each week there is a random drawing of 2 students done by classroom teachers. These children are photographed and receive a token of our appreciation.
*At the end of each month we will be donating all clothing in the lost and found and anything left in the halls (all clothing will go into our little red school house in our parking lot).