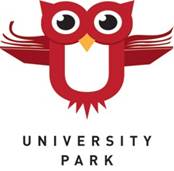 2300 S. St. Paul St., Denver, CO 80210
720-424-3410
Principal
2018-19 School Year Enrollment
If you have a sibling of a current student that will be attending University Park in the fall, please notify the main office at 720-424-3410. This will allow us to update our enrollment projections and include you on new student communications as well as provide you with invites to upcoming events
If you know that your student(s) WILL NOT be returning to University Park next school year please email Sharon Rusin with notification.
*Don't forget to download the UPark App
HERE
!
PTA News
2018 UPark Auction- Get Your Tickets Now!
The 2018 Auction is less than three weeks away. Have you purchased your tickets yet? The cost is $45 per person and includes dinner and live bluegrass music performed by Scott Slay and the Rail. There will also be a cash bar, games, and a live and silent auction. The live and silent auctions will feature the parent and teacher/staff experiences as well as items such as a Coach Signature Jacquard shoulder bag, Frye embroidered cowgirl boots, a Fuji Cambridge City Bike, an autographed Demaryius Thomas jersey and Peyton Manning football, two tickets to Taylor Swift's Reputation Stadium Tour, and a medical procedure you don't want to miss!
To purchase tickets online, please go to upark.ptapal.com or click HERE. The last day to purchase tickets online is Sunday, April 15, 2018. Tickets may be purchased at the door for $60 per person. If you are unable to attend the live and silent auctions, an online auction will begin on Thursday, April 12, 2018. More information about the online auction will be communicated next week.
Join us for the PTA meeting April 10th at 9:15am in the cafeteria.
Class Pictures Tomorrow!
Class picture day is Friday, April 6th. Order envelopes went home before spring break. Please return them to your classroom teacher no later than the morning of picture day (April 6). If you need a picture order envelope please come to the main office.
April Core Value
In April, UPark is celebrating our core value of RESPONSIBILITY!
All classes are discussing ways to be responsible while at school, and in our community.
We will be doing "read-alouds" on the topic of responsibility as well as participating in activities related to Earth Day. You'll also see posters and reminders around the school on what responsibility looks like in different parts of the building.
3rd Annual UPark Golf Tournament
Join us for the 3rd annual UPark Golf Tournament!
When: Saturday, May 12th starting at 8am
Where: Wellshire Golf Course
Digital Flyer: Click here
!
*We still have plenty of openings for the tournament, please share the above information with family, friends, and colleagues!!!
Join the Collaborative School Committee!
Get involved -- gain deeper knowledge into UPark and contribute to our school's success!
Ever wonder how the school district achievement scores really work? What makes up the school budget? How the principal makes key decisions and evaluates success? Join the Collaborative School Committee and participate with other parents, the principal and
UPark teachers
in better understanding and impacting UPark.
The primary functions of the CSC include assisting the principal with the school's mission & vision, providing guidance on an annual balanced budget/UIP, and obtaining community involvement to help achieve school and district goals (when appropriate).
UPark has 3 open positions on the committee (one immediate and

two

next fall)

Meetings are typically 1.5 hours, once a month

If you have interest, please

complete and submit the nomination form to the main office by the end of April for consideration.
This is my 2nd year as a CSC member and I have found the experience to be valuable and rewarding. I have gained deeper insights into how UPark is run and have the ability to contribute to its ongoing success. I would encourage fellow parents to participate.
-Julie Tschida Brown - UPark parent (Khloe - 4th and Lucas - graduated 6th)
Personalized Learning
Sarah Holdeman has accepted a full time teaching position at Polaris Elementary for the 2018-19 school year. Her current position was reduced from full time to part time by central office. We wish her well in her new position and will miss her at UPark. Please click here to read her community letter.
Special Education Paraprofessionals
We are excited to welcome Edward Rogers and
Gregory Shackelford to our staff! They will be supporting in room 205 with Ms. Kendra, Mr. Pete and Ms. Nicki.
1st Grade Paraprofessionals
Anne Jones will be joining our 1st grade team as a paraprofessional for the 2018-19 school year. Click
here
to read more about Anne.
Red Apple Recycling Clothing Drive
Red Apple Recycling (the little red house by the staff parking lot) is holding their annual spring recycling drive.
Drop your gently used clothing and shoes off at the "little red house" April 9 through May 7. You will be helping a great cause while also supporting UPark. Please bag your donations for easier collection. Click
here
for more information.
Summer Construction
University Park will be closed for the summer starting June 4th due to construction. Scopes of work for 2018 Summer Construction include:
Condensate piping replacement throughout the building (all 3 levels)

Unit Ventilator replacement (all rooms)

Kitchen Waste Line replacement (basement level)
3rd Annual UPark Golf Tournament
When: Saturday, May 12th starting at 8am
Where: Wellshire Golf Course
Digital Flyer: Click here
!
*We still have plenty of openings for the tournament, please share the above information with family, friends, and colleagues!!!
For Discovery Link Summer Camp information please click
here.
Registration for 2018-2019 Discovery Link
Registration for current families goes live online on Monday, April 16th

Registration for new families goes live online on Monday, May 7th

For more information please click

here.
Questions? Please contact Jesse.
University Park Elementary Calendar
Click on the calendar icon to the right, look below, or visit the
University Park Website
to access calendar information!
5 Star Wizard Hat Students
Congratulations to last week's 5 Star Wizard Hat students! They were recognized by their teachers for positive behavior.
Last week's students include: Abdellah Benjelloun, Isobel Erickson Solonika, Marley Stoler, Cooper Stone, Liam Sturgeon, Ryan Long, Jayme Cairns, Ben Snyder, Sheyden Kyser, Charlotte Hayes, Eliza Helgerson-Rahn, Remy MacDonald, Gavin Arnold, Eliana Menkis, Bristol Betts, Noble Stewart, Penny Peng.
Wizard Hats are given throughout UPark to celebrate students' good choices and positive behavior. We use a common vocabulary and teach Critical Thinking skills using the BrainWise curriculum. Each week there is a random drawing of 2 students done by classroom teachers. These children are photographed and receive a token of our appreciation.
*At the end of each month we will be donating all clothing in the lost and found and anything left in the halls (all clothing will go into our little red school house in our parking lot).