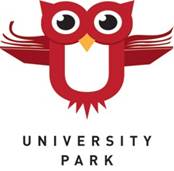 2300 S. St. Paul St., Denver, CO 80210
720-424-3410
Principal
During this season of giving and CARING please consider volunteering at the Food Bank of the Rockies to support our Backpack Food Program.
For each person who completes a 3 hour shift, the Backpack For Kids Program here at UPark will receive 20 pounds of donated food. Please click here to learn more about FBotR and sign up! For more information on the Backpack Food Program click here.
PTA News
Don't forget to reload and use your King Soopers card when shopping this winter (or filing your gas tank at Loaf 'n Jug, or any Kroger grocery location). And remember that AmazonSmile is another simple and automatic way to support UPark at no cost to you! Register at
smile.amazon.com and
choose "UPark Elementary PTA."
Green Winter Ornament Challenge
Between December 10th and 19th all UPark Students are invited to

create a "green" ornament by reusing or repurposing recyclable and/or compostable materials. Using these materials create a UPark

Owl or Small Carbon Footprint ornament and bring it to the hallway outside the main office. Students will label their art with the labels found in the green box and hang the ornament on the garland outside the main office.
Prizes will be awarded for creativity, use of the owl or footprint theme and materials! This challenge is sponsored by the Student Green Team. Please email the Green Team with questions at
uparkgreenteam@gmail.com.
Our UPark Semantics Team competed in its first district-wide spelling bee and had great success! Fifth grader Ruby D earned 8th place and 3rd grader Luke Y earned 7th place. Congratulations to our team on their hard work, motivation and determination! Our next bee is on January 24th at C3. Wish us luck!
Heather Wise - UPark Semantics Coach
Congratulations Speed Stackers!
624,390 stackers participated in the world speed stack day and broke the Guinness World Record!
On November 8th, 624,390 stackers from 2,833 schools and organizations from 25 countries took part in breaking the world record for most people speed stacking on one day. The previous record was 622,809.
GOT PHOTOS? We would love to include them in this year's yearbook! You can email them to
UPark Discovery Link will be closed December 24 - January 4 for Winter Break!
Camp days are being held at neighboring schools from
6:30 am to 6 pm
on 12/27, 12/28, 1/2, 1/3, and 1/4
! Click here for the flyer with more information on registration for camps. Cost is $38 and the registration deadline is Thursday, 12/20. If you have any additional questions about camps, please reach out to

austin_hachmeister@dpsk12.org.

Austin will be out of town Monday, 12/17 & Tuesday, 12/18. Please contact Mr. Kyle with any absences on these days. His e-mail is kyle_wiley@dpsk12.org. Thank you!
University Park Elementary Calendar
Click on the calendar icon to the right, look below, or visit the
University Park Website
to access calendar information!
UPark Owl Ticket Students
Trait of the Month (November/December): Caring
Congratulations to last week's Owl Ticket students! They were recognized by their teachers for above and beyond positive behavior.
Owl Tickets are given to students for going above and beyond in one of our five core values: caring, cooperation, responsibility, respect and joy. Owl Tickets f
ocus on the school's trait of the month, g
ive students a chance to participate in the weekly "Owl Tickets" photo and will be
posted on the new "UPARK" letters in our main hallway.
*At the end of each month we will be donating all clothing in the lost and found and anything left in the halls (all clothing will go into our little red school house in our parking lot).