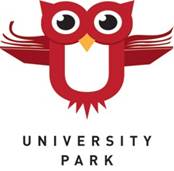 2300 S. St. Paul St., Denver, CO 80210
720-424-3410
Principal
As we look forward to winter break during this time of giving and generosity, I'd like to take some time to highlight how our UPark staff, students, and families have been working all year long to help those in need. Our backpack program has doubled in size this school year, providing over 30 families with bags of healthy food once a week! Recently we had a very generous donation that paid off all of our UPark student cafeteria debt. The holiday Adopt a Family program is in full swing again this year. Our second graders continued a long standing tradition of collecting stuffed animals for donation. Many students who might not have otherwise been able to participate in our Halloween parade, were given costumes that were donated by families through our Halloween costume exchange. It is these acts of generosity and caring that define what it means to be a part of the UPark community. Thank you for all that you do to support each and every UPark student and family.
Enjoy the next few weeks of precious family and friend time!
We are humbled and thankful that through our fantastic community the Apple Campaign has raised $65,000 this year! THANK YOU!! The Apple campaign runs all year long but we strive to complete our target amount of $70,000 early in the year so we can focus efforts on other tasks. With that said, any additional money that we receive will be used ONLY in our school, as usual. If you would still like to donate, you can do so HERE. Thank you again to such a supportive community!
2nd Grade
2nd

grade is always interested in a growth mindset and are using the idea of "New Year's Resolutions" as a way to talk about goal setting. Here are a few of the goals our 2nd

graders are setting!
"My goal for the new year is to be a great player on my basketball team because it would make my dad so so happy! - Charlotte H
"My goal for the new year is to get better at football so I can get in to the NFL." - Atticus E
"My goal for the new year is to make my family happy." - Whitney S
"My goal for the new year is to get more reading time in so I can improve and read harder books." Oliver W
"My goal for the new year is to be a nice friend and help others." -Ezra J
"My goal is to take my time with my writing and make sure that everything is spelled correctly." - Nina H
"My goal for the new year is to use my word wall folder for spelling." - Advitha D
"My goal for the new year is to help our classroom stay clean." -Ezdeen A
"My goal is to understand my math questions better." -Serenity A
"My goal is to get better at Math and Reading." -Dempsey R
"My goal in 2020 is to get better at math and help my class so their behavior improves." -Jada S
Coming next week: English Language Acquisition!
The Green Team ornament challenge is back! December 13-20 UPark students and families are invited to create an ornament with the theme of UPark Owls or "Use Less/Do More". Ornaments should be made by reusing or repurposing recyclable or compostable materials. Prizes will be awarded for best repurposing, creativity with materials and using the above themes. Ornaments need a name, grade and room number when they are brought to the main hallway.
Join UPark Band!
You've heard us every year at the Fun Run and the Halloween Parade and you've surely peeked into the auditorium before school to see what all that noise is about. Stop being a spectator and join in the AWESOME!
You could play flute, clarinet, saxophone, trumpet, French horn, trombone, baritone or percussion! Once you learn the secret of how to make and play music, you can make any song yours! Working and learning with classmates is always fun but being able to share in the pride of performance well done is extraordinary.
Don't know anything about music? Neither did anyone else before they learned it. Start learning with us! We have professional musicians work with our students twice each month and we have many private music instructors if you need help.

Don't have an instrument? Rentals are more affordable than you think and our school owns many instruments available for a very low rental rate.

Concerned about Tuition? Scholarships are available!

5th Grader? You can join now and have a jump start in music in middle school.
Class is every Monday and Wednesday Morning from 7:50-8:40. Come register in person and try out an instrument or two or three on December 19th after school in Room 107.
Update Your Immunizations
Three cases of measles have been reported in the Denver Metro Area. The incubation period (exposure to rash onset) for measles ranges from 7 to 21 days so you may not see symptoms until as late as January 2nd from these cases. With the 2 recommended MMR vaccines there is over 99% immunity provided. With only 1 vaccine there is 98% immunity. The district
health department is recommending that DPS families make sure student MMR vaccinations as well as all other necessary vaccines are up to date. Please contact the UPark school nurse Antoinette Schmitz with questions.
UPark Instagram Has 100 Followers!
100 followers down... a community to go!
We have our 1st hundred followers but please continue to encourage those in our community to follow @uparkowls to learn more about the many wonderful happenings at our school.
We are launching a new contest with weekly winners: use #uparkowls and tag us @uparkowls in your own school related posts! We will then pick a weekly winner at random for the remainder of the week from the posts you share!
UPark Attendance Notifications
There are multiple ways you can notify the office of a student absence: use the attendance feature on the
UPark app
, call the main office at 720-424-3410, or email
Sharon Rusin
and
Alexis Matter
, our school office supports.
To use the UPark app for attendance notifications click on the "resources" icon at the bottom right side of the screen. The icon looks like a book. Once on the resources page you'll click on the UPark Attendance icon to submit your student's absence details.
Easy Ways to Support UPark as you Prepare for the
Holidays
ORDER HOLIDAY CARDS FROM MINTED:
This
November and December
, save money and support UPark when you order your holiday cards and
gifts from Minted. Use code FUNDRAISEUPESDENVER to save
20% OFF
of your Minted order, and Minted will also give 15% back to our school. Visit minted.com/holiday to start shopping.
BUY YOUR HOLIDAY GROCERIES AT KING SOOPERS:
Once you've connected your rewards card to UPark, King Soopers will automatically donate a portion of your purchase back to UPark each time you swipe your SooperCard or enter your phone number. If you haven't already connected you rewards card, follow these simple instructions.
SHOP FOR HOLIDAY GIFTS ON AMAZON:
AmazonSmile is a simple and automatic way to support UPark at no cost to you! Simply register at smile.amazon.com, choose "University Park Elementary PTA," and Amazon will donate 0.5% of your eligible purchases. Just be sure to start your shopping via the AmazonSmile homepage.
Please share these easy give back opportunities with grandparents and other family members that would like to support UPark this holiday season!
Winter Enrichment has begun! Please remind your students about the classes they will attend and the new pick-up procedure (all students will go to the auditorium to meet their enrichment instructors).
Registration is still open for
January Camp Days!
Join us for Discovery Link Camp January 2nd, 3rd, and 6th. *Registration closes December 18th.
Your child will have the opportunity to engage in teacher led, social emotional academic learning in a safe environment. Engaging AM & PM clubs will include art, science, sports, math, literacy and more. Center-based activities along with choice time play will take place before and after clubs.
CAMP INFORMATION:
Camp hours: 6:30am - 6:00pm
Bring a sack lunch, two snacks (AM and PM snack), and a water bottle.
Fee: $39.00/per day
Drop in : $78.00/per day
Registration:
Families with a School Care Works account:
https://connect.schoolcareworks.com/login.jsp
Discovery Link Summer Camp Registration
Discovery Link Summer Camp registration opens January 6th. Click here for camp details and click here for registration information and instructions.
Discovery Link is Hiring!
Discovery Link at University Park is hiring for a Program Leader and Staff Aide. If you enjoy working with kids and are looking for a fun, part-time job opportunity then you should join the UPark Discovery Link team! We offer a flexible schedule, perfect for college students and parents. Click HERE for more information and instructions on applying. Please contact Ms. Julia Lamberton for more information.
University Park Elementary Calendar
Click on the calendar icon to the right, look below, or visit the
University Park Website
to access calendar information!
UPark Owl Ticket Students
Congratulations to last week's Owl Ticket students! They were recognized by their teachers for above and beyond positive behavior.
Owl Tickets are given to students for going above and beyond in one of our five core values: caring, cooperation, responsibility, respect and joy. Owl Tickets focus on the school's trait of the month, give students a chance to participate in the weekly "Owl Tickets" photo and will be posted on the "UPARK" letters in our main hallway.
*At the end of each month we will be donating all clothing in the lost and found and anything left in the halls.