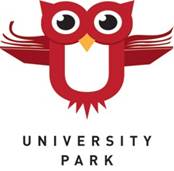 2300 S. St. Paul St., Denver, CO 80210
720-424-3410
Principal
Hello UPark Families,

As we head into this season of celebration, relaxation, and family fun, I want to let everyone know how fortunate I feel to be a part of the UPark community. I hope you all have a wonderful and restful break. I'm looking forward to all of the great student learning that lies ahead in the New Year.
Happy Holidays!
PTA News
The PTA and Green Team would like to wish everyone a safe, joyful and
green
winter break. Click here for the 2018 DPS Recycling newsletter with ideas on how to combat food waste, what goods you can recycle (if you can crumple it-you can't recycle it: only rigid plastics please!), and ideas on reducing waste.
Mark your January Calendars:
Thursday Jan 10
th
, 7pm UPark Auction meeting at Architype Distillery.
Tuesday Jan 15
th
, 6pm PTA Meeting and Stock the Auction Party, offsite at Angela Rathbun's home.
Thursday Jan 17th
, 6pm Parent Education Event by Steve Nederveld: "Restorative Parenting"
At Our New Auction Location-Archetype Distillery
Please join us as we kick off auction procurement! Do you like to help with décor? Centerpieces? Ticket sales? Coordinating set-up volunteers? Helping to find entertainment? We'd love to have you. Even if you'd like to enter data or (fingers crossed!) bring our fundraising letter to businesses you know well. We have so many new families in both the school and the neighborhood this year and we'd love to see new faces.
MARK YOUR CALENDARS for January 10th!!!
We are holding our January Auction committee meeting at Archetype Distillery! Come check out the event space and find out how you can help! Email auction@uparkelementary.org if you are interested but cannot attend.
Thursday January 10th at 7pm
119 S Broadway Denver 80209
During this season of giving and CARING please consider volunteering at the Food Bank of the Rockies to support our Backpack Food Program. For each person who completes a 3 hour shift, the Backpack For Kids Program here at UPark will receive 20 pounds of donated food. Please click here to learn more about FBotR and sign up! For more information on the UPark Backpack Food Program click here.
It is official flu season. Denver Public Health has sent out a notice for informational purposes to answer questions and provide guidance as we head into this holiday break. Please click here for general flu information and recommendations.
There will be no UPark Discovery Link or enrichment classes December 24 - January 4 for Winter Break!
Camp days are being held at neighboring schools from
6:30 am to 6 pm
on 12/27, 12/28, 1/2, 1/3, and 1/4
! Click here for the flyer with more information on registration for camps. Cost is $38 and the registration deadline is Thursday, 12/20. If you have any additional questions about camps, please reach out to

austin_hachmeister@dpsk12.org.

University Park Elementary Calendar
Click on the calendar icon to the right, look below, or visit the
University Park Website
to access calendar information!
UPark Owl Ticket Students
Trait of the Month (November/December): Caring
Congratulations to last week's Owl Ticket students! They were recognized by their teachers for above and beyond positive behavior.
Owl Tickets are given to students for going above and beyond in one of our five core values: caring, cooperation, responsibility, respect and joy. Owl Tickets f
ocus on the school's trait of the month, g
ive students a chance to participate in the weekly "Owl Tickets" photo and will be
posted on the new "UPARK" letters in our main hallway.
*At the end of each month we will be donating all clothing in the lost and found and anything left in the halls (all clothing will go into our little red school house in our parking lot).