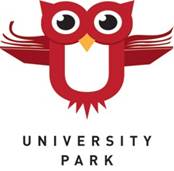 2300 S. St. Paul St., Denver, CO 80210
720-424-3410
Principal
P
ick-up, Drop-off Reminders
For the safety of our students and community please make sure to follow all school regulations around parking and pick-up/drop-off.
Staff parking lot: This lot is for staff only. Please do not drop students off or pick them up from this parking lot. Cars driving in and out of this area is a safety hazard for families on school grounds.
Please observe all posted City of Denver parking signs.
No pick-up or drop-off in the alley.
The east side of South St. Paul is for loading and unloading only.
We strongly suggest avoiding South St. Paul during pick-up/drop off unless using Kiss 'N Go.
Be respectful of neighbors. Do not block driveways.
Always use crosswalks. Do not cross mid-block
Please review the UPark Student and Family Handbook linked below the email signature in this box for additional information.
PTA News
It is the season of giving and CARING here at UPark, and in that spirit the PTA wanted to let our community know of a volunteer opportunity at the Food Bank of the Rockies. Volunteering with The Food Bank of the Rockies would support our Backpack Program to help ensure every child at UPark has access to food seven days a week.
For each person who completes a 3 hour shift, the Backpack For Kids Program will receive 20 pounds of donated food. Please click here to learn more about this opportunity and sign up!
Shop with Your King Soopers Card & Amazon Smile for Holiday Gifts and Feasts
Don't forget to reload and use your King Soopers card when shopping this winter season (or when filing your gas tank to visit friends and family). Remember that 5% of your purchases come right back to UPark, so it can add up fast if we all remember to use our cards! If you've misplaced your card, or don't have one yet, email vp@uparkelementary.org and we'll get one in your hands right away!
As you start your holiday shopping, please also remember that AmazonSmile is another simple and automatic way to support UPark at no cost to you! Register at smile.amazon.com, choose "UPark Elementary PTA," and Amazon will donate 0.5% of your eligible purchases back to our school.
The Apple campaign runs all year long. We strive to complete our target amount of $70,000 early in the year so we can focus efforts on other tasks. This year we are humbled and thankful that we have just made our goal! THANK YOU! With that said, any future donations would be welcome to help cover the broad wish list supported by the UPark PTA. Some wish list examples include an outdoor GaGa Ball Area, more desks/wobble chairs, training for staff, and supporting the administration. If you are on the fence about donating, consider this wonderful school and keep these amazing teachers and students happily learning. Click here to donate.
Restaurant Night
December 6th - Cuba Cuba Sandwicheria (Glendale location)
Take a break from the holiday hustle (
and cooking
) by joining us for the next Restaurant Night at Cuba Cuba next Thursday, December 6th! 20% from
all
food and beverage sales will be donated back to UPark between the hours of 11am and 9pm! Just mention UPark to ensure the giveback. See you there!
We are excited to announce the continuation of the UPark Holiday Adopt-A-Family program!
In our UPark community, we have a number of families who benefit from the generous donations provided through this program. Many of our UPark families are struggling with the challenges of poor health, the loss of a loved one, or homelessness.
If you would like to participate in the Adopt a Family program, we ask that you do so by purchasing a gift card, in any amount you choose, to either Walmart or Target. We started this tradition last year, and we received a lot of support. Our families receiving these gifts appreciated the opportunity to shop for their children, and it was easy for donors to participate!
Anytime between now and Friday, December 7th,
you can drop off your gift cards to the main office with either Ms. Alexis or Ms. Rusin.
Thank you in advance for giving what you can. Your generosity will make this season brighter, and bring joy to others in our UPark community!
May you and your loved ones share a warm and wonderful holiday season!
Grades Available in Parent Portal
First trimester grades are now available to view in Parent Portal. Click
here
to sign in or create a new account. Please notify the office if you need a paper copy of grades.
Plastic Bag Recycling Tubes on UPark playground!
White pvc tubes are being hung on the playground by Green Team students for recycling plastic baggies! When children have snack in baggies, please empty the food out (eat it or put it in the trash) and place them in the tubes. Students from the Green Team will take the baggies to recycling boxes at nearby grocery stores. To help UPark stay green p
lease try to
use fewer baggies,
less plastic and reuse
snack containers.
GOT PHOTOS? We would love to include them in this year's yearbook! You can email them to
There is a one-time Holiday Glass Fusion Workshop on Friday, December 7th from 3:45 pm to 5:00 pm. Cost is $35. To sign up, please click
here
! Last day to register has been extended to Monday, December 3rd.
Winter enrichment has begun. If your children are enrolled in any enrichment courses, please help remind them. Teachers have rosters of who will be attending PM enrichment courses each day. If you would like to cancel or change any enrichment courses, the last day to do so is Monday, December 3rd.
To report any enrichment absences - please contact the front office, Austin, or Kyle.
University Park Elementary Calendar
Click on the calendar icon to the right, look below, or visit the
University Park Website
to access calendar information!
UPark Owl Ticket Students
Trait of the Month (November/December): Caring
Congratulations to last week's Owl Ticket students! They were recognized by their teachers for above and beyond positive behavior.
Owl Tickets are given to students for going above and beyond in one of our five core values: caring, cooperation, responsibility, respect and joy. Owl Tickets f
ocus on the school's trait of the month, g
ive students a chance to participate in the weekly "Owl Tickets" photo and will be
posted on the new "UPARK" letters in our main hallway.
*At the end of each month we will be donating all clothing in the lost and found and anything left in the halls (all clothing will go into our little red school house in our parking lot).