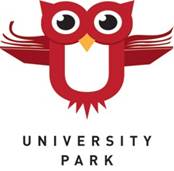 2300 S. St. Paul St., Denver, CO 80210
720-424-3410
Principal
Dear University Park Families,
As we continue to deal with the results of the recent wintry weather, we'd like to thank the faculty and staff members who have taken extra measures to prepare our campuses for returning students and families. We'd also like to ask that all family members please remain sensitive to issues of safety because of the slick conditions outside our facilities.
Members of the Denver Public Schools Grounds Department worked during four of the five days over the holiday break with the goal of ensuring that our school sites are clear of snow and ice, and safe for adults and children. Our Facility Management and Operations crews continue to work to remove snow and ice and to spread ice melt on parking lots, sidewalks and entryways. Teams also continue to plow the snow in our playgrounds. Please note that, no matter how well our teams remove snow and ice from our grounds, pedestrians will still encounter some slippery surfaces when walking outdoors.
We are coordinating efforts with city work crews on their efforts to ensure that the side roads and sidewalks in our neighborhoods are also clear of snow and ice. The challenge for all involved is that these warmer temperatures are causing the snow to melt. Then, cold winds are causing the melted snow to freeze and become patches of ice. These slick conditions have created ongoing challenges for people maneuvering to, from and around our schools.
Please note that walking in the areas around our schools right now requires special attention to avoid slipping and falling. Watch out for ice, especially slippery streets and walkways. For the next couple of days, please remember to exercise caution when walking in these snowy and icy areas.
As a final reminder, please remember that slips and falls are some of the most frequent causes of injuries that occur during the winter months. As our facility and maintenance teams work to keep our roadways, parking lots and sidewalks clear, please remember that slick spots may be in your path, even if you cannot see them.
If you have any questions or concerns, please feel free to contact me.
PTA
Please join us for the December PTA Meeting on Tuesday, December 10th at 6 pm in the Art Room.
As always, p
izza and babysitting (for preschool and school age children) will be provided. Please
RSVP
, including the number of children, so we can plan accordingly!
Kindergarten
Kindergarten is bustling with energy, learning, and fun (as usual)!
Our learners enjoyed exploring our first author study, the works of Ezra Jack Keats, last month. Story elements, specifically character and setting, were highlighted and we wrote our own books that told a "small moment" story with beginning, middle, and end just like the author does. Additionally, we illustrated like Mr. Keats, using both drawing and collage. This month and into January we will be studying a new author...Jan Brett!...and creating projects, art, and books like her.
Social Studies this month will bring the world in which we live! Students will be learning about their world (home, neighborhood, city, state, country, planet!) and what we have in common with others in the world. We all have needs, for example, "we all eat". Our end-of-unit and kick-off to winter break celebration will be "Breads Around the World" where students will share food from their heritage, culture, and home.
In Math, Kindergarten students explain that we learn when "we work and play with math things."
We are learning about "how many" by using 10 Frames to get to 100. We have been using number racks and cards to "subitize" (remember amounts) and also count by 10s and 2s.
Each morning in our "Daily 5" literacy program, children take individual responsibility for their own learning and have set goals including: "I will build my own stamina for thinking", "I can choose successful seating to do my best work", and more.
Remember our Kindergarten program (partnering with 1st grade and organized by Drama teacher Ms. Ludwig) will be on December 12th. Look at the notes going home and your class website to find details on your class' performance time as they vary.
So much happening! Happy Holidays from Team K!
Coming next week: Gifted and Talented!
UPark Auction
Just a reminder the
first Auction Committee meeting is TONIGHT Thursday Dec. 5, 2019 at 7pm
. The meeting is at Tamara's House so make sure you email
auction@uparkelementary.org
to get the address. We are very excited about this year's event and cannot wait to get to work!
SAVE THE DATE!!! The
2020 Auction
will be held on
Friday, April 24th, 2020
at
Space Gallery
(400 Santa Fe Dr.)
. This event, and the Apple Campaign, are University Park's most important fundraisers, and are the key to our continued success and growth. All of the proceeds will go towards additional homeroom teachers and keeping our classroom sizes small. Our fundraising goal this year is $77,000, a big task but we're up for the challenge! More information and how to donate to this event will be communicated in the coming weeks.
Thursday January 9th at 7pm
Thursday February 6th at 7pm
UPark Spirit Week
Spirit Week is just around the corner from Monday, December 9th
- Friday, December 13th
!
Monday: PJ Day: Come to school in your pajamas. Pajamas must follow the school dress code and no slippers allowed.
Tuesday: Twin Tuesday: Plan to dress similar to another student/group of students. Not sure who to twin with? Wear a black shirt and jeans and see who you twin with!
Wednesday: When I Grow Up Wednesday: Wear an outfit that shows what you want to be when you grow up!
Thursday: Throwback Thursday: Dress up in clothing from a different decade.
Friday: Wise Owl Friday: Show off all of your UPark gear- Spirit wear, Fun Run t-shirts or anything red!
Remember your child does NOT have to participate if they don't want to, it is optional.
We are excited to announce the continuation of the UPark Holiday Adopt-A-Family program!
In our UPark community, we have a number of families who benefit from the generous donations provided through this program. Many of our UPark families are struggling with the challenges of poor health, the loss of a loved one, or homelessness.
If you would like to participate in the Adopt a Family program, we ask that you do so by purchasing a gift card, in any amount you choose, to either Walmart or Target. We started this tradition two years ago, and we received a lot of support. Our families receiving these gifts appreciated the opportunity to shop for their children, and it was easy for donors to participate!
Anytime between now and Friday, December 13th,
you can drop off your gift cards to the main office with either Ms. Alexis or Ms. Rusin.
Thank you in advance for giving what you can. Your generosity will make this season brighter, and bring joy to others in our UPark community!
May you and your loved ones share a warm and wonderful holiday season!
Restaurant Night - The Pioneer
Take a break from holiday cooking and eat at the Pio on Thursday, December 12th from 5:00 - 9:00pm! 20% of all food sales will be donated. Please be sure to mention UPark and bring all your family and friends for a great evening out!
The Green Team ornament challenge is back! December 13-20 UPark students and families are invited to create an ornament with the theme of UPark Owls or "Use Less/Do More". Ornaments should be made by reusing or repurposing recyclable or compostable materials. Prizes will be awarded for best repurposing, creativity with materials and using the above themes. Ornaments need a name, grade and room number when they are brought to the main hallway.
UPark Instagram Has 100 Followers!
100 followers down... a community to go!
We have our 1st hundred followers but please continue to encourage those in our community to follow @uparkowls to learn more about the many wonderful happenings at our school.
We are launching a new contest with weekly winners: use #uparkowls and tag us @uparkowls in your own school related posts! We will then pick a weekly winner at random for the remainder of the week from the posts you share!
Easy Ways to Support UPark as you Prepare for the
Holidays
ORDER HOLIDAY CARDS FROM MINTED:
This
November and December
, save money and support UPark when you order your holiday cards and
gifts from Minted. Use code FUNDRAISEUPESDENVER to save
20% OFF
of your Minted order, and Minted will also give 15% back to our school. Visit minted.com/holiday to start shopping.
BUY YOUR HOLIDAY GROCERIES AT KING SOOPERS:
Once you've connected your rewards card to UPark, King Soopers will automatically donate a portion of your purchase back to UPark each time you swipe your SooperCard or enter your phone number. If you haven't already connected you rewards card, follow these simple instructions.
SHOP FOR HOLIDAY GIFTS ON AMAZON:
AmazonSmile is a simple and automatic way to support UPark at no cost to you! Simply register at smile.amazon.com, choose "University Park Elementary PTA," and Amazon will donate 0.5% of your eligible purchases. Just be sure to start your shopping via the AmazonSmile homepage.
Please share these easy give back opportunities with grandparents and other family members that would like to support UPark this holiday season!
Winter Enrichment has begun! Please remind your students about the classes they will attend. We hope you had a fantastic Thanksgiving break!
Discovery Link is Hiring!
Discovery Link at University Park is hiring for a Program Leader and Staff Aide. If you enjoy working with kids and are looking for a fun, part-time job opportunity then you should join the UPark Discovery Link team! We offer a flexible schedule, perfect for college students and parents. Click HERE for more information and instructions on applying. Please contact Ms. Julia Lamberton for more information.
University Park Elementary Calendar
Click on the calendar icon to the right, look below, or visit the
University Park Website
to access calendar information!
UPark Owl Ticket Students
Congratulations to last week's Owl Ticket students! They were recognized by their teachers for above and beyond positive behavior.
Owl Tickets are given to students for going above and beyond in one of our five core values: caring, cooperation, responsibility, respect and joy. Owl Tickets focus on the school's trait of the month, give students a chance to participate in the weekly "Owl Tickets" photo and will be posted on the "UPARK" letters in our main hallway.
*At the end of each month we will be donating all clothing in the lost and found and anything left in the halls.