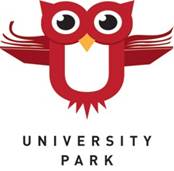 2300 S. St. Paul St., Denver, CO 80210
720-424-3410
IMPORTANT REMINDERS: There is no school Friday, February 14th for a Denver Public Schools Planning Day and no school Monday, February 17th for Presidents' Day.
Enrichment Registration will open Tuesday, February 18th at 8:00am. See the Neighborhood Center section of this newsletter for more information.
Principal
As the weather is getting very cold, please make sure that your students are wearing weather appropriate clothing to school. Here at UPark we try to have students go outside for recess whenever possible because we understand the need for physical activity throughout the day. Some students are showing up on sub freezing days in shorts and sweatshirts so please talk with your students about wearing an appropriate winter coat and other winter gear.
If you are missing a jacket, lunchbox, water bottle or pair of gloves, socks or shoes make sure you check our lost and found located in the cafeteria hallway. We even have a Captain America costume in our lost and found in case your little superhero came home dressed in street clothes at some point this year! Clothing in the lost and found will be donated to those in need on February 13th.
PTA
Our next UPark auction meeting is
TONIGHT February 6th at 7pm at Tamara Reese's house
!!
We still have plenty to do leading up to this year's event and we'd love to have more volunteers! If you'd like to attend please reach out to Tamara directly at
oiler02@gmail.com
.
Please join us for our next
PTA meeting on Tuesday, February 11th at 6 pm in the Art Room
.
Pizza and babysitting (for preschool and school age children) will be provided. Please
RSVP
including the number of children, so we can plan accordingly!
Intervention
Voices from Our Intervention Students!
"I like how we read cool, interesting adventure books and we get to write about them."
"I like that we get to pick out books and take them to our classroom."
"I like reading and writing and picking out books. The reading cards help my reading."
"It is fun because I read a lot, I get to write and I try my best."
"I like how the teacher listens to me read and tells what I did well and how to be better."
"I like that we get to do word work and make patterns with words."
"I like reading. I like learning with my friends."
Coming next week: 5th Grade!
UPark Night at Insomnia Cookies
Insomnia Cookies is opening a new location at 78 S. Broadway and they're donating to University Park on their Grand Opening! Order cookies on Feburary 8th from 3:00-8:00pm and they'll donate
$1 from every 6 pack of cookies sold! Click here for more information.
The Choice Window is Open!
January 15th - February 18th
The SchoolChoice enrollment application window for the 2020-21 school year begins at 8:30 a.m. on January 15, 2020 and ends at 4:00 p.m. on February 18, 2020. If you have friends and neighbors looking for a great school for the 2020-21 school year, tell them to apply now! All interested new families are encouraged to join one of our upcoming school tours here to learn more about our great school and community!
For all student that will be new to UPark for the 2020-2021 school year, please complete the online Choice Process. This includes siblings of current UPark students that will be new to the school next year.
If UPark is your boundary school you are guaranteed a spot, but we still ask you to complete the Choice Process for your new student. By doing this, you are helping us manage our classes and plan for next year. If your child currently attends University Park and you are not enrolling a new sibling, you do not need to complete this process.
If you have questions about SchoolChoice, contact the SchoolChoice Hotline at 720-423-3493; email schoolchoice@dpsk12.org; or visit schoolchoice.dpsk12.org.
You are also welcome to contact the UPark office at 720-424-3410 with questions.
Easy Ways to Support the UPark Auction!
Planning for the UPark Auction is in full swing, but the PTA could use your help! There are lots of easy ways to get involved, and if every family can contribute in some small way, we will undoubtably smash our big fundraising goal!
How you can help:
DONATE A BOTTLE OF WINE
- Are you headed to the wine shop to grab a bottle for the weekend? Please consider donating your favorite bottle of wine to the auction. In order to make the Wine Pull at the Gala a success, we need 60 additional bottles of wine, valued at $20 or above. Wine can be dropped off in the main office or contact Audrey DeHarty at
audreydeharty@gmail.com
to arrange to drop it off at her house.
CONTRIBUTE TOWARD TEACHER TICKETS -
Today is the last day to be entered for the chance to win Avalanche tickets when you contribute toward teacher auction tickets!
All teachers and staff are invited to attend the Auction Gala free of charge, but we count on family support to help offset these costs. Please visit
https://upark.ptapal.com/auction_teacher_support.asp
to make a donation toward a teacher ticket. This is a great way to show our teachers how much we appreciate what they do for the UPark community, and we'll be giving away Avalanche tickets as a thank you to a few lucky families who donate before February 7th.
HOST A PARENT EXPERIENCE - One of the biggest fundraising components of our Auction Gala are the Parent Experiences. We rely on our amazing community of parents to host fun events that other parents can sign up to attend. If you're interested in hosting an event, please reach out to Sarah Domareck at
HELP US FIND LOCAL BUSINESSES TO SPONSOR THE AUCTION
- Our generous local business sponsors help to offset the costs of the auction, and we are still looking for more sponsors! If you have a business that would be interested in sponsoring, or if you know one that might, please email Tamara Reese at
oiler02@gmail.com
.
WANT TO HELP EVEN MORE
?!
THE AUCTION COMMITTEE STILL NEEDS VOLUNTEERS!
Whether you have time to attend meetings, want to help with set up the day of the event, or just want a few tasks you can do from your computer,
we've got a role for you
. Email Tamara Reese at
oiler02@gmail.com
or attend the auction committee meeting TONIGHT
at Tamara's house.
Restaurant Night
Join us at the Garlic Knot in University Hills (2553 South Colorado Blvd
Denver, CO 80222) on February 17th from 4pm-9pm. All dine-in and take-out orders are eligible (no delivery) - just mention UPark when you order and they donate proceeds back to our school!
UPark Backpack for Kids Food Program
Volunteer Day at Food Bank of the Rockies
Please join the UPark PTA's Backpacks for Kids Food Assistance program for our 2nd Annual Volunteer Day at Food Bank of the Rockies on Saturday, February 22, 2020 from 8:35 AM to 12:00 PM. We are looking for 20 adults to volunteer in support of our UPark Backpacks for Kids food pantry. Each adult may bring up to two 4th or 5th grade students to volunteer alongside them as we pack boxes with non-perishable foods for Colorado families in need. For each person who volunteers for the 3.25 hour shift, Food Bank of the Rockies will credit our food pantry with 20 pounds of non-perishable food. This will go a LONG way in helping the 30+ UPark families the Backpacks for Kids program supports each week!



Please volunteer by signing up HERE. Click the links below for additional forms and information.
For more information, you may contact the UPark Backpack for Kids Committee chair, Ellen Landy, at
landysteward@comcast.net
or (720) 434-4999.
Love My Air Denver Program
Have you noticed the new box by the kiss and go lane fence?
University Park Elementary is now a partner school in the Love My Air Denver program!
As one of the fastest-growing U.S. cities, Denver experiences significant construction and traffic congestion, worsening our air quality. Only 53% of residents realize the impacts of poor air quality, including that children are more susceptible to its effects, such as decreased lung function and missed days of school. While multiple factors influence exposure to air pollution, schools are an ideal intervention point for sensor deployment, education and empowerment.
The Love My Air program, in partnership with Denver Public Schools (DPS), is creating a citywide air quality monitoring network to provide real-time air quality data. Visit the
Love My Air website
or click
here
for more information about UPark's participation.
K, 1, 2,- parents please put a change of clothes in your students' backpack for those, "just in case" moments. If you have spare clothing bottoms (pants, shorts, skirts, etc...) that your students have outgrown we are in desperate need of size 5-8 bottoms in the health office for those "just in case" moments.
KIND dental will be doing free dental services this Saturday! Click
here
for more information.
The case of Coronavirus that was referenced in last week's newsletter was found to be negative. Colorado is, however, experiencing increased incidence of diagnosed influenza in the state this year. Denver Health and the Colorado Depart of Public health have asked that families please NOT drop sick children off at school. Students should be symptom-free without medication for 48 hours before they are "cleared" to return to school. This includes students who are confirmed with influenza, or develop signs of influenza or general gastrointestinal illness (diarrhea, abdominal cramps, vomiting, fever). Please do not return to school for 48 hours after symptoms have resolved. Click here for the flier.
Please also remember that no medications may come to school without a DPS medication form filled out by a medical provider. Medications that should not be at school include prescription, over the counter, lotions/gels, inhalers, vitamins and even items like cough drops. Having medications in backpacks is unsafe for the school community. Please contact our school nurse,
Antoinette
with questions.
The UPark library is here to reinforce the love of reading, the ability to check out "just right books" and to provide valuable resources to all students and staff.

With that privilege comes a responsibility to return books on time and in good shape.

We currently have 145 overdue books. The due dates of these books range from as little as 2 weeks late to 5 months late. This represents a replacement cost of approximately $2900. Each checked out book may be kept by students for two weeks but then should be returned so other students may have access to them. If you have recently received an overdue notice that your student has an outstanding book, please return those books to the school as soon as possible.
DPS to Hold a Series of Public Meetings Concerning the Rosedale Elementary School Building
Denver Public Schools will hold a series of public meetings beginning in February to discuss the future of Rosedale, a DPS school building which has been closed and shuttered since 2005.
The district recently received a letter of interest for the purchase of the Rosedale building with the intent to reopen it as a private school. The
receipt of this offer has created a great opportunity for DPS and the community to come together and discuss all potential options for the future of the Rosedale site.
The goal of the public meetings will be to discuss all options for the building including reopening it as a public school, leasing the property, leaving the property in the current state or selling it.
Denver Public Schools is working in collaboration with the Rosedale Harvard Gulch Neighborhood Organization and UC Denver students on this community engagement. DPS will reach out to encourage neighbors, schools, communities and other interested stakeholders to join the conversation. Click here for meeting information.
2020 Big As Life Music Summer Band Camps are Here!
If your 3rd-8th grade child loves making music and is interested in learning how to play a band instrument (flute, clarinet, saxophone, trumpet, trombone, baritone, and percussion) or already plays, these are the camps for them!
Beginning or experienced students will be inspired by local musicians, engaging topics, fun games, water balloon fights, and most importantly, music making!
We have so much fun at these camps! Make sure to sign-up soon! This is a great way to keep your child excited about music and playing their instrument over the summer.
Current Big As Life Music (BALM) students get priority registration!
Click on the camps below to get more details and to register! Or go to:
BigasLifeMusic.com
We hope to see you there!
Christmas and the BALM Crew
Spring Enrichment Registration
Spring enrichment registration opens Tuesday, February 18th at 8:00am and closes Monday, March 2nd at 6:00pm. Click here to see the spring class offerings and for information on registering.
New Family Managed Calendars-Discovery Link
In regards to the new Family Managed Calendars for this upcoming school year, I would like to provide you as much support as possible as we try to navigate this change. Although I am not as well versed in the new scheduling system I will happily direct you to Discovery Link management team. I will do the best I can to address your questions, concerns, and communicate further developments.
Discovery Link Spring Camp Registration
UPark's Discovery Link Spring Camp (March 30th, April 1st, 2nd, 3rd, and 6th) registration will open February 14th. Please stay tuned for details!
Discovery Link Summer Camp Registration
Discovery Link Summer Camp registration is open. Click here for camp details and click here for registration information and instructions.
Discovery Link is Hiring!
Discovery Link at University Park is hiring for a Program Leader and Staff Aide. If you enjoy working with kids and are looking for a fun, part-time job opportunity then you should join the UPark Discovery Link team! We offer a flexible schedule, perfect for college students and parents. Click HERE for more information and instructions on applying. Please contact Ms. Julia Lamberton for more information.
University Park Elementary Calendar
Click on the calendar icon to the right, look below, or visit the
University Park Website
to access calendar information!
UPark Owl Ticket Students
Congratulations to last week's Owl Ticket students! They were recognized by their teachers for above and beyond positive behavior.
Owl Tickets are given to students for going above and beyond in one of our five core values: caring, cooperation, responsibility, respect and joy. Owl Tickets focus on the school's trait of the month, give students a chance to participate in the weekly "Owl Tickets" photo and will be posted on the "UPARK" letters in our main hallway.
*At the end of each month we will be donating all clothing in the lost and found and anything left in the halls.