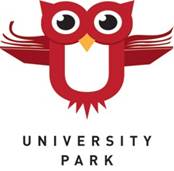 2300 S. St. Paul St., Denver, CO 80210
720-424-3410
Principal
University Park and all DPS schools will be sharing important information about how we are supporting our KG-3rd students in becoming strong
readers. Research shows reading on grade level in elementary school is one of the best ways to ensure students are on
track to academic success.
Every school district in Colorado is required by a state law, called the READ Act, to give state-approved reading tests to
all students in kindergarten, first, second and third grades. This allows us to see if students are making progress toward
the goal of reading on grade level by the end of the third grade. In accordance with the law, DPS schools use a number
of state-approved tests, including DiBELS, iReady, Istation and STAR.
Students take the test at least three times during the school year - at the beginning, middle and end - to check their progress. In
addition to these required tests, teachers are watching closely to see how students are progressing in reading skills on a
daily, weekly and monthly basis.
Coming home today in Thursday folders (similar to the summary sheet at parent/teacher conferences) is updated information about your child and a parent help letter. Please feel free to reach out to your child's teacher for more information.
*Don't forget to download the UPark App
HERE
!
PTA News
Have you secured your babysitter for the 2018 Auction yet? Don't miss out on this fun way to support our school while connecting with parents, faculty, and the UPark community. The evening will include BBQ, games, a live and silent auction, as well as live bluegrass music performed by Scott Slay and the Rail!
Scott Slay and the Rail is an Americana, Folk and Bluegrass band based in Denver, Colorado. This group combines bluegrass, country, folk, and traditional compositions to produce a modern sound. Their music is influenced by bands such as Punch Brothers, Nickel Creek, The Lonesome River Band, Mountain Heart, and Sam Bush. Come and see this
"
Bluegrass Powerhouse" at the 2018 Auction on Saturday, April 21st at the University of Denver before they take the stage at the Telluride Bluegrass Festival in June 2018. Tickets for the auction go on sale online and in the front office beginning March 1st.
School Tours
UPark school tours for prospective families have started! We will hold tours on the dates below. Please let your friends know to RSVP by calling the main office at 720-424-3410.
February 9th-

9:15am and 2:30pm

February 10th- 10:00am
February 23rd-

9:15am and 2:30pm
UPark Kindness Week
UPark supports kindness in our school. To show this, Student Council will have a week dedicated to Random Acts of Kindness:
Monday, February 12: Compliment Day - Find the "Compliment Wall" and leave someone a nice note!
Tuesday, February 13: Kindness Hunt- Find the letters in the word "Kindness" around the school
Wednesday, February 14: Thank You Note Day- Write someone a thank you note
Thursday, February 15: Positive Notes Day- Be on the lookout for positive notes and pictures around the school!
Friday, February 16: Random Acts of Kindness Day- What can YOU do to put a smile on someone's face?
We hope these activities will continue to grow kindness in our community.
Personalized Learning Movie Night
Please join us Thursday, February 22nd at 5:30 for a screening and discussion of award-winning education documentary
Most Likely to Succeed. Free babysitting will be provided for up to 30 current UPark students. Click here for more information.
Staff Updates
Gifted and Talented
Heather Wise has the opportunity to increase the hours of her Gifted and Talented teaching position here at UPark so will be stepping away from her role as a math/content teacher in 4th grade. This change will start the 2018-2019 school year.
Facilites
UPark has a new fully staffed facilities team. Dominique Abeyta is our facilities manager and she is supported by Shampagne Padilla and Joseph Maes. Click
here
for Dominique's bio.
Merrill Middle School Keynote Speaker
Kim Bevill, a highly respected Keynote Speaker
from Gray Matters, will be coming to Merrill Middle School on Wednesday
2/28/18 from 6:00 - 7:30.
Kim trains educators and parents on the applicable neuroscience and the
instructional strategies that work for anyone with a brain! She will be highlighting
the following topics and will provide strategies for parents, teachers and kids to get
the most out of our amazing brains:
Relationships and Academic Achievement
Health & Wellness/Stress and the impact on Academic Performance
Happiness & Gratitude - How and Why It Improves Academic Behavior
Parents, Kids and Teachers are all invited for this free event! We encourage you to
bring a $5 or $10 gift card (e.g. Starbucks, Chipotle, Target) per attendee as a
donation towards the "Positive Behavior Intervention Strategies" Program at

Summer Band Camp Registration is Open!
The Big as Life Music (BALM) Summer Band Camps are
week-long camps

(9 a.m.-3 p.m.)

. Whether your child plays an instrument or would like to learn how, camp will be sure to inspire them on their musical journey. Beginning, Intermediate and Advanced students are welcome.
Camps are taught by Christmas Gainsbrugh, DPS Band Director at UPark! Incoming 4th-8th graders can join us for Summer Band Camp to learn how to play the flute, clarinet, trumpet, french horn, saxophone, trombone, tuba or drums.
2018 UPark Spring Enrichments:
REGISTRATION IS OPEN!
-To view the online course catalog click
here
.
-Spring session begins 2/26
Summer 2018 Camps:
The Ultimate Summer Enrichment Camp at C3
Do you love after school Enrichments!? Take a look at our single subject a la carte Enrichment Camp. Sign up for one to four blocks, featuring your favorite enrichment providers!
Week 1: 6/4 - 6/8, Week 2: 6/11 - 6/15, Week 3: 6/18 - 6/22, Week 4: 6/25 - 6/29
Daily Camp Hours: 8:15am - 4:15pm
To access the Online Course Catalog please click
here
.
To register please click
here
.
For Discovery Link Summer Camp information please click here.
2/20 Discovery Link Camp at UPark
Winter Enrichments that have ended:
Rock Climbing - 2/1 (last class)
Pottery - 2/5 (last class)
Questions? Please contact
Jesse
.
University Park Elementary Calendar
Click on the calendar icon to the right, look below, or visit the
University Park Website
to access calendar information!
*At the end of each month we will be donating all clothing in the lost and found and anything left in the halls (all clothing will go into our little red school house in our parking lot).