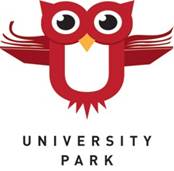 2300 S. St. Paul St., Denver, CO 80210
720-424-3410
Principal
Thank you to the parents and teachers
who

volunteered at our Prospective Family Open House this past Saturday, January 25th!

Families were able to explore our great school, talk to teachers, talk with a DPS Choice representative, and join guided tours around the building. It was a great event, with lots of positive feedback from those who attended. Visit Instagram to check out pictures from this fun event at #UParkOwls.
Help Send Our Wonderful Teachers to the University Park Auction!
The UPark Auction is a great way to show our teachers how much we appreciate what they do for the UPark community! All teachers and staff are welcomed by our PTA to attend the annual auction free of charge, and we count on family support to help offset these costs. Please click
HERE
to make a donation toward teacher tickets.
We will be giving away Avalanche tickets as a thank you to a few lucky families that donate at least $30 toward teacher auction tickets by February 7th.
The auction will take place on Friday, April 24th at 7pm at the Space Gallery. Note that only the donation link for teacher tickets is open at this time - general admission tickets go on sale at a later date.
4th Grade
The students wrote about what we are working on in class. Here's what a few of them had to say:
This year in 4th grade we are learning about all kinds of stuff but I enjoy reading. Reading brings me lots of joy because of all the history we are learning. This year in reading we are learning about people of color who have made a difference to the world like Martin Luthur King Jr., Harriet Tubman and Rosa Parks. These were all people who made the world more fair and less cruel.They did their best to make equal rights a thing. I hope you also enjoy reading and learning about these brave people. By Ikram
In class we are finishing up with our geometry and symmetry unit and starting with our fractions unit. In the first lesson we learned how to add up small fractions and also study small fractions using tape diagrams. In this second lesson we will be studying and learning how to decompose and group fractions. By Sienna
We are getting ready for our field trip to Young Ameritowne. I honestly think that Young Ameritowne is very exciting, and I am going to share it with you! So a couple days ago we had our interviews for our jobs there because Young Ameritowne is a town run by the students. We are also working on learning how to write checks. We have a Young Ameritowne notebook that we have been practicing in. Something else we have been practicing, is how to use deposit slips which I think is pretty fun. One other thing we got is our DEBIT CARDS!!! Time to start getting independent because it's going to get way harder when we are older and we should start practicing now. By Ella
Coming next week: Intervention!
The Choice Window is Open!
January 15th - February 18th
The SchoolChoice enrollment application window for the 2020-21 school year begins at 8:30 a.m. on January 15, 2020 and ends at 4:00 p.m. on February 18, 2020. If you have friends and neighbors looking for a great school for the 2020-21 school year, tell them to apply now! All interested new families are encouraged to join one of our upcoming school tours here to learn more about our great school and community!
For all student that will be new to UPark for the 2020-2021 school year, please complete the online Choice Process. This includes siblings of current UPark students that will be new to the school next year.
If UPark is your boundary school you are guaranteed a spot, but we still ask you to complete the Choice Process for your new student. By doing this, you are helping us manage our classes and plan for next year. If your child currently attends University Park and you are not enrolling a new sibling, you do not need to complete this process.
If you have questions about SchoolChoice, contact the SchoolChoice Hotline at 720-423-3493; email schoolchoice@dpsk12.org; or visit schoolchoice.dpsk12.org.
You are also welcome to contact the UPark office at 720-424-3410 with questions.
UPark Backpack for Kids Food Program
Volunteer Day at Food Bank of the Rockies
Please join the UPark PTA's Backpacks for Kids Food Assistance program for our 2nd Annual Volunteer Day at Food Bank of the Rockies on Saturday, February 22, 2020 from 8:35 AM to 12:00 PM. We are looking for 20 adults to volunteer in support of our UPark Backpacks for Kids food pantry. Each adult may bring up to two 4th or 5th grade students to volunteer alongside them as we pack boxes with non-perishable foods for Colorado families in need. For each person who volunteers for the 3.25 hour shift, Food Bank of the Rockies will credit our food pantry with 20 pounds of non-perishable food. This will go a LONG way in helping the 30+ UPark families the Backpacks for Kids program supports each week!



Please volunteer by signing up HERE. Click the links below for additional forms and information.
For more information, you may contact the UPark Backpack for Kids Committee chair, Ellen Landy, at
landysteward@comcast.net
or (720) 434-4999.
There has been one case of Coronavirus in Colorado. With this information along with the increased incidence of diagnosed influenza in the state this year, Denver Health and the Colorado Depart of Public health have asked that families please NOT drop sick children off at school. Students should be symptom-free without medication for 48 hours before they are "cleared" to return to school. This includes students who are confirmed with influenza, or develop signs of influenza or general gastrointestinal illness (diarrhea, abdominal cramps, vomiting, fever). Please do not return to school for 48 hours after symptoms have resolved. Click here for the flier.
Please also remember that no medications may come to school without a DPS medication form filled out by a medical provider. Medications that should not be at school include prescription, over the counter, lotions/gels, inhalers, vitamins and even items like cough drops. Having medications in backpacks is unsafe for the school community. Please contact our school nurse,
Antoinette
with questions.
The UPark library is here to reinforce the love of reading, the ability to check out "just right books" and to provide valuable resources to all students and staff.

With that privilege comes a responsibility to return books on time and in good shape.

We currently have 145 overdue books. The due dates of these books range from as little as 2 weeks late to 5 months late. This represents a replacement cost of approximately $2900. Each checked out book may be kept by students for two weeks but then should be returned so other students may have access to them. If you have recently received an overdue notice that your student has an outstanding book, please return those books to the school as soon as possible.
2020 Big As Life Music Summer Band Camps are Here!
If your 3rd-8th grade child loves making music and is interested in learning how to play a band instrument (flute, clarinet, saxophone, trumpet, trombone, baritone, and percussion) or already plays, these are the camps for them!
Beginning or experienced students will be inspired by local musicians, engaging topics, fun games, water balloon fights, and most importantly, music making!
We have so much fun at these camps! Make sure to sign-up soon! This is a great way to keep your child excited about music and playing their instrument over the summer.
Current Big As Life Music (BALM) students get priority registration!
Click on the camps below to get more details and to register! Or go to:
BigasLifeMusic.com
We hope to see you there!
Christmas and the BALM Crew
New Family Managed Calendars-Discovery Link
In regards to the new Family Managed Calendars for this upcoming school year, I would like to provide you as much support as possible as we try to navigate this change. Although I am not as well versed in the new scheduling system I will happily direct you to Discovery Link management team. I will do the best I can to address your questions, concerns, and communicate further developments.
Discovery Link Spring Camp Registration
UPark's Discovery Link Spring Camp (March 30th, April 1st, 2nd, 3rd, and 6th) registration will open February 14th. Please stay tuned for details!
Discovery Link Summer Camp Registration
Discovery Link Summer Camp registration is open. Click here for camp details and click here for registration information and instructions.
Discovery Link is Hiring!
Discovery Link at University Park is hiring for a Program Leader and Staff Aide. If you enjoy working with kids and are looking for a fun, part-time job opportunity then you should join the UPark Discovery Link team! We offer a flexible schedule, perfect for college students and parents. Click HERE for more information and instructions on applying. Please contact Ms. Julia Lamberton for more information.
University Park Elementary Calendar
Click on the calendar icon to the right, look below, or visit the
University Park Website
to access calendar information!
UPark Owl Ticket Students
Congratulations to last week's Owl Ticket students! They were recognized by their teachers for above and beyond positive behavior.
Owl Tickets are given to students for going above and beyond in one of our five core values: caring, cooperation, responsibility, respect and joy. Owl Tickets focus on the school's trait of the month, give students a chance to participate in the weekly "Owl Tickets" photo and will be posted on the "UPARK" letters in our main hallway.
*At the end of each month we will be donating all clothing in the lost and found and anything left in the halls.