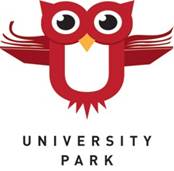 2300 S. St. Paul St., Denver, CO 80210
720-424-3410
Principal
Accepting New Students for the 2020-21 School Year!
SchoolChoice Window January 15th - February 18th
The SchoolChoice enrollment application window for the 2020-21 school year begins at 8:30 a.m. on January 15, 2020 and ends at 4:00 p.m. on February 18, 2020. If you have friends and neighbors looking for a great school for the 2020-21 school year, tell them to apply starting next week! All interested new families are encouraged to join one of our upcoming school tours here to learn more about our great school and community!
For all student that will be new to UPark for the 2020-2021 school year, please complete the online Choice Process. This includes siblings of current UPark students that will be new to the school next year.
If UPark is your boundary school you are guaranteed a spot, but we still ask you to complete the Choice Process for your new student. By doing this, you are helping us manage our classes and plan for next year. If your child currently attends University Park and you are not enrolling a new sibling, you do not need to complete this process.
If you have questions about SchoolChoice, contact the SchoolChoice Hotline at 720-423-3493; email schoolchoice@dpsk12.org; or visit schoolchoice.dpsk12.org.
You are also welcome to contact the UPark office at 720-424-3410 with questions.
In place of a regular PTA meeting this month, the PTA will be hosting a Parent Happy Hour and Stock the Auction Party on Tuesday January 14
th
at the home of PTA President, Angela Rathbun. If you would like to attend, please email

uparkpta@gmail.com

for the address and details.
No Student Drop-Off or Pick-Up in the Alley
It has come to our attention that the alley way behind UPark is being used for student drop-off and pick-up. We ask that you please do not utilize the alley to drop off or pick-up your student. This is very disruptive to our neighbors and is not safe for our students. If you have extenuating circumstances and need support during drop-off or pick-up, please contact the main office and we are happy to help. Thank you for your cooperation and understanding!
English Language Acquisition
Our 3rd Grade English Language Learners represent 10 different cultures. Currently our 3rd grade ELA Literacy Unit spotlights cultures, traditions and customs shining a light on our English Language Learners from these many different cultures!
These third graders are currently engaged in studying various cultures around our world, such as Japan, Iraq, India and Italy. They are reading from the Magic Tree House series and are focused on the narrative of the stories along with how the author teaches us about the cultures, traditions and customs of each country depending on where the book takes place.
We have at least 13 English Language Learners representing different cultures in our 3rd grade class; Korea, Albania, Libya, Kenya, China, Saudi, Morocco, Arabia,
Burundi
and one student with Native American background. What a wonderful opportunity for all our students to engage in deep conversations and learn about each other's cultures, customs and traditions!
We are certainly, a very proud and diverse 3rd Grade Class!
Coming next week: 3rd Grade!
Auction Committee Meeting
Just a reminder that the
Auction Committee meeting is TONIGHT, January 9, 2019 at 7pm
. The meeting is at Tamara's House so make sure you email
auction@uparkelementary.org
to get the address. We need to dig in on procurement!!
UPark Art Night
Save the Date for Art Night, Thursday, January 23 from 5:30-7:00 in the UPark gym. There will be a wide variety of family activities including collaborative murals, hieroglyphics, painting and so much more! Please contact art teacher Kari Hale at
kari_hale@dpsk12.org
if you would like to volunteer for this event.
Health Screenings
Please note that all students in grades Kindergarten, 1st, 2nd, 3rd and 5th will be participating in health screenings January 24-29. Please click
HERE
for more information. These screenings are state mandated. If you choose to opt your student out, you must notify our school nurse before the screenings start. Click on the above link for more information.
Denver Public Schools Sustainability and Denver Recycles would like to welcome everyone back after winter break with our 2020 recycling and composting newsletter. Please click here for education and valuable information about recycling and composting in your school. The newsletter includes frequently asked questions about recycling and composting as well as helpful information about programs that support our community.
UPark Attendance Notifications
There are multiple ways you can notify the office of a student absence: use the attendance feature on the
UPark app
, call the main office at 720-424-3410, or email
Sharon Rusin
and
Alexis Matter
, our school office supports.
To use the UPark app for attendance notifications click on the "resources" icon at the bottom right side of the screen. The icon looks like a book. Once on the resources page you'll click on the UPark Attendance icon to submit your student's absence details.
Winter Enrichment has begun! Please remind your students about the classes they will attend and the new pick-up procedure (all students will go to the auditorium to meet their enrichment instructors).
Discovery Link Summer Camp Registration
Discovery Link Summer Camp registration opens January 6th. Click here for camp details and click here for registration information and instructions.
Discovery Link is Hiring!
Discovery Link at University Park is hiring for a Program Leader and Staff Aide. If you enjoy working with kids and are looking for a fun, part-time job opportunity then you should join the UPark Discovery Link team! We offer a flexible schedule, perfect for college students and parents. Click HERE for more information and instructions on applying. Please contact Ms. Julia Lamberton for more information.
University Park Elementary Calendar
Click on the calendar icon to the right, look below, or visit the
University Park Website
to access calendar information!
UPark Owl Ticket Students
Congratulations to last week's Owl Ticket students! They were recognized by their teachers for above and beyond positive behavior.
Owl Tickets are given to students for going above and beyond in one of our five core values: caring, cooperation, responsibility, respect and joy. Owl Tickets focus on the school's trait of the month, give students a chance to participate in the weekly "Owl Tickets" photo and will be posted on the "UPARK" letters in our main hallway.
*At the end of each month we will be donating all clothing in the lost and found and anything left in the halls.